In the past week, Razer has teased that it will be unveiling its first smartphone on Nov. 1. Also, the alleged specs of the gaming-centric Razer Phone have also appeared on GFXBench benchmarking platform. Now, a Slovakian publication has leaked an image of the upcoming Razer Phone.
Razer Phone Design
It appears that image of belongs to testing handset of the Razer Phone. It seems to be leaked by an anonymous insider working with Razer. Earlier in this year, Razer that is known for making gaming oriented devices like laptops, mice and things of that nature had acquired Nextbit, the manufacturer of Robin cloud-centric phone. Hence, the rectangular design of the Razer Phone that reminds us of Sony Xperia phones seem to resemble with the blocky appearance of the Robin phone.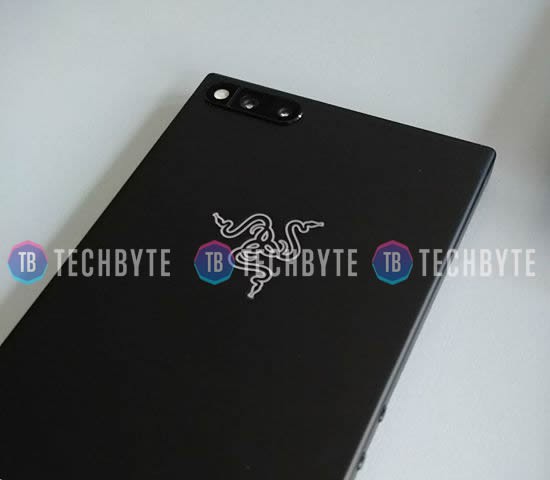 The backside of the Razer Phone features a large-sized logo of the company. The top-left corner of the back panel is fitted with dual rear cameras and the volume buttons seem to be placed on the right edge of the phone.
Razer Phone Specifications
The benchmark listing of the Razer Phone has revealed that it will be coming with a 5.7-inch display that will be delivering Quad HD resolution of 2,560 x 1,440 pixels. This suggests that the handset will be supporting the standard aspect ratio of 16:9.
Since rumors claim that it is a phone that is built for hardcore gaming, it will be driven by Snapdragon 835 chipset and 8 GB of RAM. It is expected to include 64 GB of storage. It may feature a microSD card slot. It will be loaded with Android 7.1.1 Nougat OS. One of the lenses of the dual camera system is of 12-megapixel and it is expected to arrive with a selfie snapper of 8-megapixel.
The specifications of the Razer Phone appear very impressive. However, we advise our readers to digest the specs of the Razer Phone with a pinch of salt as it is easy to fake the benchmarks. More information on Razer's first smartphone is expected to surface in the coming weeks.
What do you think about the design of the Razer Phone? Does it impress you? What features do you expected from the smartphone? Share us your thoughts by adding comments below.
(source)