Average Selling Price Of Smartphones Grew By A Record 7% in Q3 2017
A recent research by GfK has shown that there was a record rise in the average selling price (ASP) of phones for the third quarter of this year. The average selling price of phones went up by 7% compared to the same period last year. This isn't much of a surprise, though, because there is a noticeable rise in the unit cost of smartphones lately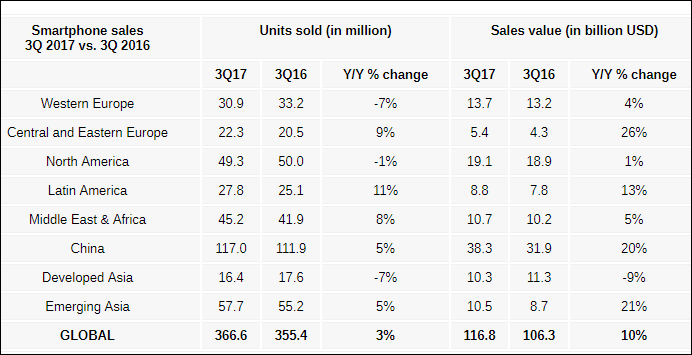 Despite the increased price, the global demand for phones is said to have risen moderately by 3% year on year, pitching at a total of 367 million units. This is the highest figure ever recorded for this period of the year. The Latin America market spearheaded by Brazil led the growth with shipment rising by 11% YoY, followed by Central and Eastern Europe with 9% growth. The analysis also shows that traditionally strong markets are seeing a decline. Shipment in Western Europe stood at 30.9 million phones, a 7% reduction from last year's Q3 estimate. But in general, smartphone makers amassed more revenue as a result of the 11% rise in the average selling price (ASP). One in eight smartphones sold over the three month period cost above $900. Last year only one in sixteen cost that much.
Read Also: IDC Research: Worldwide Smartphone Shipments to Grow by 3% 2017, Gain 4.5% in 2018
Even the ASP in China rose significantly by 15% despite that the market is home to tons of budget-friendly models. A total of 117 million units were sold in the quarter in China alone. Aside from China, demand rose significantly in other Asian countries like Malaysia and Bangladesh where sales rose by 25% and 22% respectively. The Middle East and Africa also saw rising sales and GfK predicts that Sub-Saharan and South African countries will continue to drive demand as smartphones displace the still-popular feature phones in the region.
(source)