Counterpoint Posts Q3 2017 Market Stats For All Regions; Xiaomi Is Fastest Growing Brand!
Research firm Counterpoint has released its statistical data for the third quarter of 2017 and it cuts across all the regions of the world. The statistical data shows the global smartphone market shares for Q3 2017 as well as the mobile phone market shipment comprising both smartphones and feature phones. The stats showed that the global smartphone shipments grew 5% YoY and 9% QoQ.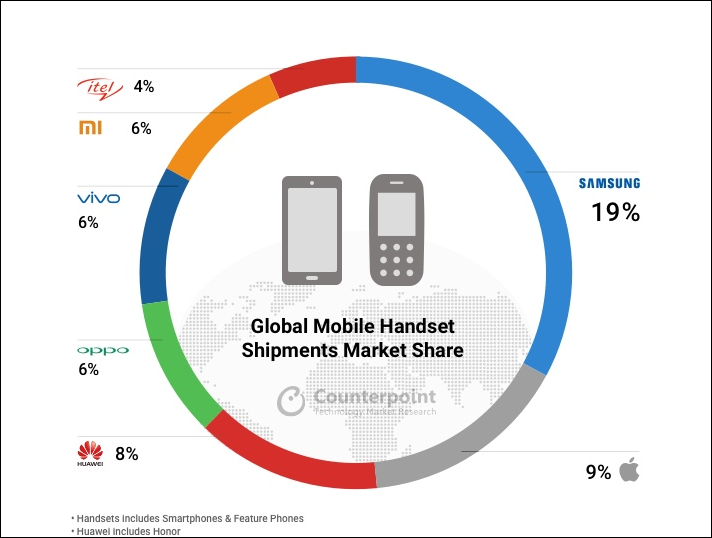 Samsung maintains its stronghold on the smartphone industry, with a 21% control of the market shares while Apple retained its second spot with a 12% share of the market. Chinese tech giant Huawei slipped closely into the third position with 10% share of the market, narrowly losing out to Apple for the second spot. Huawei is closely followed by OPPO with 8% market share. Vivo and Xiaomi both completed the top 5 spot with  7% market share apiece. The data saw the surprise inclusion of Lenovo, including the Motorola brand, which raked in a 4% share of the market in Q3 2017. Counterpoint also noted that Xiaomi emerged as the fastest growing smartphone brand with a growth of 84% YoY.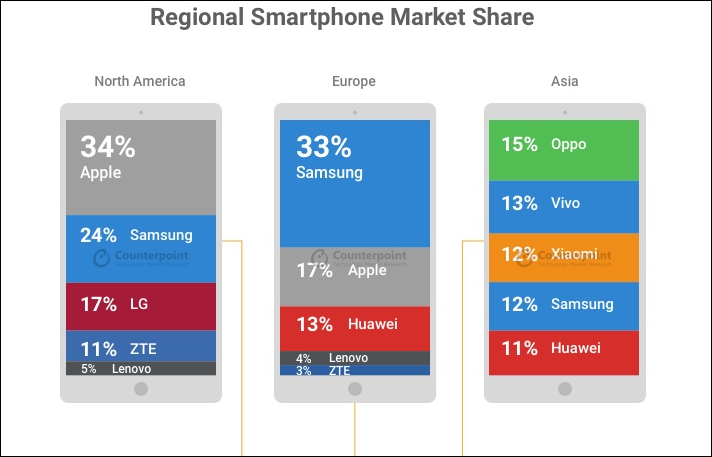 Read Also: Xiaomi CEO Targets 100 Million Smartphone Shipments in 2018
Region wise, Apple maintained its leadership in North America with a 34% market share while Samsung came in second with 24% share. LG gained some ground in North America with a share of 17%. The top five spots are completed by ZTE – 11% and Lenovo- 5%. On the other hand, in Europe, Samsung holds the ace with a 33% share of the market while Apple came in at a distant second with 17% share. Huawei failed to gain ground in North America but was able to clinch the third place in Europe with a market share of 13%. Lenovo and ZTE completed the top 5 in Europe for Q3 2017. In Asia, the competition is stiffer as OPPO, Vivo, Xiaomi, Huawei and Samsung struggled unsuccessfully to outpace each other. The statistics also captured the emerging market in the Middle East and Africa and sure, Samsung grabbed the lion share and in second place we have a surprise entrant- iTel in a tie with Huawei and Tecno at 8% market share apiece. Counterpoint noted that one in three smartphones shipped were from Chinese manufacturers.
(source)