IDC Research: Worldwide Smartphone Shipments to Grow by 3% 2017, Gain 4.5% in 2018
by Anvinraj Valiyathara Jun 1, 2017 4:52 am0
According to IDC market research firm, the global smartphone shipments in 2016 met with a year-over-year growth of only 2.5 percent. This is the worst ever record in the smartphone industry. The research firm is of the view that the shipments will increase by 3 percent in this year. It means that IDC foresees that 1.52 billion smartphone units will be shipped in 2017.
In 2018, the global shipments of smartphones will increase by 4.5 percent.  IDC has also predicted the smartphone market growth for the next 5 years. Its market analysis reveal that it will continue to grow consistently because of improved conditions in several developing markets. Another factor that will come into play is the unprecedented popularity of the highly anticipated tenth anniversary iPhone that is dubbed as iPhone 8 by the rumor mill. The research firm has stated that half the population of the world do not have a smartphone. By 2021, the worldwide shipments are expected to reach 1.745 billion.
In this year, IDC expects that iPhone sales will grow by 3.8 percent and it will grow higher in 2018. It has predicted that Apple will ship 223.6 million iPhone units in 2017.  This number is slightly lower than previous predictions. The iPhone shipments are expected to rise to 240 million units in 2018. This means Apple may witness a 7.5 percent year-over-year growth.

As far as Android devices are concerned, the two developing markets such as the Middle East and Africa are expected to witness a year-over-year growth of 10 percent. Android devices will have an average selling cost of $198 in 2021.
After the Galaxy Note 7 fiasco, Samsung managed to maintain its reputation by launching the Galaxy S8 and Galaxy S8+. The South Korean company has managed in selling the Galaxy S8 two times faster than Galaxy S7. The research firm claims that Apple's keynote event that will be held in September this year will be "one of Apple's biggest announcements ever." Apple is heavily pegged to increase the size of the display to 5.8 inches on the iPhone 8.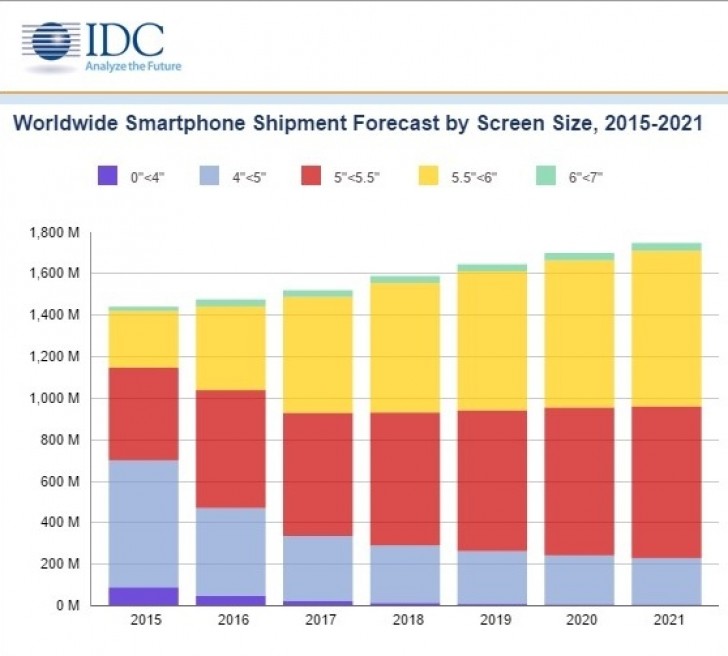 Read More: Apple iPhone 8 CAD Images Hint Front-Mounted Touch ID Sensor, Vertical Dual Rear Cam
IDC adds that in the next two years, smartphone companies will be rivaling each other in the display segment as Samsung and LG have already started the battle by launching smartphones with bezel-less 18:9 screens. Apple may also enter the display battle later this year. By 2021, smartphones with 5.5 inches and 6 inches screens will hold the largest market share.
Even though the low-end smartphone market has met with massive growth in the past few years, high-end smartphones will continue to drive more sales. The advancements in display technology, cameras and storage will make high-end smartphone users to upgrade their phones. For the next five years, IDC estimates that Android OS will have a market share of 85.1 percent and iOS will be second best with a market share of 14.5 percent.
(source)