A Lenovo tablet that is labelled as TB-X804 has appeared on GFXBench. The key specifications of the tablet have been revealed through its listing on the benchmarking site.
The Lenovo TB-X804 features a 10-inch device that carries support for a resolution of 1920 x 1200 pixels. It is fueled by an octa-core processor that clocks at 2.0 GHz and it also features Adreno 506 graphics. Since the same GPU can be found in Snapdragon 625 and Snapdragon 626 chipsets, the Lenovo TB-X804 tablet could be powered any of these Qualcomm chipsets. The SoC is accompanied by 4 GB of RAM and 64 GB of storage.
The Lenovo TB-X804 features an 8-megapixel camera on its rear panel and a 5-megapixel camera on its front. The device is preinstalled with Android 7.1.1 Nougat. The Chinese firm is expected to include its custom UI over the Android OS.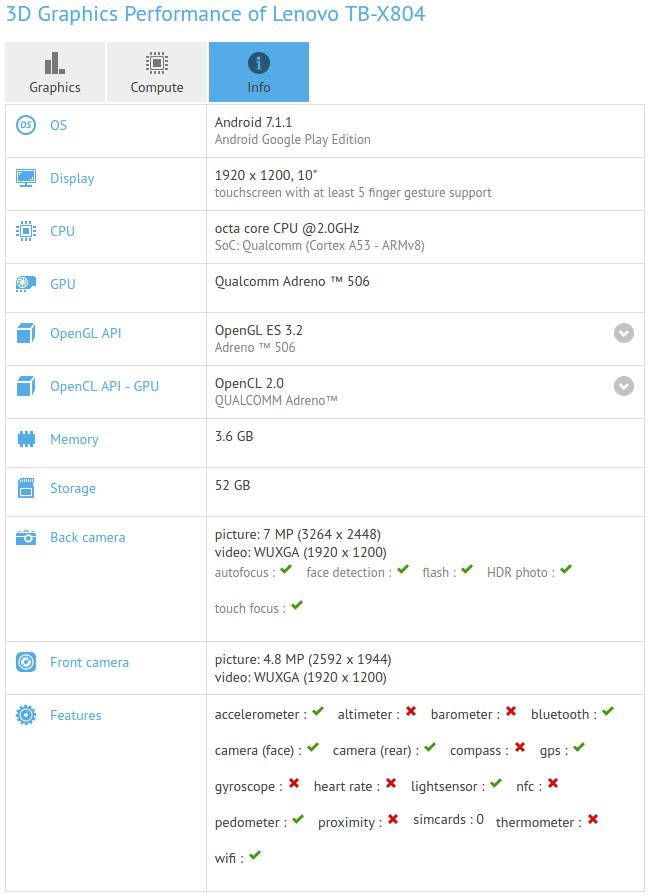 Read More: Lenovo Brings The MIIX 520 With 8th Gen Intel Core Duo SoC To China With A Cheaper Price
In February, Lenovo had introduced two 8-inch and two 10-inch tablets namely Lenovo Tab 4 8, Lenovo Tab 4 8 Plus, Lenovo Tab 4 10 and Lenovo Tab 4 10 Plus. Among these tablets, both the Plus variants are driven by Snapdragon 625 chipset and the regular models are powered by Snapdragon 425 chipset.
The specifications of the Lenovo TB-X804 is similar to Lenovo Tab 4 10 Plus as it also features 10.1-inch display, Snapdragon 625 chipset, 64 of GB storage, 4 GB of RAM, 8-megapixel rear camera and 5-megapixel front camera. Hence, it could be the same tablet that will be released in different markets. Also, this could be an upgraded version of the Tab 4 10 Plus.