A new BlackBerry branded device labelled as QUALCOMM BBF100-1 has appeared on Geekbench benchmarking platform. The newly unveiled BlackBerry Motion has a model number of BBD-100-X and the BlackBerry KEYone has a model number of BBB100-X whereas X is a number based on the region it releases.
The BBF100-1 is speculated as the successor edition of BlackBerry KEYone. In the previous month, a user agent profile had appeared on TCL's website which suggested that it could be working on a successor phone for BlackBerry KEYone.
It was found that the model number of the smartphone is BBF100-1 and it is driven by Snapdragon 660 chipset. It was also revealed that it will be equipped QWERTY keyboard and its display carries support for a resolution of 1620 x 1080 pixels. It indicates that the screen will deliver an aspect ratio of 3:2.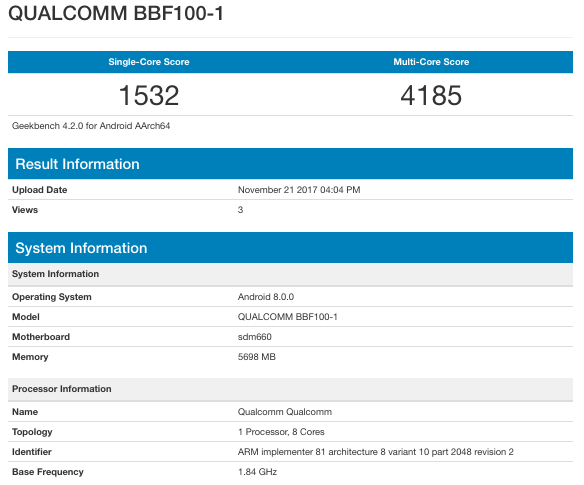 Read More: BlackBerry Tests QNX-Based Self-Driving Car In Ottawa
On Geekbench, the BBF100-1 is seen loaded with Android 8.0 Oreo. The benchmarking platform also shows that the KEYOne's successor is driven by Snapdragon 660 and 6 GB of RAM. On single-core and multi-core tests, the BBF100-1 has respectively scored 1532 and 4185 points.
The BlackBerry KEYone is one of the well-receive BlackBerry brand phones. Its successor may arrive with "KEYtwo" moniker. The BlackBerry KEYone was officially announced at Mobile World Congress (MWC) 2017. TCL may launch the alleged BlackBerry KEYtwo at the upcoming MWC 2018 that is scheduled to begin from Feb. 26.  More information on the smartphone is expected to emerge in the coming weeks.
(via)