When you are out to buy a flagship under $500, the OnePlus 5T and the Xiaomi Mi Mix 2 are your best bets! These devices can be considered two of the best flagships sold at low prices, and they are very similar phones if we consider their specs. Seeing that their specs share many things in common and their prices are similar, the main question made by potential buyers is: which one is the best? This comparison will clear your mind and it will make you decide which one to buy if you are in search of a beast and you have a pretty low budget.
OnePlus 5T vs Xiaomi Mi Mix 2: Design and build quality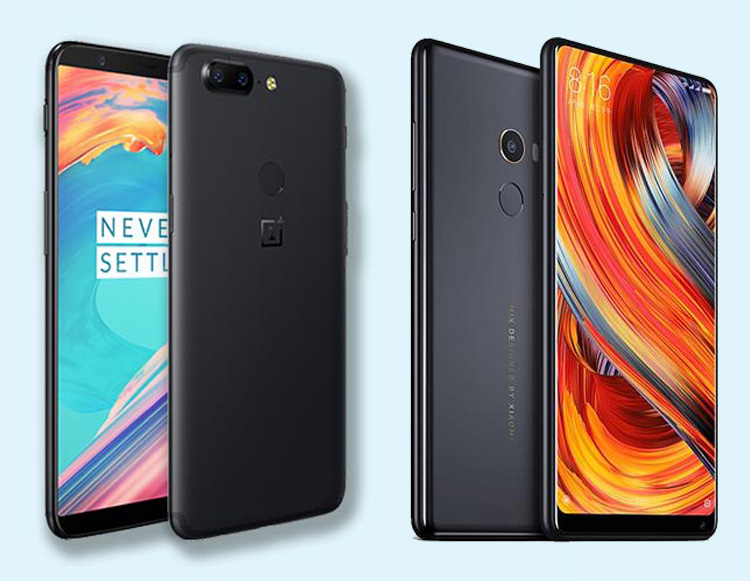 Innovation plays an important role in the design of these phones. Both have a trendy design with an elegant look and a solid build quality at the same time.
OnePlus 5T offers a design that is not so different from its predecessor (OP5) and it is almost identical to the one of Oppo R11s. There isn't a glass back like most of the best flagships in the market: the Chinese company has decided not to put the highest efforts on the originality of the design. The size of the phone is 156.1 x 75 x 7.3 mm, its weight is 162 grams. The device is good to hold thanks to its borderless display which has an 80.5 percent screen-to-body ratio.
Xiaomi Mi Mix 2 has a unique design: to be accurate, it is a design format which has been copied by several Chinese companies. The phone has an even higher screen-to-body ratio if we compare it to OP5T. There are three bezels which are very narrow and another thicker one which contains the front camera for selfies. The size, in this case, is 151.8 x 75.5 x 7.7 mm, while the weight is 185 grams.
Talking about build quality, OnePlus 5T has an aluminum unibody design. It is not a unique design like the one of its opponent, but the build quality is very good. The display is protected by Gorilla Glass 5, the most powerful protection by Corning. The phone is thin, it is also borderless, but probably it will be much less fragile like many other flagships.
On the other hand, Xiaomi Mi Mix 2 has a frame made of aluminum and a back cover made of ceramic. There is also a variant which is entirely made of ceramic, but it is a limited edition with a higher price, and it is hard to find. The design is much more original and the phone is more compact than OP5T. But the device is more fragile, not only for the back side but also for the display that has the Gorilla Glass 4 protection.
OnePlus 5T vs Xiaomi Mi Mix 2: Display
A battle between full borderless displays with similar specs.
OnePlus 5T has a display with an 18:9 aspect ratio, the Optic AMOLED technology, a size of 6.01 inches and a Full HD+ resolution with 1080 x 2160 pixels. There is also the DCI-P3 technology and sRGB: thanks to these, the colors are much more accurate than normal. This phone has wide viewing angles, high brightness, and very deep blacks. The amount of detail is not the maximum for a flagship, but for its price it is good.
Xiaomi Mi Mix 2 has a 5.99-inch display, it is slightly smaller, but nothing so noticeable. It has an 18:9 aspect ratio, IPS LCD technology and a Full HD+ resolution of 2160 x 1080 pixels. We can see brilliant colors here too, with a high brightness which can adapt fastly to every condition. Unfortunately, the brightness sensor is located on the lower part and sometimes you may cover it with your fingers.
OnePlus 5T vs Xiaomi Mi Mix 2: Hardware
These phones have a hardware side which is identical, so expect similar performances.
The hardware side of OnePlus 5T includes an octa-core Snapdragon 835 SoC, the best one ever released by Qualcomm, which can run at a max frequency of 2.45 GHz. There is 6 GB of RAM and 64 GB of internal storage on the cheapest version and 8 GB of RAM with 128 GB ROM (UFS 2.1, with a very high data transfer speed). Considering that OP5, its predecessor, is still the Android phone with the best performances ever, we can imagine that this phone will be even better due to a better optimization. So, this phone has no rivals in terms of performances. It does not support micro SD cards, but it has a dual SIM slot.
Xiaomi Mi Mix 2 has an octa-core Snapdragon 835 processor by Qualcomm and it has been released in various configurations with 6 or 8 GB of RAM and 64, 128 or 256 GB of internal storage, depending on the variant. Just like OP5T, this device is among the best Android phones if we talk about performances. It delivers blazing speeds and it is very stable and smooth.
OnePlus 5T vs Xiaomi Mi Mix 2: Software
OnePlus has decided to install a clean user interface which is similar to stock Android inside its flagships. This contributes to making the phones faster and smoother. Inside OnePlus 5T there is OxygenOS, based on Android 7.1.1 Nougat. There are just a few exclusive features like a night mode and Face Unlock (you can unlock the phone with facial recognition in 0.4 seconds), but for the rest, it is a stock user interface.
Xiaomi Mi Mix 2 is exactly the opposite: it has the MIUI user interface installed, based on Android 7.1 Nougat, and it is a UI which has been fully customized by the company. You can find a graphic aspect which is drastically different from stock Android and many additional features. Even though it is a highly customized UI, the performances are great. Recently, the update to MIUI 9 has been rolled out, and it brought important new features like a new hardware acceleration technology and an advanced split screen feature with picture-in-picture mode.
OnePlus 5T vs Xiaomi Mi Mix 2: Camera
Both the companies have improved the cameras on their devices very much in the last year, so expect good photos by these handsets.
OnePlus 5T has a dual camera setup on its rear side, with resolutions of 16 and 20 MP. The aperture is f/1.7 for both sensors: this means that photos will be much better in low light conditions if we compare the phone with its predecessor OP5. The photo quality on OP5 was very good, even though it was not at the same level of the best camera phones in the market. Videos can be recorded in 4K resolution and with electronic stabilization. Unfortunately, EIS is not at the same level of the optical stabilization, but it is better than nothing. It is a great camera, but there is still a difference between this one and flagship cameras.
Xiaomi Mi Mix 2 has a single camera with a resolution of 12 MP, which is the same sensor as the Xiaomi Mi6 (without the secondary sensor). It is definitely one of the best cameras by Xiaomi, but it is far from being the best camera ever. It has great detail, very good stabilization, and an accurate autofocus, but nothing more than this. OnePlus 5T has a better camera.
OnePlus 5T vs Xiaomi Mi Mix 2: Battery
Even though we are talking about phablets, the batteries of these phones are not incredibly big.
OnePlus 5T has a battery with a capacity of 3300 mAh. The device is still not in sale, so there was no way to do a test. But, seeing that the phone is similar to OP5, the battery life should be similar as well. This device should be able to achieve one day of battery life even with stressed use. It has also a fast-charging technology called Dash Charge.
Xiaomi Mi Mix 2 has a 3400 mAh battery, but even though the capacity is higher than the OP5T, it should last less than its opponent. This is because OnePlus has managed to optimize the battery of its flagship better. Xiaomi Mi Mix 2 can arrive until the end of the evening, but not with every use. If you stress it too much with a too high brightness, you may need to charge it before the end of the day. The fast-charging technology supported is Quick Charge 3.0 by Qualcomm.
The better battery life on the OnePlus model is also evident from GSMArena battery tests, with OP5T scoring 82 hours as compared to Mi Mix 2's 65 hours.
OnePlus 5T vs Xiaomi Mi Mix 2: Price
The price is the aspect that convinces most people to buy these flagships. They are two of the cheapest phones with Snapdragon 835 inside, so they have great value for money.
OnePlus 5T was launched with a price tag of 499 euros/dollars for the 6 GB of RAM variant and 569 euros/dollars for the one with 8 GB RAM. The device will be soon available to purchase on the official site of the company, and we do not expect any discount, at least in the next few months.
Xiaomi Mi Mix 2 with a bit of luck can be found at much less than 500 dollars (online street prices). For example, as of now, there are various stores selling it for about 450 euros. So, the Mi Mix 2 is cheaper than the OP5T at the moment.
OnePlus 5T vs Xiaomi Mi Mix 2: Winner
OnePlus 5T and Xiaomi Mi Mix 2 are both incredible low-priced flagships. OnePlus 5T has a better display and camera, while Xiaomi Mi Mix 2 has a better design and a software with more important features.
The OP5T feels like a better overall package as compared to the Mi Mix 2 because of its capable cameras. Further, if you prefer stock Android experience, the OP5T is for you. But if you are a fan of MIUI and are okay with a decent rear camera, the Mi Mix 2 is a good choice, especially with its cheaper price.
Which one would you pick?