The Force Is Strong With The OnePlus 5T Star Wars Limited Edition
by Habeeb Onawole Dec 2, 2017 7:53 pm1
Just a few days after announcing the gorgeous Lava Red OnePlus 5T in China, OnePlus took to India to reveal the OnePlus 5T Star Wars Limited Edition. The special edition OnePlus 5T was unveiled at the Bengaluru Comic Con Event today. Permit us to say the force is strong with this one!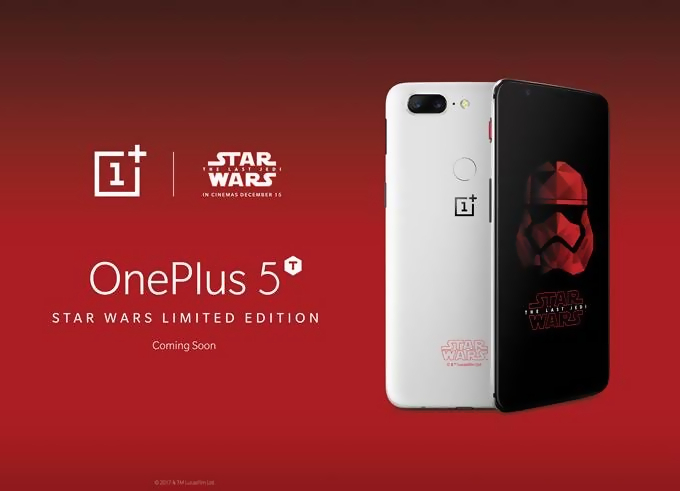 We first heard of the OnePlus 5T Star Wars Limited Edition a few weeks ago even before the Lava Red variant launched. Rather than come in red as earlier reported, the phone is white with the familiar Star Wars logo engraved in red ink at the bottom of the phone.
The alert slider is now red but the volume rocker (and power button) is black. The phone itself wasn't available for a hands-on experience at the event according to those who attended, so some details are still unconfirmed.
However, the phone is expected to come with themes and wallpapers related to the franchise or most probably, the upcoming movie – The Last Jedi.
The OnePlus 5T Star Wars Limited Edition is said to go on sale on December 16th for a yet undisclosed price. Sources say only 150,000 units will be up for sale and availability may be limited to India. I am sure OnePlus will likely get a petition from fans to make it available in other markets.
READ MORE: Honor V10 vs OnePlus 5T Comparison: When Affordable Price Means Better Performance
Do you like the OnePlus 5T Star Wars Limited Edition or do you prefer the Lava Red variant? Let us know your choice in the comment box.