Honor V10 is official and we can consider it the symbol of Chinese smartphones as it offers flagship-level specs at a very affordable price. Indeed, it can be considered a cheaper version of Huawei Mate 10 Pro. OnePlus 5T is probably the most wanted Chinese flagship in this period, that is why it makes sense to compare these two phones to establish which is worth buying. If you have a low budget and you are searching for the best high-end handset, this comparison may be very useful as there are not many phones at the same level as these ones which are sold in the same price range.
Honor V10 vs OnePlus 5T: Design and build quality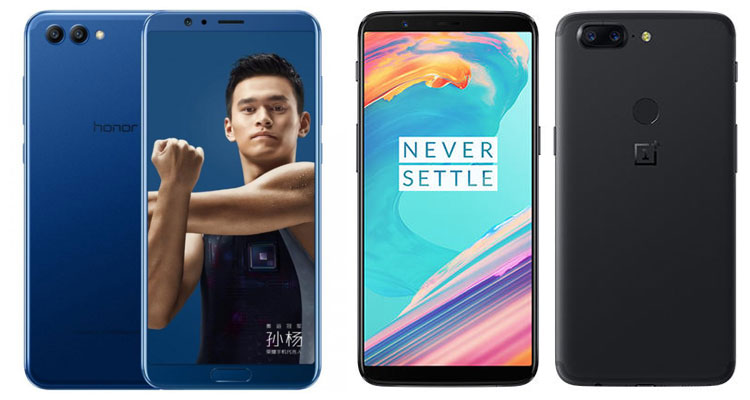 Honor V10 has a very refined metal profile and a glass back because Huawei did a great job in optimizing the size and making the look of the device beautiful. The handset has a size of 157 x 75 x 7 mm, with a weight of 172 grams. The phone is very thin and ergonomic, and even though it has a bezel-less display, on the front panel there is space for a Home key which includes a fingerprint reader. This means that unlocking the phone it will be comfortable too. Unfortunately, the phone is not water-resistant and we still do not know anything about the fragility of the glasses.
OnePlus 5T has a full metal unibody design which resembles the one of Oppo R11s. It is a less original design than its opponent, but it is more resistant. The handset measures 156.1 x 75 x 7.3 mm, while its weight is just 162 grams. The company did not reveal anything about its water-resistance, so we assume it is not waterproof, but a teardown video has revealed that there are some elements that may make it at least splashproof. Anyways, the Honor V10 seems to have a better design overall.
Honor V10 vs OnePlus 5T: Display
The display is not the strongest point on these devices, but we are still looking at high-end panels.
The display of Honor V10 has a size of 5.99 inches, IPS LCD technology, an 18:9 aspect ratio, a high screen-to-body ratio and a Full HD+ resolution with 1080 x 2160 pixels. The handset has just been launched and it is too early to do a deep evaluation of the performance of this display. For now, we can just speculate that brightness, sharpness and viewing angles will be good.
OnePlus 5T has a 6.01-inch display with the Optic AMOLED technology. This display has the innovative 18:9 aspect ratio just like its opponent, with an even higher screen-to-body ratio (bezels are very narrow on each side) and a Full HD+ resolution of 1080 x 2160 pixels. There are also DCI-P3 and sRGB technologies, thanks to which this phone shows very brilliant colors. Even if it is not a 2K panel, it is an outstanding display with a great contrast, wide viewing angles, and a very high brightness, besides accurate colors. We are glad to see that the jelly scrolling problem present on OP5 has been solved.
Honor V10 vs OnePlus 5T: Hardware
The hardware side is the aspect that makes these phones impressive, and it is also the aspect that makes them better than others at this price.
Under the hood, Honor V10 has an octa-core Kirin 970 SoC, the most powerful one by Huawei (the same as Mate 10 and 10 Pro), with a max frequency of 2.4 GHz. It is supported by 4 or 6 GB of RAM and 64 or 128 GB of internal storage (depending on the configuration, you can choose 4/64 or 6/128), expandable with a micro SD up to 256 GB. The phone has a hybrid dual SIM slot, so the micro SD uses the second slot. The performances of this phone are outstanding, with a score of more than 165.000 points on AnTuTu it almost reached the Mate 10 level (that is one of the best phones on benchmarks). It will surely provide lightning speeds with a great stability and no lags at all. The connectivity side includes a USB Type-C port, a 3.5 mm audio jack, Wi-Fi 802.11 a/b/g/n/ac and Bluetooth 5.0.
On the hardware side, OnePlus 5T has an octa-core Snapdragon 835, which is the best SoC by Qualcomm, paired with 6 GB of RAM and 64 GB of internal storage in the base version. The costlier version sports 8 GB of RAM and 128 GB of internal storage, something incredible (UFS 2.1 storage is present in each version). The storage is not expandable but there is a dual SIM slot. On the OP5T you will find a USB Type-C port for charging, a 3.5 mm audio jack, Wi-Fi 802.11 a/b/g/n/ac and Bluetooth 5.0.
Honor V10 vs OnePlus 5T: Software
Honor V10 is one of the cheapest devices launched with Android 8.0 Oreo out of the box until now. The operating system by Google is customized by the famous user interface by Huawei: EMUI, 8.0 version. So, besides an operating system updated to the latest version, there are many additional features. This phone supports even artificial intelligence with many smart features included. It is an impressive software, even if Honor phones are not supported for many years like the ones launched by Huawei.
OnePlus 5T has been launched with Android 7.1.1 Nougat, which is not the latest version, and it is customized with OxygenOS. Stable Android 8.0 Oreo will arrive only in 2018. Even if the company has developed its own user interface, the software side of this phone is similar to stock Android, with a low amount of customizations by the company. There are just some additional features like night mode (which makes the screen look like the display of an ebook reader) and Face Unlock, to unlock the phone through facial recognition.
Honor V10 vs OnePlus 5T: Camera
Dual cameras in both cases.
Honor V10 has a dual camera with resolutions of 16 + 20 MP. It has not been realized in cooperation with Leica like the one from Mate 10, and even if resolutions are the same, we are talking about different cameras. Anyways, the setup is still composed of a normal primary sensor and a monochromatic secondary sensor which is used to capture more light due to the absence of the color filter. The aperture is f/1.8 and there is a LED flash near it. High-level photos for sure, but we think they will be far from the ones shot by top camera phones.
OnePlus 5T has a revolutionary dual camera with resolutions of 16 and 20 MP. It is different from the camera of OP5 and the aperture has been improved (now it is f/1.7). It sports a technology called Intelligent Pixel which makes pixels capture much more light, and photos appear very clear even in low light conditions. Unfortunately, it has no OIS, so there are still differences between this camera and the ones of the best camera phones on the market. Anyways it can be considered an outstanding camera for both photos and videos.
Honor V10 vs OnePlus 5T: Battery
Most of the companies have launched flagships with limited battery capacities in 2017, but this is not the case of Honor V10. The device sports a big 3750 mAh battery, not as big as the one from Mate 10, but noticeably above the average. So, this phone should provide a very satisfying battery life. Unfortunately, there are still not enough tests to evaluate it as it has just been launched. The phone also supports fast charging (5V / 4.5A).
OnePlus 5T has a "normal" battery with a capacity of 3000 mAh. But the optimization by the company is great, and the battery life surprises everyone. This device can last two days with a moderate use, but probably it is not enough to reach Honor V10. Anyways, OP5T supports fast charging as well thanks to the Dash Charge technology.
Honor V10 vs OnePlus 5T: Price
Price is the real strong point of these handsets: they are incredibly affordable.
Honor V10 has been launched in China with one of the lowest price tags ever seen for a flagship. The base variant costs just 2700 CNY (that is the equivalent of about 410 dollars), while the most powerful version costs 3500 CNY (about 530 dollars). This phone will be launched in Europe and other continents on 5 December, so we still do not know how much it will cost outside of China.
OnePlus 5T is available to purchase with a price of 499 dollars/euros for the 6/64 GB version and 569 dollars/euros for the 8/128 GB variant. Both are affordable prices, but Honor V10 offers better value for money and it is also not easy to find big discounts on the OnePlus flagships.
Honor V10 vs OnePlus 5T: Winner
It is always a hard fight when it comes to affordable flagships and it is not easy to establish a winner between these two handsets. Honor V10 has a better design, a more advanced software, a bigger battery and a more affordable price. But OnePlus 5T has a better display, greater performances, a higher-quality camera and probably a better build quality.
We personally would choose OP5T but the V10 is an incredible flagship too!
Honor V10: PRO and CONS
PRO
Advanced hardware and performances
Sleek design
Android Oreo out of the box
Nice dual camera
Big battery
Incredible price
CONS
OnePlus 5T
PRO
Outstanding hardware
Good display
Great camera
Nice build quality
Aggressive price tag
CONS