Motorola To Launch Limited Edition Star Wars Moto Mods In China
Earlier this year, Lenovo-owned smartphone brand Motorola had announced a variety of special edition Moto Mods to commemorate the release of a movie Transformers: The Last Knight. Now, in a similar move, in honour of the upcoming Star Wars: The Last Jedi film, the company is soon going to launch limited edition Star Wars Moto Mods in China.
The upcoming Star Wars Limited Edition Moto Mods are Style Shell Moto Mods, which are basically a removable back cover for the smartphone. It features an image of Darth Vader with his lightsaber.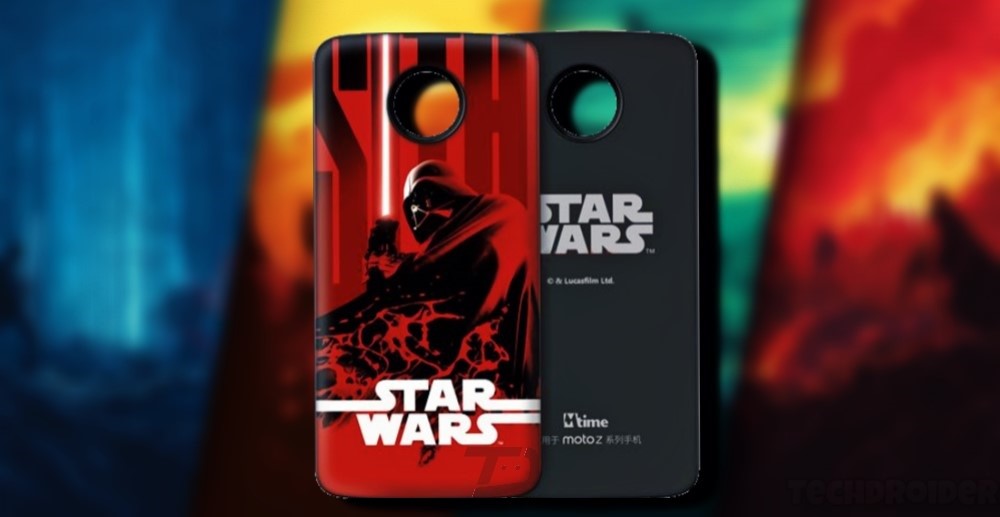 It seems that the Limited Edition Star Wars Moto Mods will be launched sometime over the next few weeks. It is expected to be priced at 129 Yuan, which is approximately $20. It seems that the upcoming Moto Mods will be exclusive to China only, just like the special edition Transformers Moto Mods. We will let you know if Motorola plans to release the special edition Moto Mods in any other regions.
Motorola had recently launched Moto Smart Speaker with Amazon Alexa, a Moto Mod accessory for its Moto Z series of smartphones. As the name itself suggests, the snap-to-connect mod accessory features its own dedicated speaker. The accessory, which is powered by Amazon Alexa, comes with four mics, ensuring that it picks up the voice in relatively noisy environments.
Read More: Motorola Is Going To Launch Moto X4 Successor Named Moto X5 Next Year
Recently, OnePlus launched OnePlus 5T Star Wars Edition in India at the Bengaluru Comic-Con Event. It comes in white colour with the familiar Star Wars logo engraved in Red ink at the bottom of the phone. The smartphone will go on sale from December 14 in India.