Samsung Leads Global Smartphone Sales In Q3 2017, Three Chinese Companies In Top 5
Samsung, the South Korea-based giant has topped the list of top smartphone companies in terms of smartphone sales. Samsung registered about 22.3 percent market share for the third-quarter of 2017, according to market research firm Gartner.
Followed by Samsung, Apple sits on the second spot, registering a distant 11.9 percent market share while China-based Huawei follows Apple with 9.5 percent market share.
In the second quarter, Samsung registered 20.7 percent market share while Apple registered 13.7 percent market share. Interestingly, in the third quarter, Apple registered just 11.9 market share, indicating a drop for the Cupertino-based giant.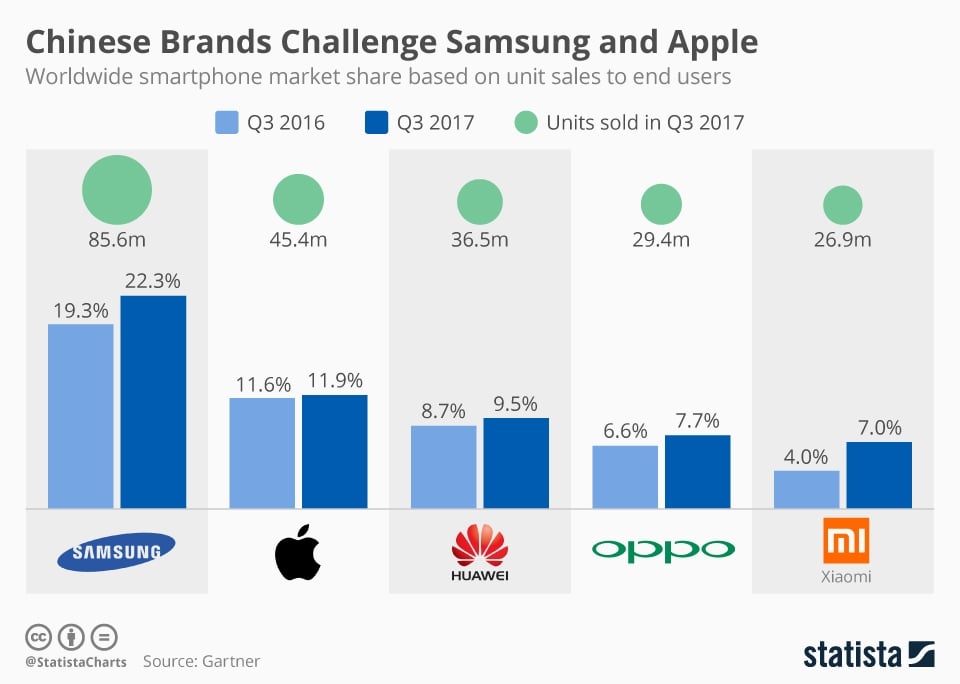 Along with Huawei, there are two more China-based smartphone manufacturers on the list of top 5 smartphone companies. Oppo and Xiaomi grabbed the 4th and 5th position with 7.7 percent and 7 percent market share, respectively.
Coming to the number of smartphone units sold, Samsung sold around 85.6 million units while Apple managed to sell 45.4 million units of its smartphones. Huawei, on the other hand, sold around 36.5 million smartphones while Oppo and Xiaomi sold 29.4 million units and 26.9 million units respectively.
In terms of year-on-year analysis, Samsung's smartphone sales recorded a double-digit growth (around 19.3 percent) in the third quarter. Other smartphone vendors that registered double-digit growth include Huawei, Oppo and Xiaomi. However, Apple is the only one that registered just 5.7 percent increase.
Read More: IDC Predicts Huawei Will Likely Surpass Apple In Market Shares This Year Or Next Year
However, out of all smartphone vendors, Xiaomi achieved the strongest growth. The China-based company exhibited a massive 80 percent increase in the third quarter of 2017. This is majorly due to the company's growth in India, along with growing sales from markets like Latin America and Russia.
According to market intelligence firm Counterpoint Research, in the last year, Xiaomi's market share in India has gone from around just 6% to 22.3 percent, on par with Samsung. Recently, a new report from International Data Corporation (IDC) claimed that Xiaomi has taken over Samsung in terms of sales in 50 major Indian cities.
(source)