Xiaomi Launches Vima Smart Lock Cylinder For ¥399 (~$60)
by Habeeb Onawole Dec 13, 2017 11:00 am0
Over the last 11 months, Xiaomi has released tens of products via its Mijia crowdfunding platform. From sofas to refrigerators to cooking utensils, smart lamps, and TVs, Xiaomi is bent on taking over our homes and doesn't plan to  stop soon. This week, its latest product is the Vima Smart Lock Cylinder.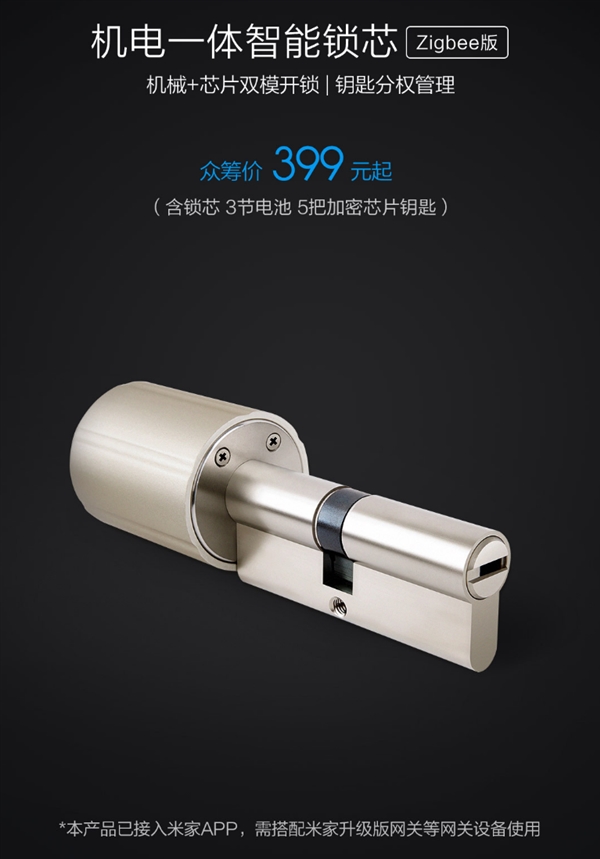 While smart door locks are not new, Xiaomi's approach is a bit different. Rather than completely replace the door lock, this only requires you to change the cylinder of your current door lock.
The Vima Smart Lock Cylinder uses a dual unlocking mechanism (mechanical lock + 128-bit security chip). There are a total of 5 color-coded keys that come with the lock. Using the Mi Home App, users can program which of the keys get to unlock the door and when they get to do so. They also get real time alerts when a door is opened and when the lock's built-in battery needs replacing.
The lock comes with a number of security features such as alarm beeps and app alerts in the case of a lock-picking attempt and the ability to delete any of the five keys in the case a key gets lost or stolen, thereby preventing it from gaining access rather than completely changing the lock.
READ MORE: Xiaomi Mijia Portable Electric Shaver Launched, Priced At 179 Yuan (~$27)
The Vima Smart Lock Cylinder comes in four different models (listed below) depending on the cylinder model and thickness of the door:
ZYJ 75-40/35 45mm – 55mm
ZYJ 90-45/45 56mm – 65mm
ZYJ 100-50/50 66mm – 75mm
ZYJ 120-75/45 76mm – 90mm
The Vima Smart Lock Cylinder will sell for ¥399 (~$60) when it goes on sale on January 24, 2018.
(Source)