Xiaomi Starts ¥9.9 Super VIP Monthly Subscription Model: No Advertisements, Cloud Storage & More
Advertisements are an inevitable part of any service. Companies invest millions of dollars to develop software for their smartphones and in return, many of them use advertisements to generate revenue for their products and services. Xiaomi is no exception to this rule and the company's MIUI often features advertisements in its system services. Some don't mind these ads, as long as they keep the services free, but there is a section of the population who would want to avoid any kind of advertisements in their user interface. For them, Xiaomi has just launched a new ¥9.9 Super VIP monthly subscription service in China for MIUI.
How it works is pretty simple. You pay the company, either monthly or yearly, a fixed amount and in return you get a bunch of benefits including advertising free interface and cloud storage.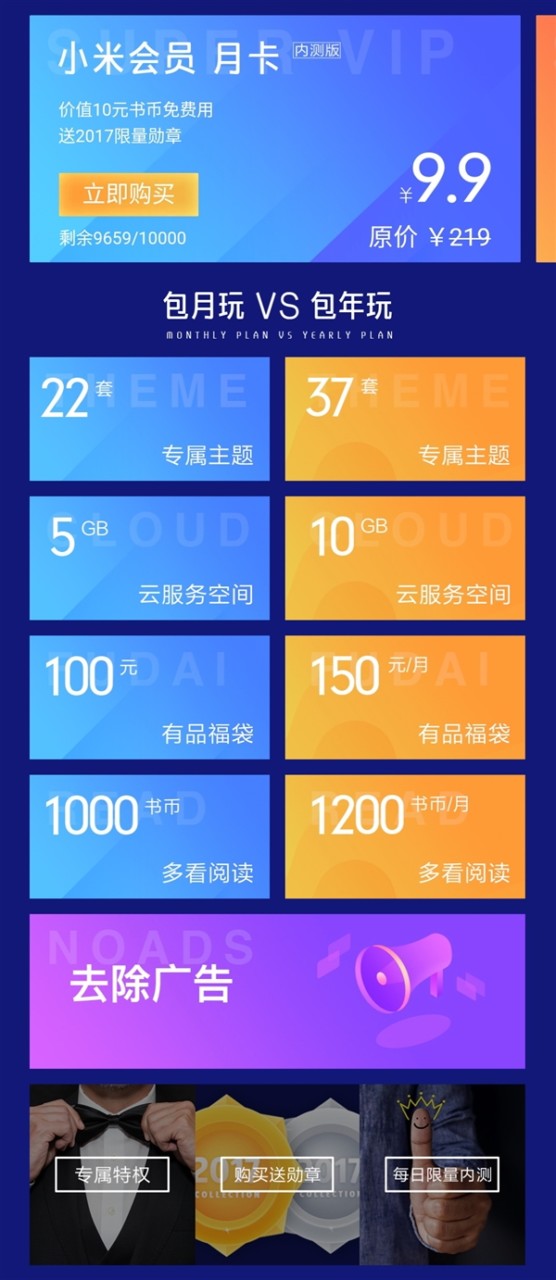 The Xiaomi Super VIP subscription model will cost you ¥9.9 ($1.5) per month or ¥88 ($13.5) per year. You get more benefits if you are ready to pay for the entire year. At present, the service is in beta and Xiaomi is accepting only 10,000 experience and 10,000 monthly users to this program per day. Only 1000 applicants are being accepted for the year program per day.  The beta kicks off from today and ends on December 31.
If you get into the Super VIP beta program, you'll be exempted from any kind of system or system app advertisements. However, you'll still be seeing third party app ads as the service doesn't restrict other applications. Apart from this, monthly users get 22 set of exclusive VIP themes, 5GB of cloud storage, and 1000 books to read per month. In comparison, the yearly users will get 37 exclusive VIP themes, 10GB of cloud storage, and 1200 books to read per month.
Note that if your Mi account is logged into multiple smartphones, only one of the phones can enjoy the benefits of this Super VIP service.
So, what are your thoughts about this new service from Xiaomi? Would you be ready to shell out a nominal amount per month to receive the above benefits?
(Source)