Best Selling Smartphones In 2017 In China Saw Only One Xiaomi Phone
Counterpoint has released its top 10 smartphone ranking for the Chinese market in 2017. The ranking contains the top-grossing smartphones all throughout last year in China and the chart contains some surprises. The major surprise is that despite the resurgence of Xiaomi, only one of its Redmi models found its way into the chart. On the other hand, three OPPO models were contenders in the group of ten.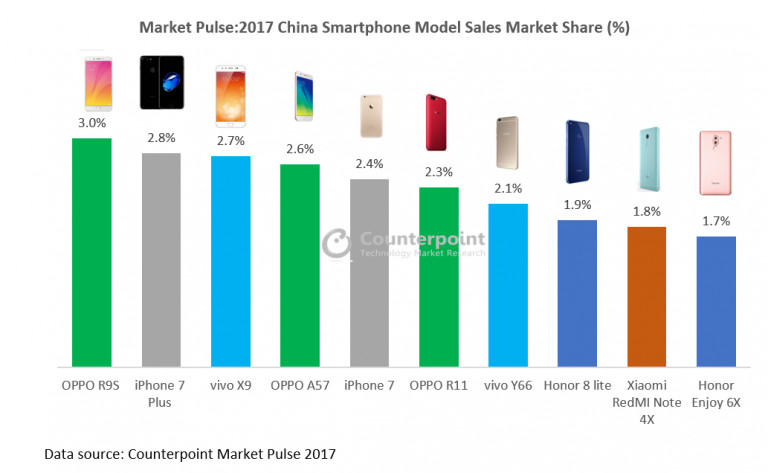 Interestingly, OPPO R9S emerged as the top-grossing smartphone with a 3% share of the market and it is closely followed by the iPhone 7 Plus with 2.8%. Vivo X9 was rated the third-highest grossing smartphone in 2017 with a 2.7% share of the market. Oppo then hit the ranking again with the A57 occupying the fourth spot. Despite the supposedly poor standing of Apple in China, the iPhone 7 joined its Plus-sized counterpart on the list, in the fifth spot. OPPO R11 is the third OPPO model on the list, sitting at number six with a 2.3% share of the market. Vivo Y66 happens to be the second Vivo model that made the charts. It is closely followed by the Honor 8 Lite at number seven. Xiaomi Redmi Note 4X emerged as the only Mi brand that made the list and it sits at the 9th spot. Finally, the Honor 6X completes the top 10 ranking with a 1.7% shales of the market.
Read More: OPPO Dominates Q3 Shipments In China Despite Xiaomi's Strong Showing
In addition, of all the brands, Apple is the only foreign brand on the list. That is an indication of Apple's strong popularity in China. Despite the flurry of smartphones, Xiaomi launched this year, we are at a fix why only one Xiaomi model is on the list. Not even the Mi 6 or Mi Nte 3 or the budget Redmi Note 5A.
(source)