OnePlus' Website Reportedly Hacked, Credit Card Payments Now Disabled
OnePlus' CEO Peter Lau recently revealed that the company raked in more than 1.4 billion in revenue in 2017, double of what it earned in 2016. This is a monumental feat by the Chinese tech giant but it seems not everyone was happy about that. Seems some clever dudes are making attempt to get their share of that huge revenue by fleecing customers at OnePlus' official website- Oneplus.net.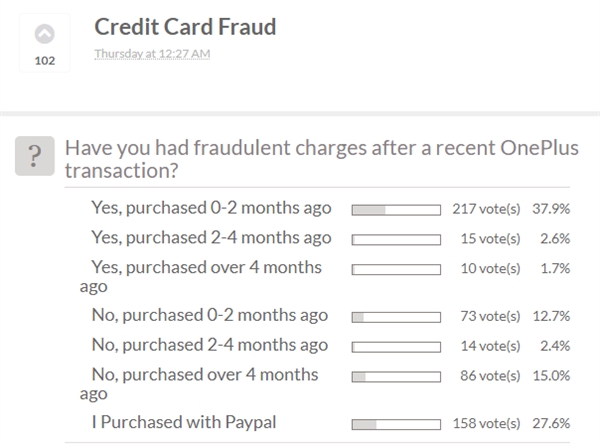 Several users have reported that their credit card details have been leaked and the unknown culprit has been on the loose, trying to spend tons of their money on coupons, random betting sites, and other such quick-to-cash-out places. Most of the affected complainants report that the incidence started after they shopped at OnePlus.net. In some cases, they claimed that the compromised cards have only been used at OnePlus' online store. The good news is that the fraudsters have been prevented from succeeding by security built-in on modern credit card systems to stop such. That notwithstanding, it is important users who have shopped on OnePlus' website with their credit cards keep an eye on their transaction history for any unusual credit card transaction until it is tackled. Better still, avoid using your credit card but instead check out using PayPal.
Read Also: OnePlus Records Over $1.4 Billion in Revenue With Healthy Profits
OnePlus has responded to the complaints, indicating that the website does not store users' credit card details but indicated that they are investigating the report. The company did not say if there was indeed a breach or not but those with complaints are directed to forward such to [email protected] As a precautionary measure, OnePlus has now disabled credit card payments on OnePlus.net. For now, customers will only be able to make payment using their PayPal account until the investigation is concluded or an alternative payment platform is added.
(source)