Alleged Samsung Galaxy S9 Real Machine Appears In A Leaked Test Video
South Korean tech giant Samsung is just a couple of weeks short of launching its 2018 flagship Galaxy S9 and S9+. Both models are already billed to make their grand entrance at the Mobile World Congress (MWC) 2018 holding from February 26 to March 1 in Barcelona. Ahead of its official unveiling, we may just have spotted a real live photo of the Galaxy S9 which appeared in a short video clip recently uploaded on Weibo.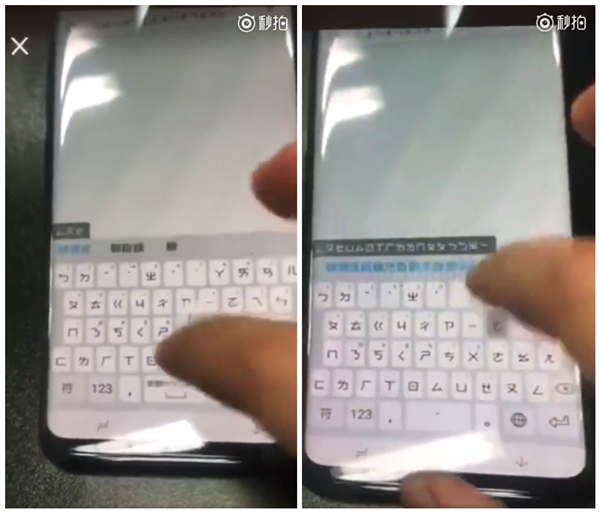 The short clip appears to be a test video and it only shows the on-screen keyboard being tested. The view affords us an opportunity to see the front screen with its much-reduced bezels. The side bezels are almost non-existent while the bottom edge which is visible features an ultra-thin bezel. Same also applies to the top bezels but that isn't very visible here. We hope to see more leaks as the launch date draws closer.
Read More: Photos of Samsung Galaxy S9+ Lookalike Surfaces From Shenzhen's Huaqiang North
The Galaxy S9 is expected to feature a 5.8-inch Super AMOLED display while the S9+ will pack a 6.2-inch Super AMOLED screen. Both models will be powered by a Snapdragon 845 chipset as well as an Exynos 9810 chip on some models. The two models are expected to be available in 4GB RAM + 64GB storage variant as well as 6GB RAM + 128GB storage and both are expandable. The Galaxy S9 is expected to sport a single 12MP rear camera with f/1.5 aperture and OIS. On its part, the Galaxy S9+is tipped to come with a dual camera set up comprised of two 12MP sensors with f/2.4 and f/1.5 apertures respectively as well as double OIS. Both models are expected to feature an 8MP selfie camera with f/1.7 aperture. The Galaxy S9 and S9+ recently got 3C certification and the listing confirmed they will both come with 9V /1.67A and 5V / 2A fast charge support similar to those of the Galaxy S8 series. There is also a 3,000mAh battery on the S9 while the S9+ packs a 3,500mAh battery. Follow the source link to watch the test video on Weibo.
(source)