Samsung had been rolling the Indian smartphone market for the past six years. However, from the beginning of 2017 Xiaomi became a real threat for the South Korean company. A market survey of International Data Corporation (IDC) for the third quarter of 2017 had revealed Xiaomi and Samsung respectively accounted a market share of 23.5 percent. Since then, market analysts have been predicting that Xiaomi will pip Samsung in the coming months. Two research firms such as Counterpoint Research and Canalys have separately revealed that Xiaomi has finally dethroned Samsung to gain the number uno position in the country.
According to Counterpoint Research's survey for Q4 2017, Xiaomi now holds a market share of 25 percent in India and Samsung is on the second spot with a market share of 23 percent. Lenovo, OPPO and Vivo are holding on to the third, fourth and fifth position with respective market share of 6 percent.

The research firm's survey for Q4 2016 reveals that Samsung had a market share of 24 percent while Xiaomi and Lenovo that respectively held a market share of 9 percent. Interestingly, Counterpoint has rated Samsung as the top seller in 2017 as the company was ahead of Xiaomi in the first half of the year.
According to Canalys, Xiaomi and Samsung respectively shipped 8.2 million and 7.3 million smartphones in Q4 2017. The market analysis by Canalys states that Xiaomi has a market share of 27 percent while Samsung is on 25 percent. It claims that the South Korean tech giant has been unable to win over cost-conscious consumers and it has lost to Xiaomi because of its inability to transform its low-cost portfolio.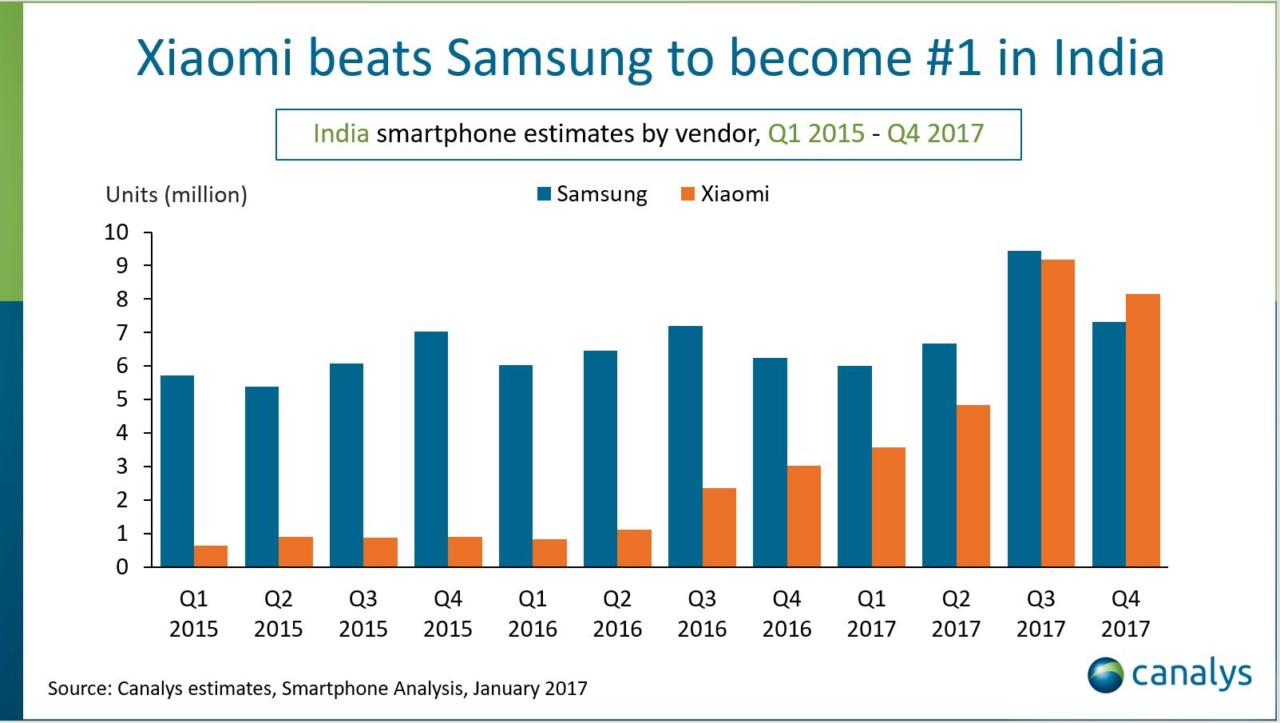 Read More: Xiaomi to Build More Offline Stores to Rival with Samsung in India, Will be Launching Around 8 Phones in 2018
Responding to the report, a Samsung's spokesperson claimed, "the company is still the number 1 smartphone company by a distance." By citing GfK's market research that is known for tracking sales to end users, he claimed that Samsung has 45 percent value market share and 40 percent volume market share. He added that Samsung is the market leader in different price segments in India and is also the country "Most Trusted" brand.
Xiaomi had entered India three years ago. Since then the Chinese firm has been aggressively selling smartphones with high specifications at very affordable prices. Its strategy of selling smartphones through flash sales famous retailers like Amazon India and Flipkart have also help the company to gain a good market share in a relatively short period.  Its entry-level Redmi 5A is available with a pricing of only Rs. 4,999 (~$79) whereas the Xiaomi Mi MIX 2 flagship is selling for Rs. 32,999 (~$519).