Coolpad Takes Xiaomi To Court Over Patent Infringement
by Habeeb Onawole ago0
Yulong Computer Communications Technology (Shenzhen) Co. Ltd, a subsidiary of the Coolpad Group has sued Xiaomi and three others to court over alleged patent infringements.
The defendants are Xiaomi Communications Technology Co., Ltd (1), Xiaomi Technology, Co, Ltd (2), Shezhen Tongtianda Electronics Co. Ltd (3), and the first branch of Xiaomi Co. Ltd Shenzhen (4).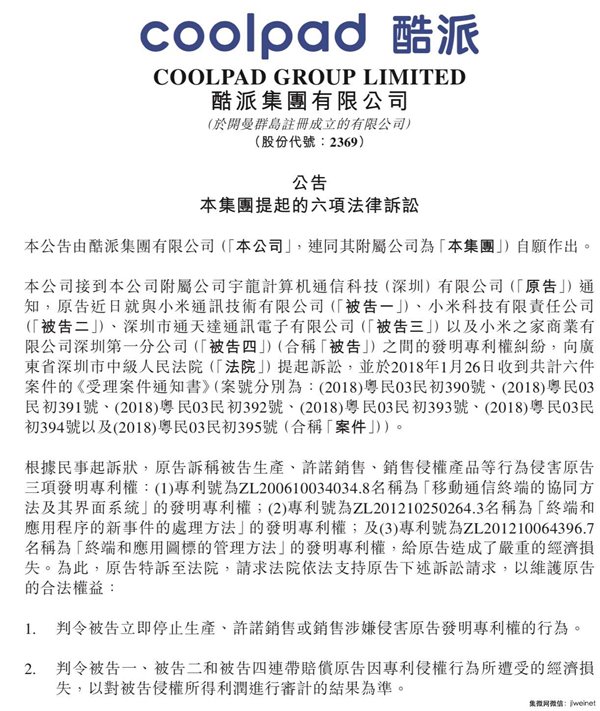 According to the lawsuit, the plaintiff (Yulong) claims that the defendants produced, promised to sell, and sold products that infringed on three of its patents. The patents are listed below:
Patent No. ZL200610034034.8
Patent No. ZL201210250264.3
Patent No ZL201210064396.7
All three patents are said to relate to app icon management, notifications, and system UI.
Yulong says the patent infringements has caused it serious losses and is demanding that the court grants an immediate order stopping the defendants from the production, promise to sell, and selling of the products that infringe on its patents.
It also requests that the first and fourth defendants should pay compensation for the losses it has suffered, bear the full cost of legal fees, notarization fees, and other reasonable fees paid towards stopping the patent infringement.
The case has been accepted at the Guangdong Province Intermediate People's Court but hearing on the matter hasn't begun.
READ MORE: LeEco Sells Off Significant Stake In Coolpad, Bears Heavy Losses
A few days ago, it was reported that Coolpad's CEO Jiang Chao said his company holds over 10,000 patents which many companies have stolen. He added that they plan to take it up with these companies and from the looks of it Xiaomi is first on the list.
(Source)