At the end of 2017, Xiaomi had rolled out the Android 8.0 Oreo update for its first Android One smartphone – the Xiaomi Mi A1. However, the Oreo update contained a lot of bugs and it also resulted in fingerprint sensor lag and battery draining issue. Hence, the Chinese manufacturer had to suspend the first Oreo update. The Mi A1 users were treated with a second Oreo update, but it could not resolve fingerprint scanner lag and severe battery drainage problem. Hence, Xiaomi had to suspend the second Oreo update for Mi A1. The company has now confirmed that it is working on a patch to fix these issues.
Users have been complaining on the official Xiaomi support forums and other platforms like XDA and Reddit that there is a short delay of around one second when tying to unlock the phone after installing the Oreo update. Some of the Mi A1 users have also complained that the battery draining issue is so bad that they end up charging the phone twice a day with less usage.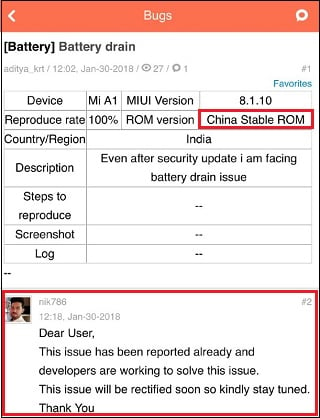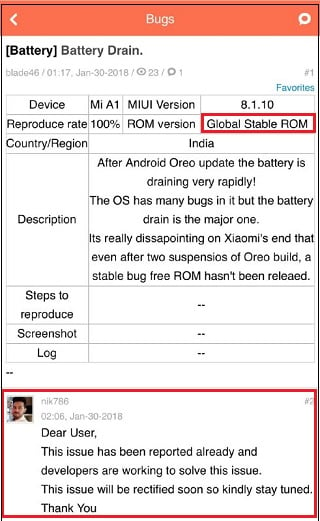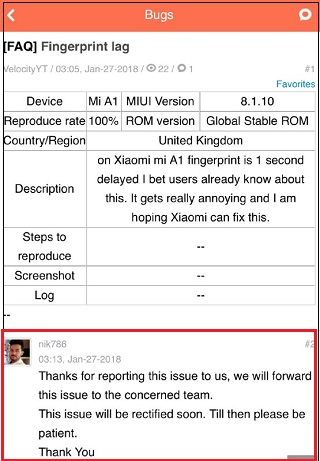 Read More: Xiaomi Mi A1's Android Nougat Kernel Source Code is Now Available
Apart from the two main issues, Android Oreo update has also resulted in other problems like connectivity issue, random reboots and more. The fingerprint reader lag issue may not sound like a major issue, but when coupled with other bugs and severe battery drainage, these problems may be quite frustrating for Mi A1 users. As it can be seen in the above screenshots, the Chinese manufacturer is working on a fix for the battery issue and it will be addressing the fingerprint sensor lag problem to the concerned team to resolve the issue soon.