Xiaomi Is Back In The Top 5 Manufacturers List Thanks To The Incredible Growth In Q4 2017!
Popular research firm IDC has released its survey data which showed the fourth quarter 2017 global smartphone shipments. The global smartphone shipments peaked at 403.5 million which represents a 6.3% decrease YoY. In the fourth quarter, the data showed that Apple, Samsung Huawei, Xiaomi and OPPO emerged as the top 5 smartphone manufacturers in terms of market shares.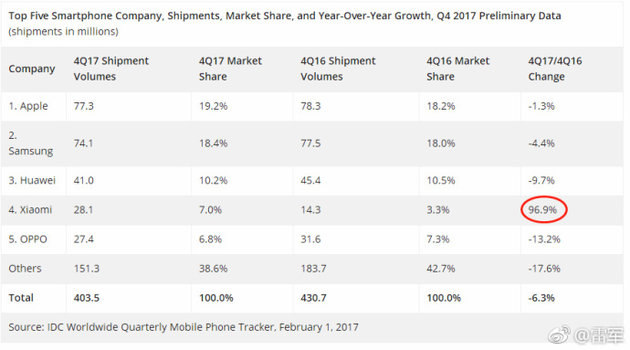 Apple emerged as the over leader with a total shipment of 77.3 million units and this was no doubt buoyed by the release of its 2017 flagships; iPhone 8, 8Plus and iPhone X. Samsung followed closely with a gross shipment of 74.1 million. Chinese smartphone maker maintained its third position, shipping an estimated 41 million phones in Q4 2017.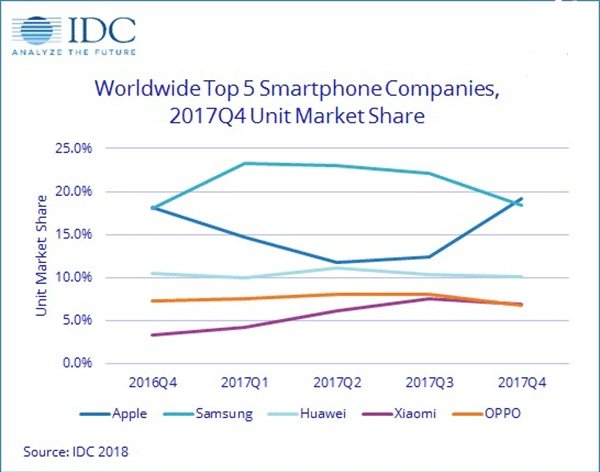 Xiaomi displaced OPPO to emerge at the number 4 spot with a gross shipment of 28.1 million units. It is interesting to note that of all the OEMs on the list, only Xiaomi saw significant growth in its shipment when compared to the same period the previous year. Xiaomi recorded just 14.4 million Q4 shipments in a turbulent 2016 outing. However, the new figure means the Chinese innovative company's global shipments grew by 96.9%. Other OEMs in the top 5 recorded an average of 6.3% reduction in their shipment volumes YoY. Even the cumulative shipment figures of Chinese phone makers like Vivo, Gionee who didn't make it up into the top 5 in the fourth quarter of last year saw its shipment volumes drop from 183.7 million in Q4 2016 to 151.3 million.
Read Also: Xiaomi CEO Targets 100 Million Smartphone Shipments in 2018
With this encouraging results, Xiaomi will be spurred to continue ramping up sales with the release of new products this year and also expand its presence globally through online and offline stores. Last year, the company made inroads into Europe with launches in Russia and Spain and now Xiaomi will soon make an entry into Italy.
(source)