Snapdragon 845 Looks A Lot Faster Than Snapdragon 835 In New Benchmarks
by Michele Ingelido ago0
Qualcomm announced the Snapdragon 845 in December, but we still did not have the chance to test it, as there isn't any phone in the market with this SoC. When the specifications have been revealed, many people were left disappointed because this SoC is still based on 10 nm process. It is exactly the same production process as its predecessor Snapdragon 835, while people expected to see the first 7 nm mobile chipset. But, even though it is still built with a 10 nm process, it seems that the new processor will be way better than its predecessor.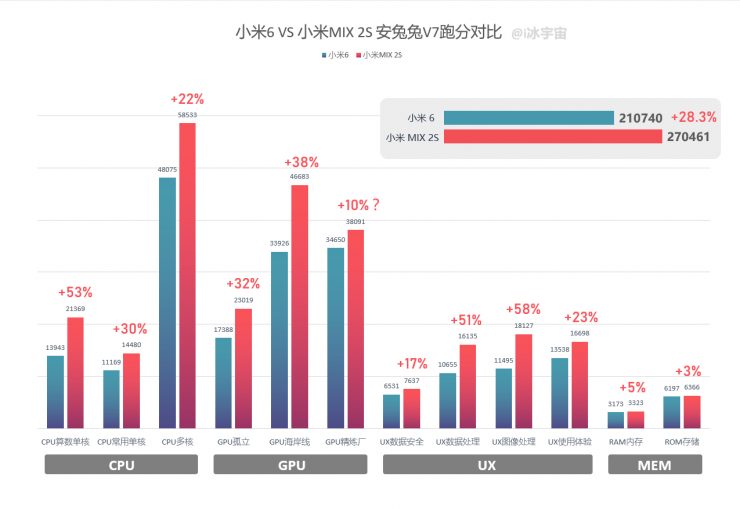 According to new benchmarks, Qualcomm Snapdragon 845 is able to reach peak performance of more than 50% than the Snapdragon 835. The tests have been made on the famous platform AnTuTu. On the platform, two handsets have been compared: Xiaomi Mi6 with Snapdragon 835 and the upcoming Xiaomi Mi Mix 2S, which should be the first SD845 phone together with the U.S. version of the Samsung Galaxy S9. The benchmarks show a superiority of the Snapdragon 845 in the CPU, GPU, and UX side. The total score achieved by Xiaomi Mi6 is 210,740 points, while Xiaomi Mi Mix 2S scored 270,461 points, that is a 28.3 percent improvement than its predecessor.
READ MORE: MIUI 10 Update's Eligible Devices List Leaked; Find Out Which Xiaomi Phones Won't Get MIUI X
We don't have info about the quantity of RAM of the Mi Mix 2S variant tested on AnTuTu, while we know that Xiaomi Mi6 has 6 GB of RAM. Obviously, benchmarks are not everything to evaluate the performance of a SoC like the Snapdragon 845, especially in daily use. So consider this as an indication of its peak performance. Just to remind you, Qualcomm Snapdragon 845 is an octa-core processor just like its predecessor, but it has a higher clock frequency. It is composed by 8x Kryo 385 cores with a max frequency of 2.8 GHz, and it also includes an X20 LTE Gigabit modem and an Adreno 630 GPU.
(Via)