Snapdragon 845 Battles Snapdragon 835, Exynos 8895, Kirin 970 and Apple A11 Bionic
by Habeeb Onawole ago0
The first set of Snapdragon 845-powered smartphones will launch this month at MWC Barcelona. There are even rumors we may not have to wait till the tech event before we see the first one.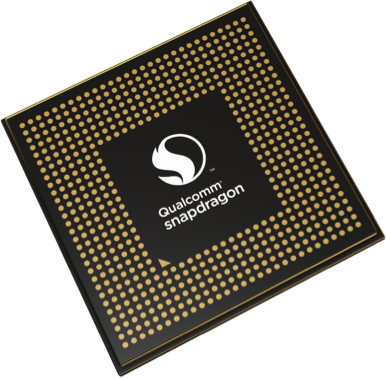 Qualcomm announced the chip back in December. Today, using its own test device, it has released benchmark results of the chip as well as its performance against other chipsets in the market.
The Qualcomm test device runs Android 8.0 Oreo, has 6GB of RAM and a display with a 1440 x 2560 resolution. It was ran through benchmarking apps Geekbench and AnTuTu and then pitted against other phones and chipsets.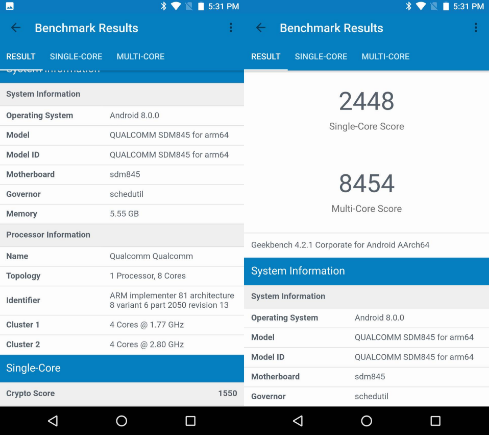 For Geekbench, the Snapdragon 845 prototype device scored 2448 points in the single core test and 8454 points in the multi-core test.
The scores puts it at the top of the Android list as it is shown in the image below. It beats the Exynos 8895-powered Galaxy Note 8 and Galaxy S8 with more than 2000 points in the multi-score test and leads them both by more than 400 points in the single core test.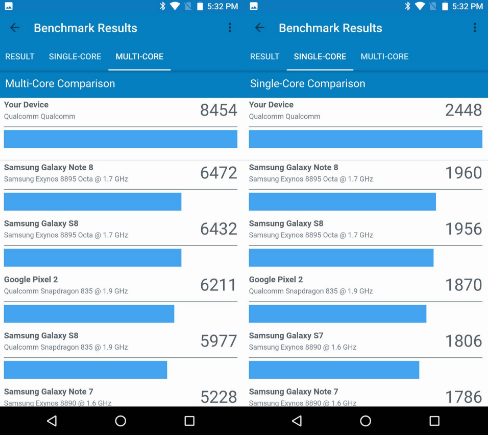 The Snapdragon 835-powered Google Pixel 2 lags behind with over 2200 and 500 points in the multi-core and single-core test scores.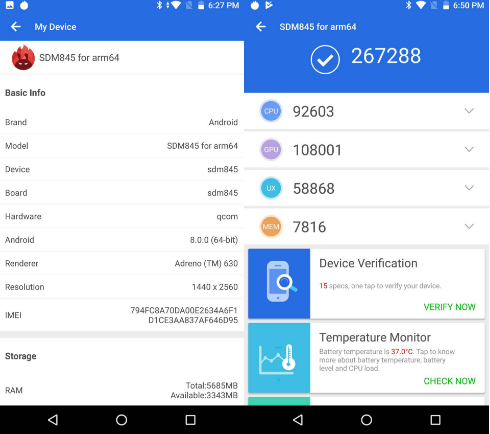 Next is AnTuTu, where Qualcomm's new flagship chip records a whopping 267,288 points. However, this is not the highest we have seen this SoC score. Last week, we saw the result of Xiaomi's Mi MIX 2S on the same benchmarking app and it scored 270461 points. The Mi MIX 2S scored higher in CPU and memory and that can be attributed to its RAM which is said to be 8GB.
So how does Qualcomm's new chip perform against those in the market currently? Long story short, it is not the king.
The test device was compared to the Huawei Mate 10 Pro with its Kirin 970 SoC, the OnePlus 5T with Snapdragon 835, the Exynos 8895 toting Galaxy Note8, and the Apple A11 Bionic iPhone X.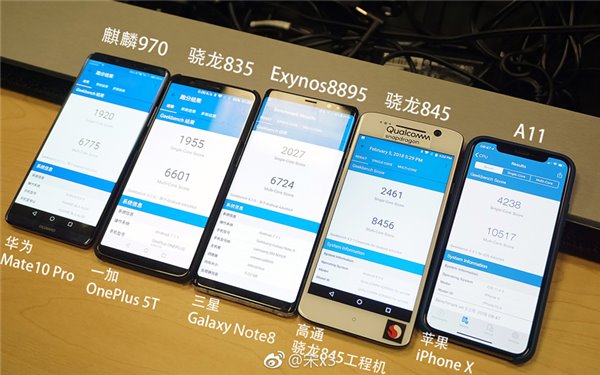 Qualcomm's new chip beats all but one – the Apple A11 Bionic. Apple's chipset not only trumps it but does so with at least 2000 points in both the single-core and multi-core tests. Qualcomm's joy as the king of Android chipsets will actually be short-lived as the Exynos 9810 is said to be ahead in performance too.
(Source)