Xiaomi & Samsung in Subtle War of Words Over Who Sold More Units in Q4 2017 in India
Xiaomi and Samsung India are both locked subtly in a war of words that thankfully, is yet to snowball into a messy situation. The bone of contention is who among the duo sold the most smartphones in India in the fourth quarter of 2017.
A recent IDC report gave Xiaomi an estimated 26.8 percent market share which is a tad higher than Samsung's 24.2 percent share of the Indian market in Q4 2017. IDC had indicated that Xiaomi shared the top slot with Samsung in India in the third quarter of 2017 with a market share of 23.5 percent but for the whole of 2017, Samsung still led the Indian smartphone market with 24.7 percent share while Xiaomi with 20.9 percent stood at second place. Now, that doesn't sound like there's any trouble, isn't it? But the thing is Samsung India's Global Vice President, Asim Warsi disputes the reports that the Korean giant's market share has slipped in India. He made this position known in an interview with the Indo-Asian News Service (IANS). Mr Warsi stated that "German research firm GfK reports final consumption which is the most important measure of market share. Shipments are important but they don't tell the final market share." He also added that "the real share is what I sold out to my customers and here, we are pretty strong".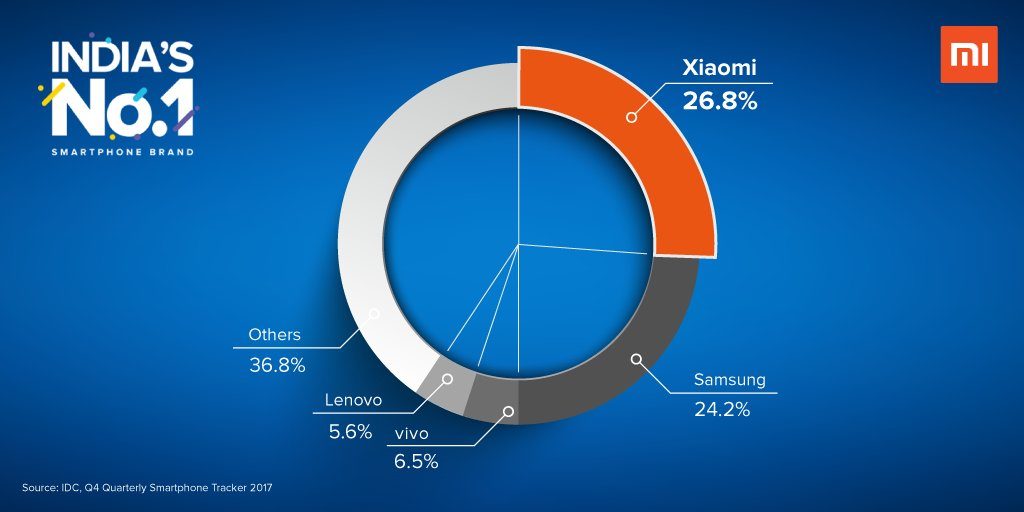 The comment was no doubt aimed at Xiaomi and as you would expect, Xiaomi India MD, Manu Jain, dismissed the comments. The Xiaomi Global VP believes it surpassed Samsung's smartphone sales in India and is presently the fastest-selling handset brand in the South Asian country. He didn't mention the name of any brand in his comments but we don't need a soothsayer to know that he was referring to Samsung. He even took a swipe at Samsung when he mentioned that Xiaomi does not have big, secret warehouses in India where it is dumping unsold inventory and is actually selling smartphones faster than any other brand in the country. The Xiaomi VP also added that the Chinese giant had the leanest distribution system network in place and whatever was being produced locally or being imported into the country went off the shelves rapidly.
Read More: Xiaomi Set To Storm India With Its Fully-Owned Mi Home Stores This Year
The comments by Samsung's VP goes to show that the South Korean company recognises the growing popularity of the Mi brand. Samsung has been the market leader for years and still is, going by IDC's latest report but Xiaomi is fast closing in and could dethrone Samsung this year if its present momentum is maintained.
(via)