Samsung Begins Mass Production of Industry's Largest 30.72TB SSD
Samsung continues to blaze the trail in many aspects including Solid State Storage drive. The South Korean tech giant has announced the commencement of mass production of a new 30.72TB Solid State storage drive called PM1643 built out of the latest V-NAND chips. The new SSD improves on the massive 15.36TB  storage which was unveiled two years back.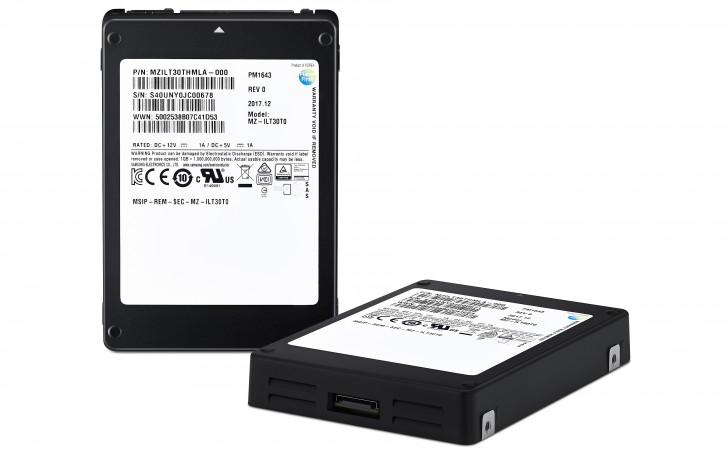 Apart from the large storage capacity, the storage drive is also touted to come with blazing performance as it promises a speed of up to 2,100MB/s sequential read and 1,700MB/s write (400K/50K IOPS for random reads/writes respectively). To achieve such performance numbers, Samsung had to combine 32 of the new 1TB NAND flash packages, each comprised of 16 stacked layers of 512GB V-NAND chips. These super-dense 1TB packages allow for approximately 5,700 5-gigabyte (GB), full HD movie files to be stored within a mere 2.5-inch storage device.
Read More: Samsung Planning To Bring The Full-Screen OLED Design To Its Midrange Segment
In addition, the drive is built for use on next-generation enterprise systems and has protection from memory loss in the event of sudden power shutdown and there's ECC to maintain integrity. In terms of its durability, Samsung touted the new SSD as capable to handle 30.72TB of data written on it daily for five years. The mean time between failures is 2 million hours. No word yet on the pricing and availability but Samsung did hint that smaller capacities with be available later on. Thus, we'll see 7.68TB, 3.84TB and so on all the way down to 0.8TB models.
(source)