Vivo V9 Poster Spotted With Rear Dual Cameras & 24MP Selfie Front Shooter
After the launch of the Vivo X20 Plus UD edition with the synaptics Clear ID under display fingerprint sensor, the company is getting ready to announce the Vivo V9 smartphone. The phone was initially spotted on a billboard a few days back and now, the same phone has been spotted in another poster. Given that the company has kicked off the promotions for this new model, we can expect an official announcement anytime in the coming weeks.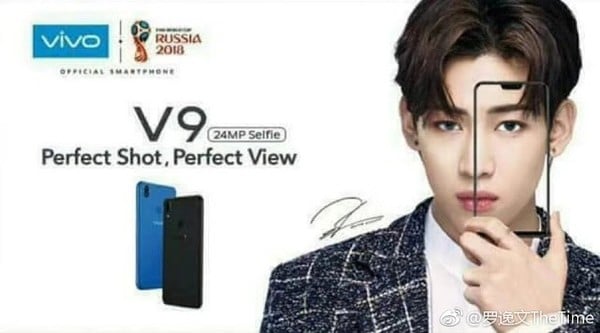 We don't know much about the hardware of the Vivo V9 except for its 24MP selfie camera up front. The phone is unsurprisingly taking its design inspiration from Apple's iPhone X, just like most other Android manufacturers in the market. ASUS did the same with its new Zenfone 5 series, OPPO with the new R15 models, and even Huawei with the P20 series. It looks like this year, the notch is really going to be a big trend among Android manufacturers, so it isn't surprising that Vivo too is joining the party.
RELATED: Vivo APEX Concept Phone Launching March 5
Vivo's V series has always been a mid-range lineup featuring modest specs for an affordable price tag. The most recent one, the Vivo V7 and Vivo V7+ that were launched back in September 2017 featured the entry level Snapdragon 450. This should give you an idea of the placement of the series. However, this time around, rumours claim that the Vivo V9 could be a more powerful model, featuring Snapdragon 660 with dual cameras at the back. We can confirm the dual cameras from the poster along with a rear placed fingerprint sensor. So, it looks like the V9 series won't be having the under display fingerprint sensor. That's likely reserved for the X series.
(Source)