Synaptics Announces Clear ID as World's First In-Display Fingerprint Scanner
by Anvinraj Valiyathara Dec 12, 2017 12:23 pm0
Synaptics Inc, a company that is well-known for manufacturing touchpads and fingerprint sensors has officially announced Clear ID FS9500 optical in-display fingerprint scanner for smartphones. It is a milestone achievement by the company as it will allow full screen design phones to feature the fingerprint sensor underneath the touchscreen display.
The arrival of full screen design trend in the mobile phone industry in this year have resulted in relocating the fingerprint scanner to the rear side of smartphones. Even though the fingerprint identification feature is considered very secure, Apple has axed the feature on the newly unveiled iPhone X. Instead of the Touch ID sensor, iPhone X features the all new Face ID facial recognition feature that users can use to unlock it or securely carry out transactions through Apple Pay.
Following Apple, Android smartphone OEMs have reportedly invested on facial recognition technology to bring face scanning features on forthcoming Android phones. However, Synaptics is of the view that the rear-mounted fingerprint scanner and facial scanning technology are not very convenient. For instance, if the smartphone is placed on a table, users are required to lift the phone to reach out to the rear-facing fingerprint scanner or the bring the phone near to scan the face.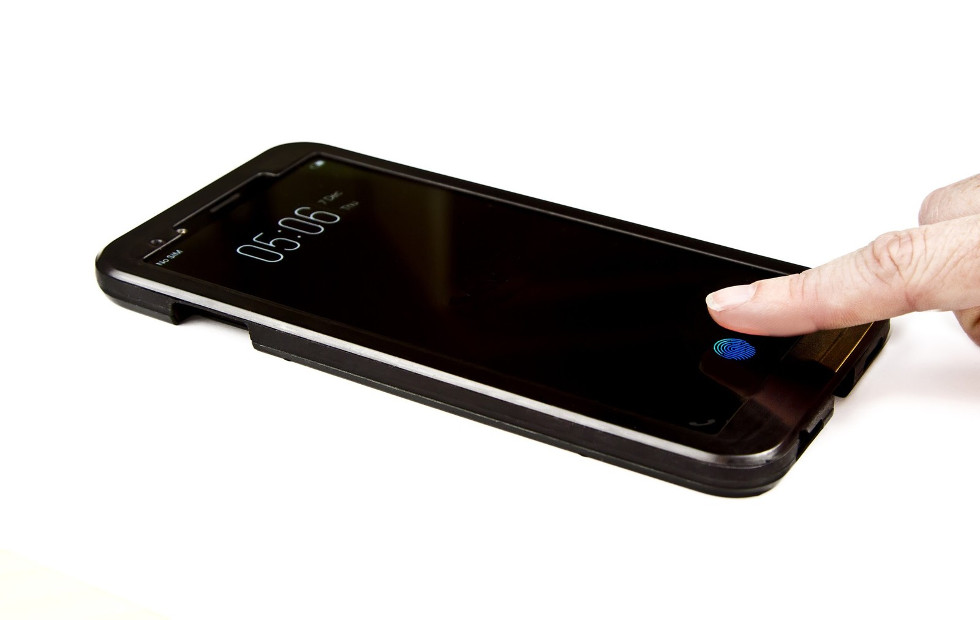 Read More: Synaptics Launches FS4600 Seriess Underglass Optical Fingerprint Sensor
Clear ID by Synaptics
The Clear ID in-display fingerprint scanner by Synaptics offers the same kind of one-touch authentication that is available through conventional front/rear mounted fingerprint readers found on existing smartphones. Since it is placed under the display, it is a button-free solution. It can be used with wet, dry and cold fingerprints.
Since the Clear ID remains well-protected under the durable glass of the screen, it is a water-resistant and scratch-resistant technology. It is equipped with security features such as adaptive fingerprint template matching and verification as well as anti-spoofing technology. It is also integrated with ECC authentication and AES encryption.
Synaptics has also confirmed that the mass production of Clear ID has already begun in collaboration with a "top five" smartphone manufacturing firm. The press release by Synaptics has couple of references to "infinity display" which is the full screen technology used by Samsung on the Galaxy S8, Galaxy S8+ and Galaxy Note 8 phones. Hence, it is speculated that Synaptics could be working with the South Korean tech giant to make the feature available on a 2019 Galaxy flagship.
There is no confirmation on whether the Galaxy S9 and Galaxy S9+ will be coming with in-display fingerprint sensor. Previous reports have revealed that the Galaxy Note 9 could be Samsung's first phone to feature under screen fingerprint scanner.
Synaptics will be demonstrating the Clear ID fingerprint scanner at Consumer Electronics Show (CES) in January 2018. Qualcomm is also expected to unveil its under-display fingerprint scanner technology in Q1 2018.
(source)