Qualcomm Enters Under-Display Fingerprint Scanner Race, Launch in Q1 2018
by Habeeb Onawole Jun 28, 2017 11:26 am0
A few years ago, fingerprint scanners were reserved for high-end phones. Now, don't be amazed to find a fingerprint sensor in a phone priced under a $100. The technology continues to evolve and the focus now is to make scanners that can sit directly under displays. Qualcomm just announced it has joined the race at this year's MWC Shanghai.
The chip manufacturer announced that it is working on making under-display sensors and is even already making samples. This scanner will be able to sit under OLED panels that are up to 1200µm thick.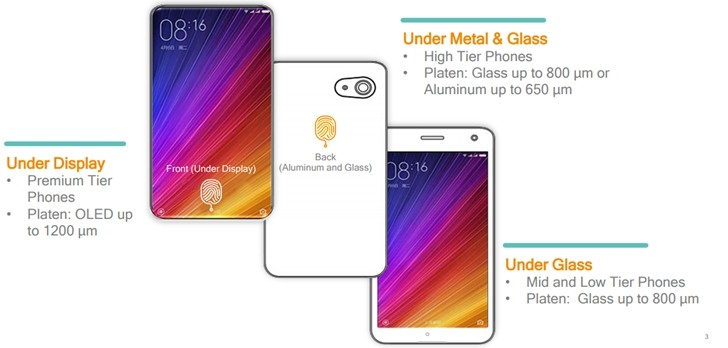 An image provided by Qualcomm shows that their scanners will cut across three main categories:
Under-display scanners will be used for premium phones.
Under-metal and glass scanners will be used for high-end phones and will be able to scan through glass of up to 800 µm or aluminium of up to 650µm.
Under-glass scanners for mid and low tier phones that can scan through glass 800µm thick.
Qualcomm said the Scanners for Metal and Glass will be compatible with the new Snapdragon 630 and Snapdragon 660 mobile platforms while the Scanners for Display, Glass & Metal are designed to be compatible with future Snapdragon 800 series, 600 series, 400 series and 200 series mobile platforms. They will also work with non-Snapdragon processors and as standalone sensors.
Qualcomm says their scanners will be able to detect fingerprints underwater and also heart beat and blood flow for a more secure authentication.
Qualcomm and Vivo Partnership
The highlight of the announcement is the partnership with Vivo. Qualcomm says it is working with the Chinese manufacturer and will display modified versions of the Xplay6 sporting Qualcomm Fingerprint Sensors for Display at the Shanghai Mobile World Congress.
This announcement is the final piece of the puzzle that makes everything clear. It turns out that Vivo won't be announcing a new phone with an under-display scanner but will be demoing Vivo Xplay6 units with the technology. Plus that video we saw is genuine but probably a demo unit.
READ MORE: Qualcomm Will No Longer Use MSMxxxx Nomenclature for Its Mobile Platforms
Qualcomm has released a time-frame for when the scanners will hit markets:
Commercial samples of Fingerprint Scanners for Glass and Metal will ship out to OEMs in July 2017
Engineering samples of Fingerprint Sensor for Display will be received in October 2017.
Commercial samples of Fingerprint scanners for display are expected in early 2018.
Commercial devices with Fingerprint Scanners for Glass and Metal are expected to launch in early 2018
Commercial devices with Fingerprint Scanners for Display are expected to launch in Summer 2018.
(Source, via)