Huawei Share In New EMUI 8.1 Supports Sharing Files Across Multiple Platforms
Huawei's Vice-president of its mobile phone product line, Bruce Lee has revealed a hidden feature which the latest EMUI 8.0 brings with it. EMUiI8 was released a couple of months back and has been updated to EMUI 8.1, announced with the Huawei P20. As a matter of fact, the P20 will be the first model to run EMUI 8.1. The new update seems to have added this new feature called Huawei Share which allows users to share files across systems.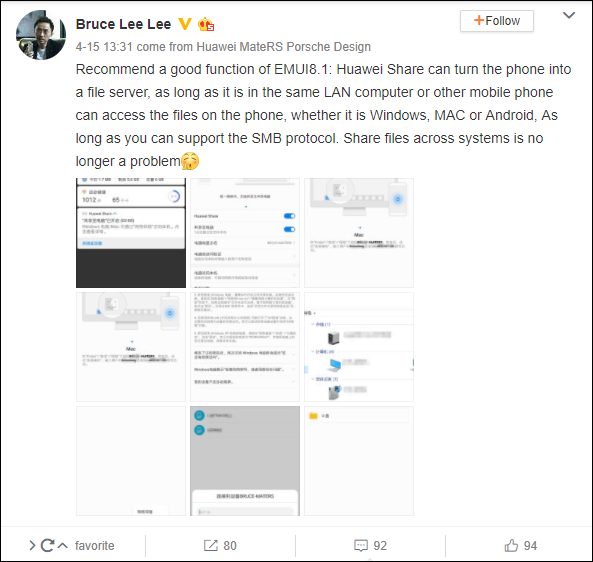 Huawei Share is a file sharing feature which effectively turns the smartphone into a file server as long as it is on the same computer LAN  or other mobile phones can access the files on the phone, whether Windows, MAC or Android, as long as they can support the SMB protocol. Server Message Block (SMB) operates as an application-layer network protocol mainly used for providing shared access to files, printers, and serial ports and miscellaneous communications between nodes on a network.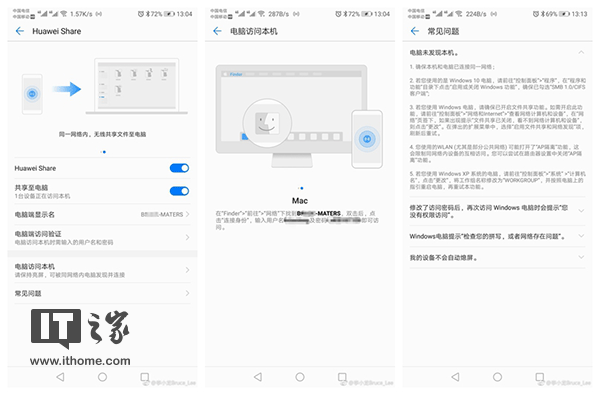 Read More: Huawei's Product Manager Confirms EMUI 8.0 On The Way For Huawei P9 and P9 Plus
EMUI 8.1 is reputed to be the first deep customisation system based on Android 8.1 OS. It comes with artificial intelligence that makes the software experience smarter and quicker. The updated version of the operating system comes with features like Real-Time Scene and Object Recognition, Smart Tips, and AI-accelerated language translation, among others. It also brings some artificial intelligence-based capabilities such as resource allocation, context awareness as well as user behaviour or behaviour prediction. Thanks to Android Oreo, users will also have access to features like split-screen interface, navigation dock, one-hand operation and smart view.
(via)