Earlier in this week, Meizu had confirmed that it will be introducing the Flyme 7 Android skin alongside the Meizu 15 series smartphones on April 22. The company is now in the process of recruiting beta testers to iron out the bugs and other issues from Flyme 7 before it is officially made available to wider audience. As of this writing, Meizu is yet to confirm on the list of the smartphones that will be receiving the new Flyme 7 UI. Since it has made the beta version available for the older Meizu PRO 5 phone, it seems that plenty of Meizu phones will be treated with Flyme 7.
The below shown image reveals that the Flyme 7 is now available for beta testing on two devices such as Meizu PRO 5 and Meizu M6 Note. As mentioned above, the Chinese manufacturer is yet to confirm on the list of supported Meizu phones for Flyme 7. The Meizu PRO 5 smartphone was launched in September 2015 and it is fueled by Exynos 7420 SoC. This indicates that apart from 2018 Meizu phones, the Flyme 7 could be available to all the Meizu devices that were launched in 2016 and 2017.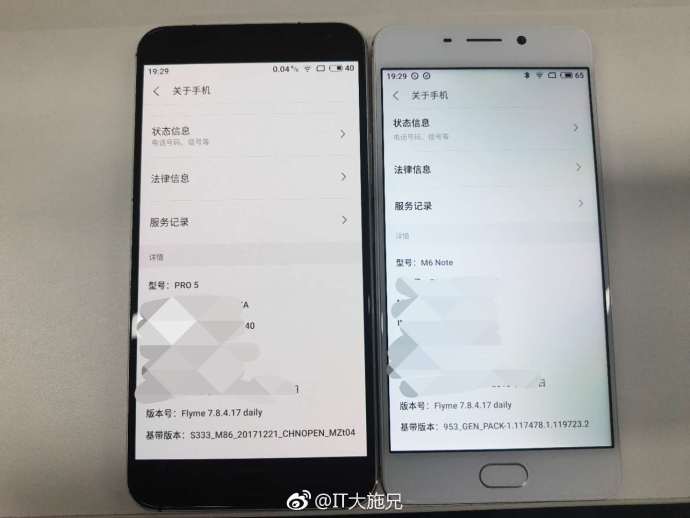 Hence, some of the popular Meizu phones from the past two years that are expected to receive the Flyme 7 include Meizu M5, M5 Note, M3, M3 Note, M3 Max, M3x, M3s, M3e, Pro 6, Pro 6 Plus, Pro 6s, and MX6. The 2017 Meizu phones such as Meizu PRO 7, PRO 7 Plus, M6, M5c, Meizu M5s and Meizu E2 are also expected to receive the Flyme 7 update. It goes without saying that this year's Meizu M6s and Meizu E3 phones will also receive the Flyme 7 update.
The above shown leaked photo reveals that the Meizu PRO 5 and M6 Note has received the Flyme 7.8.4.17 daily edition. The version number suggests that it is a day-to-day test version that is being rolled out on a daily basis.
Read More: Meizu 15 Plus AnTuTu Listing Reveals Exynos 8895
In order to try the beta version of the Flyme 7, one can enroll through the Flyme Community app. One should be aware of the fact that the beta edition may contain bugs. Hence, users who are interested to try the beta version are suggested to perform a backup of the device before installing it.
(source)