LumiWatch Smartwatch Is A Prototype That Turns Your Arm Into A Touchscreen
Researchers at the Carnegie Mellon University have created a prototype smartwatch which is dubbed LumiWatch.  The smartwatch is unique in the sense that it presents with a feature that allows it to project images on the user's arm. The smartwatch literally transforms the user's arm into a touchscreen because the displayed image can be swiped and tapped.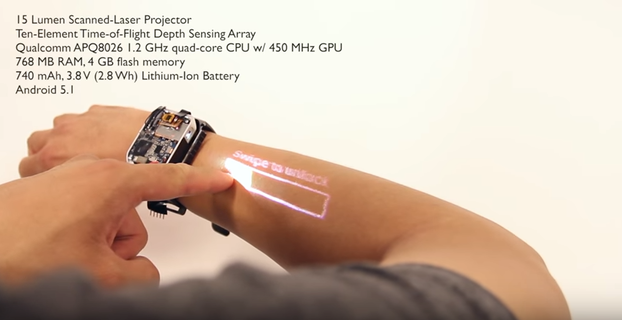 The LumiWatch can project an image of up to 40 square centimetres, which is five times the size of a typical smartwatch display. That is made possible by the built-in 15-lumen projector which is crammed inside the smartwatch. The timepiece is powered by a Snapdragon quad-core CPU running at a clock speed of 1.2GHz. The processor is backed by a 768MB RAM while there is 4GB of native storage onboard. Keeping the watch running is a 740mAh battery, while the interface is provided by Android 5.1 Lollipop oS. In addition, the LumiWatch supports both Wi-Fi and Bluetooth.
The researchers offered some explanation on why the choice of the skin for use as a screen and that is because the skin is an attractive surface for projecting such an interactive display. Despite some physical and color distortions, the team working on the device says that the skin offers high resolution, high frame rate and superb image quality. In addition, the arm allows for a much larger surface area than a watch display.
Read Also: NO.1 F7 GPS Rugged Smartwatch goes on pre-sale exclusively on Banggood (video)
The LumiWatch may still be a long time from becoming ready for mass production considering the state it is now but the Carnegie University researchers believe that they can get this smartwatch into the marketplace priced at $600. But when that will happen is still shrouded in mystery. Meanwhile, you can as well check out the LumiWatch in use in the video above.
(source)