Lenovo Group VP Chang Cheng had recently teased that the company will be launching a new flagship phone in June. He had claimed that it would be arriving as the highest screen-to-body ratio smartphone ever. Today, Cheng has released a new teaser to confirm the name of the phone as well as its design. The smartphone will be debuting as Lenovo Z5 in the coming month and the new teaser suggests that it will offer a screen-to-body ratio of more than 95 percent.
Now that Cheng has confirmed the Lenovo Z5 moniker, it appears that the company has no plans to sell ZUK branded phones again. It is speculated that the Lenovo Z5 will be arriving to challenge Xiaomi that has launched comprehensive screen enabled smartphones like Mi MIX, Mi MIX 2 and Mi MIX 2S. The Z5's sketch shows that it will offer largest screen space ever seen on a smartphone as it does not feature top and bottom bezels. The presence of antenna bands on the left edge of the phone suggests that it may feature a metallic chassis. The bottom bezel seems to feature a USB-C port.
According to Cheng, the company has achieved four technological breakthroughs and 18 patented technologies through the Lenovo Z5. He had previously stated that the company has managed to include a comprehensive screen on its next flagship phone by reducing the space taken by camera, bezels and antenna bands.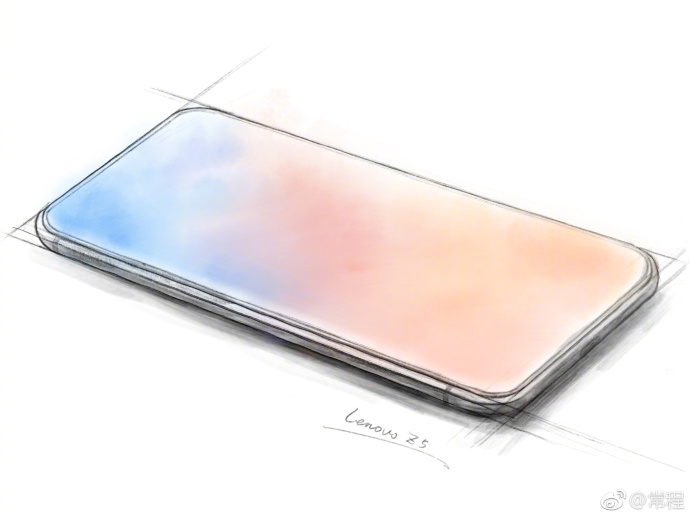 Since he has claimed that Lenovo Z5 has four technological breakthroughs, it appears that the phone may come with some advanced features like under-display fingerprint scanner, in-screen earpiece and flip-up selfie camera. As of this wiring, there is no information available on the specifications of the Lenovo Z5.
Read More: [Updated: Lenovo's VP Says ZUK Is Buried] Lenovo's ZUK is Back, New Flagship Will Launch in June
Lenovo had tried selling Motorola phones with ZUK UI onboard in the recent past in China. However, they were met with lukewarm response. The Chinese manufacturer has recently debuted the Lenovo S5 mid-range phone along with other budget phones like Lenovo K5 and K5 Lite. Moreover, the company has started the upcoming Lenovo Z5 flagship phone. This suggests that the company is now gearing to resurrect the Lenovo smartphone brand in China.
What do you think about the design of the Lenovo Z5? Share us your views by posting your comments below.
(source)