Meizu released a new trio of smartphones to celebrate its 15th anniversary: a mid-ranger, an upper-midrange, and a flagship. With the Meizu 15 line-up, the Chinese company is embracing the most important price ranges in the market and it is offering premium phones at very competitive prices. Another premium device which is very convenient to buy is definitely the Honor 10. It looks like Huawei decided to release a P20 trio composed of two flagships and a mid-ranger, while the upper-midrange segment (well, it is more a flagship than a simple upper-midrange) has been left to its sub-brand Honor.
Given that Meizu 15 and Honor 10 are two important smartphones of 2018 in the same price range, we decided to compare Meizu 15 vs Honor 10 to help potential buyers with their choice.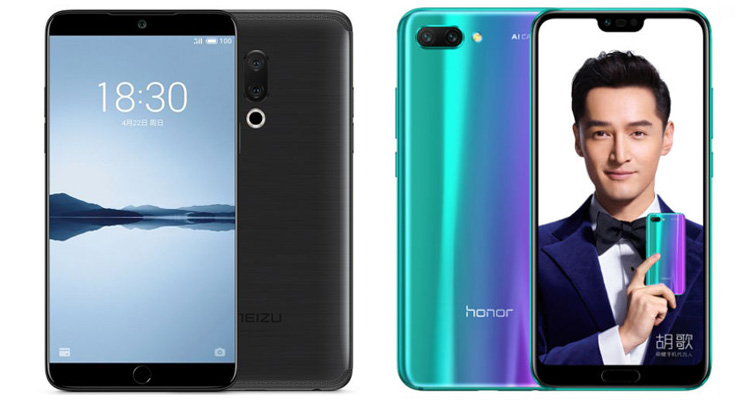 Meizu 15 vs Huawei Honor 10
Meizu 15
Huawei Honor 10
DIMENSIONS AND WEIGHT
 143 x 72 x 7.3 mm, 152 g
 149.6 x 71.2 x 7.7 mm, 153 g
DISPLAY
 5.46 inches, 1080 x 1920p (Full HD), 16:9 ratio, Super AMOLED
 5.84 inches, 1080 x 2280p (Full HD+), 18:9 ratio, IPS LCD
PROCESSOR
Qualcomm Snapdragon 660, octa-core 2.2 GHz
 Huawei HiSilicon Kirin 970, octa-core 2.4 GHz
MEMORY
 4 GB RAM, 64 GB – 4 GB RAM, 128 GB, micro SD slot
 4 GB RAM, 64 GB – 6 GB RAM, 64 GB – 6 GB RAM, 128 GB
SOFTWARE
 Android 7.1.2 Nougat, Flyme UI 7.0
 Android 8.1 Oreo, EMUI 8.1
CONNECTIVITY
 Wi-Fi 802.11 b/g/n/ac, Bluetooth 4.2, GPS
 Wi-Fi 802.11 a/b/g/n/ac, Bluetooth 4.2, GPS
CAMERA
 Dual 12 + 20 MP, f/1.8, OIS
20 MP f/2.0 front camera
Dual 16 + 24 MP, f/1.8, OIS
24 MP, f/2.0
BATTERY
 3000 mAh, fast charging (mCharge 4.0)
 3400 mAh, fast charging (Quick Charge 3.0) 5V / 4.5A
ADDITIONAL FEATURES
 Hybrid Dual SIM slot, pressure-sensitive Home key
 Hybrid Dual SIM slot
In a few words, we think Meizu 15 will be a more premium device when it comes to multimedia, while its opponent has a more attractive design (at least according to my taste) and better performance. Meizu 15 has a more interesting display thanks to the Super AMOLED technology which is able to provide richer colors and deep blacks. Further, it has stereo speakers which offer a more powerful audio experience. The camera should also be better on the Meizu 15: as you can see from our first camera samples, the photo quality is impressive, even in low light conditions.
On the other side, Honor 10 has a more powerful SoC, so it will surely have better performance. It also has a bigger battery but given the low consumption of Meizu 15's AMOLED display and the efficient Snapdragon 660, it is yet to see if Honor 10 will provide a longer battery life.
RELATED: Meizu 15 Goes Swimming: Shows Off Low-light Underwater Photography Capability
Meizu 15 is priced at about $395/€323 in China for its base variant, while Honor 10 starts from $414/€338. So, which one should you buy? Well, it depends on your needs. If you care about performance, camera, and want to impress yourself and your friends with the aesthetics of your device, then choose the Honor 10. Simply put, the Honor 10 looks more impressive among the two.
But if you want excellent camera performance and the best multimedia experience, go for the Meizu 15 because of its display and stereo speakers. Note that Meizu is still using a 16:9 display without a notch. It could be a big differentiator for some potential customers.
Which one would you pick?
Meizu 15 vs Honor 10: PRO and CONS
Meizu 15
PRO
Potentially better camera
Better display
Stereo speakers
Great design
CONS
Honor 10
PRO
Better performance,
Stunning design
Aggressive price tag
Android Oreo
CONS