More and more users are making use of smartphones to capture photos. In the recent years, popular Chinese smartphone OEMs such as Huawei, OPPO and Vivo have concentrated on launching phones that high-end cameras. Xiaomi phones have always offered best specs at reasonable cost, but when it comes to photography, its smartphones haven't raised much praises. However, the Mi Note 3 and Mi MIX 2S that offer AI enabled photography experience have managed to rank well on DxOMark benchmarks. This shows that Xiaomi is putting more efforts to launch phones with better photography prowess. An internal email from Xiaomi CEO Lei Jun has surfaced online. It reveals that the company is planning to setup a new camera department to fulfil its goal of launching smartphones with stellar cameras.
According to Jun's statement in the leaked email, since photography has become one of the key factors for many users, the company has decided to establish a separate camera department within the mobile phone division. By having a new camera division, the company aims to launch future Xiaomi phones with excellent cameras that will be on par with the top smartphone OEMs of the world.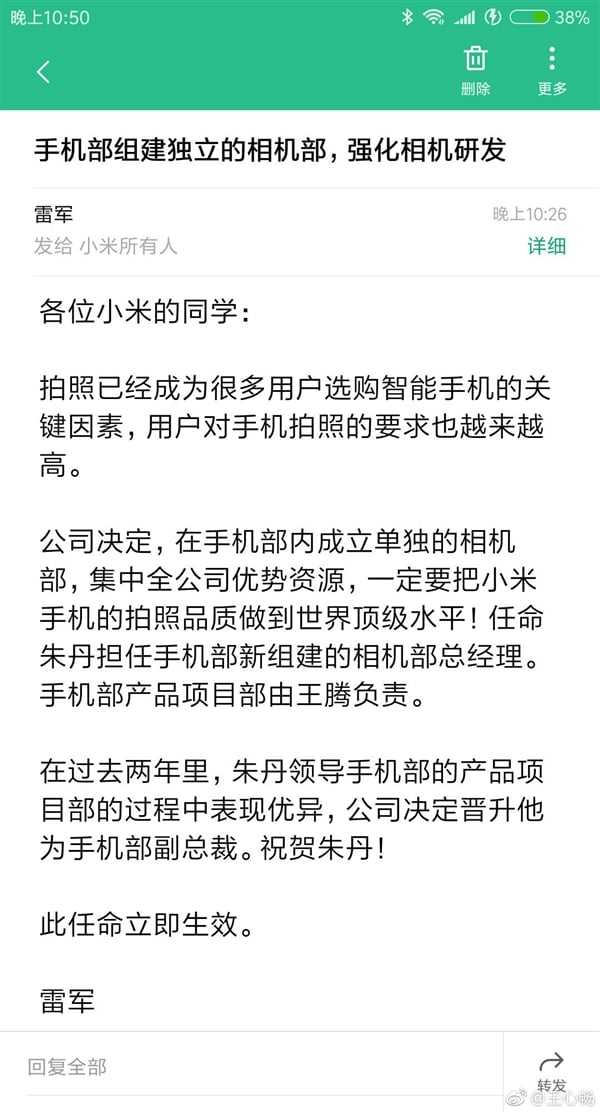 On DxOMark, the Mi Note 3 has salvaged a score of 94 for photography whereas the Mi MIX 2S has scored 101. It is quite evident that Xiaomi is aiming to offer better photography experience on future phones. Currently, smartphones from Huawei and Apple are leading the DxOMark benchmarks.
Read More: Xiaomi's Product Lineup Leaked: Mentions Mi 7 Lite, Mi S1 & Redmi Note 6
Leaked information has revealed that the Xiaomi Mi 7 will be arriving with 16-megapixel dual rear cameras and a selfie camera of 13-megapixel. Recent reports have revealed that the advanced front camera of the Mi 7 will carry support for 3D facial recognition. Like the Mi MIX 2S, the cameras of the Mi 7 are pegged to arrive with AI capabilities.
The Xiaomi Mi 7 is slated to debut with the 8th Anniversary Edition smartphone later this month. A recent report has revealed that the Mi 7 will be available on pre-orders from May 27. However, the Chinese manufacturer is yet to release teasers on the forthcoming Mi 7 and Mi 8 flagship phones.
(via)