Early OnePlus 6 Hands On Images Reveals Everything About The Phone's Design Before Launch
We are just a three hours away from the official launch of the OnePlus 6, but looks like the leaks will continue to come in. This time, we have got some pretty high quality hands on images of the handset, well before its showcased officially. The pictures practically confirm at least three color options for the device: White, Mirror Black, and another Black version (Matte?).
The OnePlus 6 hands on images that were leaked today practically confirm the entire design of the handset. So you get a notch up front along with a thin chin at the bottom. The back features the dual camera setup in a vertical arrangement, flash, and a fingerprint sensor below it. Below the setup lies the OnePlus logo. The alert slider is shifted to the right above the power button while the volume buttons stay on the left as its predecessor.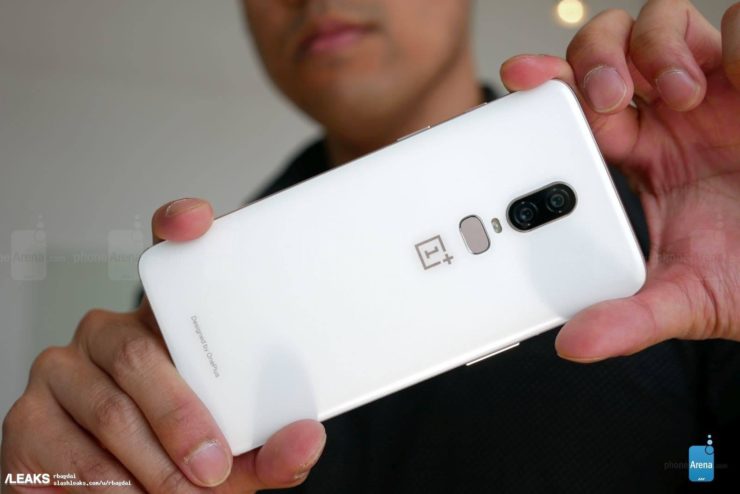 The White OnePlus 6 clearly stands out from the crowd. We are big fans of white smartphones if they are made well, and the company isn't new to making high quality, good looking white models. The OnePlus 6 was also released in Sandstone White and it was definitely a beautiful phone. We are not quite sure whether this is the Sandstone White OnePlus 6 version, but it surely doesn't look too glossy. There are two more color options available, the high gloss Mirror Black OnePlus 6 and the Matte like Black OnePlus 6.
RELATED: Check Out The First OnePlus 6 Camera Samples
The launch is just a few hours away, so stay tuned for more details!
Participate in our OnePLus 6 Giveaway & You Can Win A Free OP6 Flagship!
(source: phonearena, via)