Lenovo VP Reveals The Lenovo Z5 Will Come With A Massive 4TB Storage, Launch in June
Chinese innovative startup Smartisan stunned the smartphone world yesterday with the launch of the flagship Smartisan R1 packing 1TB of UFS 2.1 flash memory. This is the world's first smartphone with such an expansive storage option. There may be another stunner from China soon anyway. That is if the latest disclosure by Lenovo's VP Chang Cheng is anything to go by.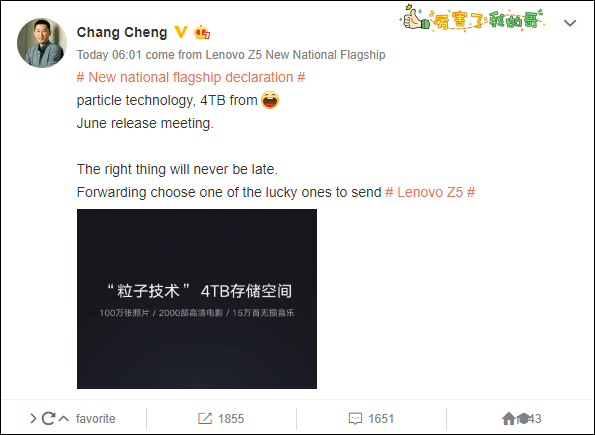 Mr Cheng has been the source of all we know so far about the Lenovo Z5, including the name. He has now revealed that the flagship model will come with a mammoth 4TB of storage. 4TB of flash memory looks like an overkill as it is more than enough storage for most users. In the end, a large chunk of the storage space may end up being unused. But for stats, the VP disclosed 4TB of storage can store up to 1 million photos, 2000 HD movies, and 150,000 lossless music. The Lenovo VP also disclosed in the post that the device is expected to be launched in June.  

Read Also: Lenovo Z5 Design Revealed in New Teaser; Hints More Than 95% Screen Space
Apart from the massive storage space, the Lenovo Z5 is expected to come with a high screen ratio of up to 95% as well as a metal mid-frame. The back of the device will be made of glass. Other specs may include a MediaTek Helio P60 chip considering the VP's praise of the premium MediaTek chip a while back. However, the best bet would be a flagship processor like Snapdragon 845. We expect more details to unravel as time goes on.
(source)