Leaked Qualcomm Doc Suggests Xiaomi Mi 8 Will Support Quick Charge 4.0+
One of the features of modern flagships and indeed smartphones is having support for fast charge. Usually, this isn't a big deal since basically, most phones come with this feature. Not until you try your hands on a smartphone that have support for Qualcomm's Quick Charge technology, especially the latest version. Presently, Qualcomm has the Quick Charge 4.0 which was launched in 2017 and that was quickly followed by the QC 4.0+ which was unveiled a few months later.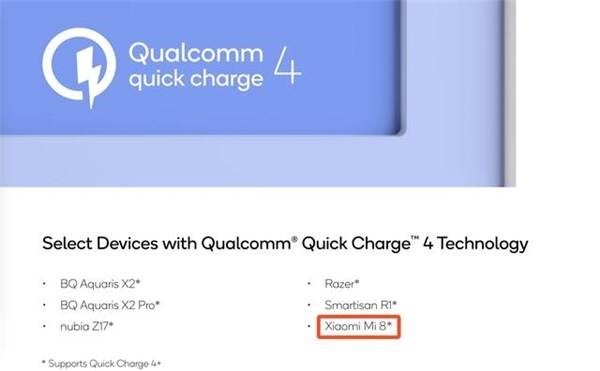 Apparently, someone is trying to sell us the idea that the upcoming Xiaomi Mi 8 will support QC 4.0+. A screenshot of the list of supported models for QC 4.0 and QC 4.0+ emerged on Weibo with the Mi 8 listed among others. Thankfully, Qualcomm has the same list of smartphone models that have support for the various Quick Charge versions including QC4.0/4.0+. Unfortunately, we couldn't find the Mi 8 on the list which was updated this May and has the Smartisan R1 added as its latest entrant.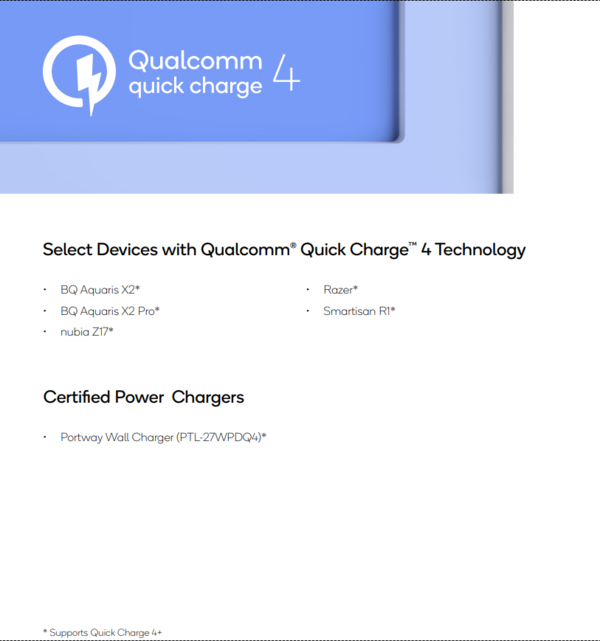 We won't rule out the possibility of the Mi 8 coming with Quick Charge support. The device is launching as an Anniversary edition to commemorate Xiaomi's eighth year in business. Thus, it is teased as being the ultimate flagship and QC 4.0+ will be a good one. Besides, the device is yet to go official so it would have been a surprise if it was actually listed on the document.
Read More: Xiaomi 36W, Dual Port USB Fast Charger With Quick Charge 3.0 Released
Qualcomm's Quick Charge 4+ has all the features that is available on QC 4.0 but there a couple of more improvements. Quick Charge 4+ is up to 3 degrees cooler, up to 15 percent faster and up to 30 percent more efficient than its previous version. You can read up more about QC 4.0+ from our article on the new fast charging technology.