Only 7 days are remaining for Xiaomi's annual product launch event that will be held at Shenzhen, China. Xiaomi has already confirmed that one of the products that will be announced at the upcoming event is MIUI 10. All of a sudden, the Chinese manufacturer has started recruitment of closed beta testers in China.
Users in China who are interested in the closed beta of MIUI 10 can register now. Here is the tentative list of Xiaomi phones that should support the beta edition of MIUI 10:
Mi Series
Mi 3, Mi 4, Mi 4s, Mi 4c, Mi 5, Mi 5s, Mi 5s Plus, Mi 5x, Mi 6, Mi Max, Mi Max 2, Mi Mix, Mi Mix 2, Mi Mix 2S, Mi Note 2, Mi Note 3
Redmi Series
Redmi Y1, Redmi Y1 Lite, Redmi Note 3, Redmi Note 3 Pro, Redmi Note 4, Redmi Note 4X, Redmi 5A, Redmi 5, Redmi 5 Plus, Redmi 4A, Redmi 4X, Redmi 4, Redmi 3, Redmi 3S, Redmi 3 Prime, Redmi3X, and Redmi Pro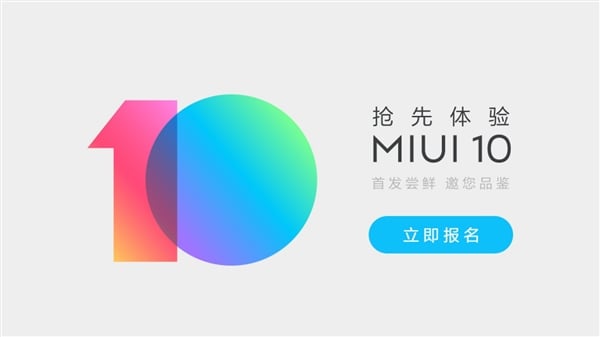 Starting from today Xiaomi is accepting registrations until May 31 in the home country. After the application is reviewed, some of the users will get a chance to try the new version of MIUI soon after its official announcement on May 31.
The MIUI 10 has been designed to offer faster performance than the MIUI 9. Previous reports have revealed that Xiaomi devices that are currently running on Android 5.0 Lollipop won't be eligible to receive the final edition of MIUI 10. After the debut of MIUI 10, Xiaomi may confirm on the official list of eligible devices that will support the new MIUI version.
Read More: TENAA Reveals Full Specs Of Xiaomi M1804C3DE, M1804C3CC, & M1804C3CE
Xiaomi will be debuting the Xiaomi Mi 8 flagship phone on May 31. Since the company is using the same platform to launch MIUI 10, it is speculated that the Xiaomi Mi 8 will be the first smartphone to come preinstalled with the upcoming edition of MIUI. But we'll have to wait and see if that happens.
(Source)