IHS Markit Releases Its Top 10 Best-Selling Phones For Q1 2018 – iPhone X Tops
Research firm and global information provider, IHS Markit has released its ranking of the best selling smartphones for Q1 2018 and it is quite similar to the data earlier released by Strategy Analytics. IHS Markit's data still places Apple's iPhone X in the number one spot with 12.71 million shipments in the first quarter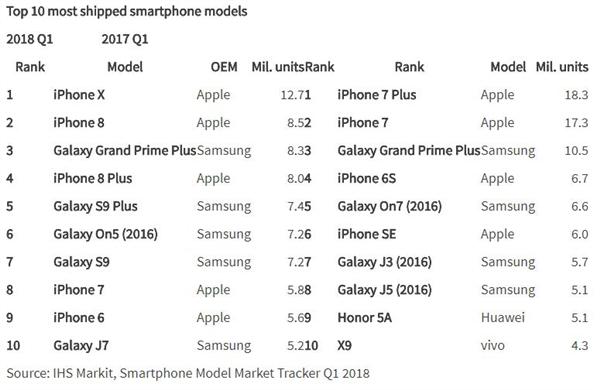 The overall top 10 phones on the list are entirely Samsung and Apple models. This is a massive change from the data recorded in the same period last year. IHS Markit's Q1 2017 data included the Honor 5A and Vivo X9 among the top 10 models. In this case, none of the top 5 Chinese phone makers made it into the list. The veracity of the ranking is called to question as a result of the previous ranking by Strategy Analytics (shown in the chart below)which had the Redmi 5A among the top 5 highest-grossing models.
Read Also: Xiaomi Reveals Top 10 Smart Products In China!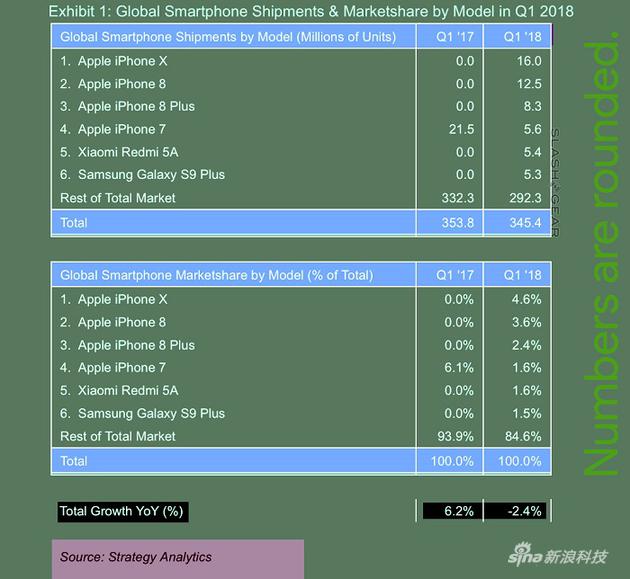 Related: IHS Markit Research: Apple iPhone 7, iPhone 7 Plus are the Bestselling Phones in First Half of 2017
The second model on the list is the iPhone 8 Plus with 8.52 million shipments. Samsung's 2017 MediaTek-powered smartphone – Grand Prime Plus maintained its occupation of the third spot with 8.33 million units shipped in Q1 2018. The Grand PrimePlus was also the third grossing phone model in Q1 2017 and its continued onslaught may have been inspired by its price. The Plus-sized iPhone 8 Plus comes in at number 4 with a total shipment of 8.04 million units. The Galaxy S9 Plus completes the top 5 with an estimated 7.45 million shipped units. Other models in the list include the Galaxy On5 (2016), Galaxy S9, iPhone 7, iPhone 6 and Galaxy J7 in that order.
(via)