OnePlus 6 Review: A Complete Flagship
A few years back, things were pretty simple. Smartphones were divided into three major categories: Budget, Mid-Range, and Flagship. But now, things are a bit complicated as you have hybrids that are placed in between these categories. And where does OnePlus stand among other smartphones?
Can we call it a true and perfect flagship? Possibly! But I personally feel, the OnePlus 6 deserves to be called an affordable flagship. This is a category that the company has pioneered in the past few years and there's no doubt that OnePlus has proved that it's the best in the segment. Does that apply to the OnePlus 6? Let's find out!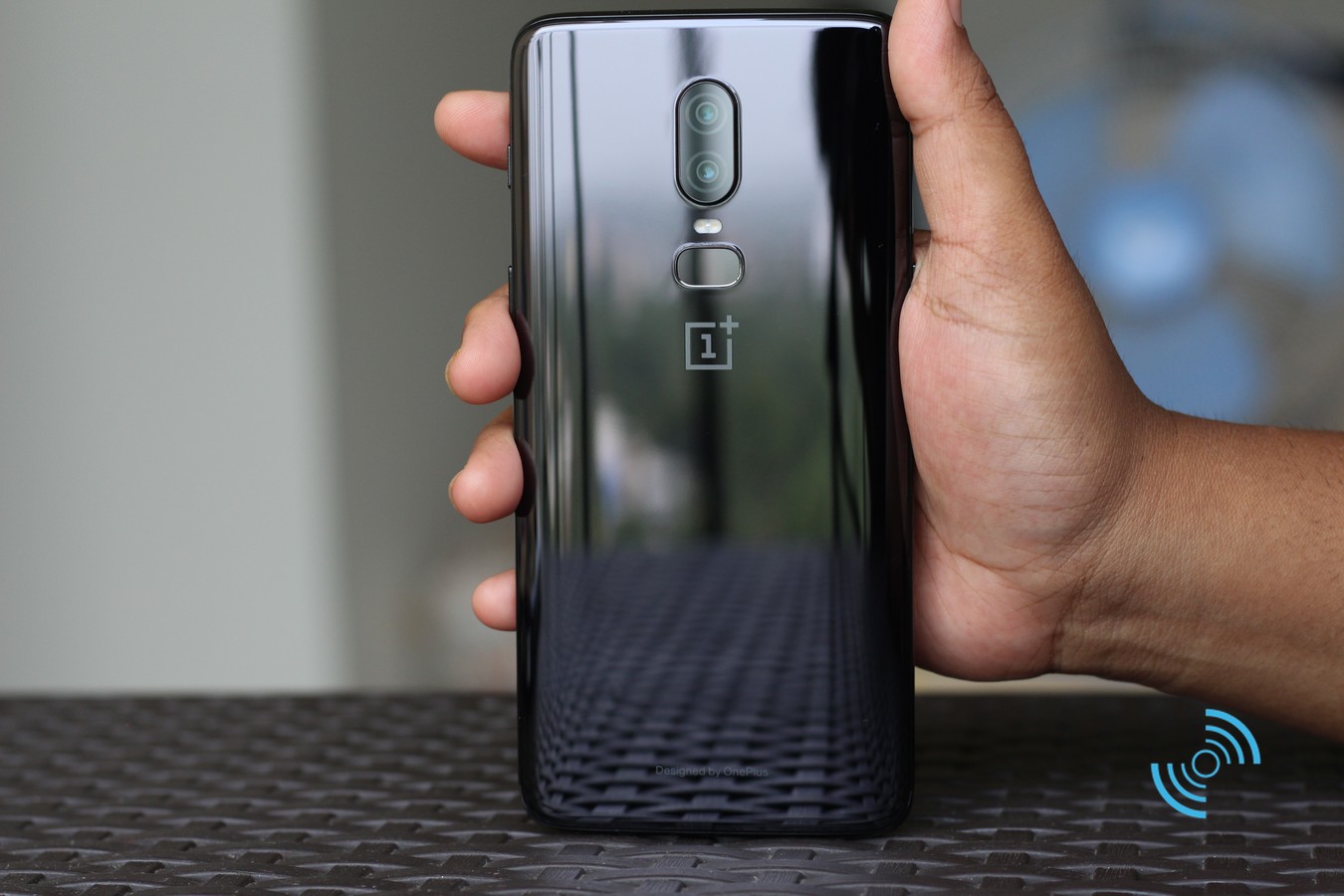 OnePlus started off as a trend breaker, flagship killer, non-conformist, and a lot more. After all, the first OnePlus One was indeed a revolutionary smartphone of its time, featuring high-end specs, different design, unique customer approach, all at an unbelievable price tag. Things did change over the course of the past five years, but the most recent OnePlus 6 flagship is still a flagship featuring the best hardware of 2018 at an affordable price tag. What has changed is that now OnePlus is embracing the current technological trends and implementing them in the best possible way.
So, you've got the glass back (change from the metal body on its previous phones), dual cameras, and a 19:9 display with a notch. Sounds like every other flagship of 2018 right? This is not really the case with the OnePlus 6. Yes, it does feature most of the trending features of 2018, but the company has managed to implement it in a way that's better and cheaper than most of its competitors.
So, let's check out how the OnePlus 6 performs in each department. First, note that you get the usual stuff inside the box which includes the phone, dash charger and cable, SIM ejector tool, a manual, and a TPU case (very essential!).
OnePlus 6 Review: Design
OnePlus has basically revamped the entire design on the new OnePlus 6. Conforming to the recent trend, the company has used a glass back on the phone, just like OPPO R15, Vivo X21, Xiaomi Mi 8, and all other major releases this year. But the implementation of the design is a bit different than its competitors. The company offers the phone in three different variants and I call it variants instead of colors because the texture and the look differs a lot based on which one you pick. I did talk about the three variants on the eve of the launch and you can check it out here.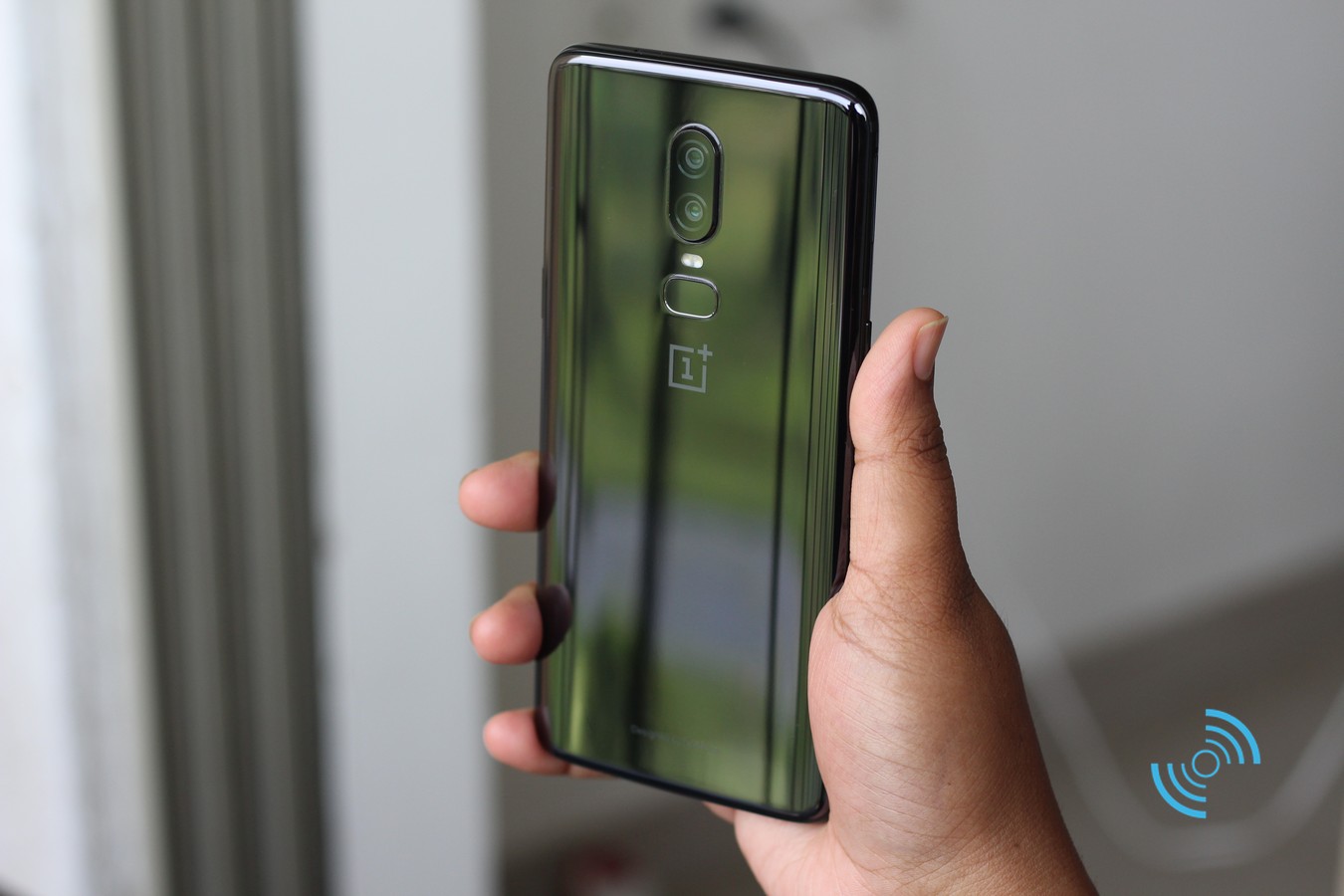 I have got the OnePlus 6 Mirror Black 8GB+128GB edition with me for review and I have been using this phone for the past couple of weeks.
Personally, I am a big fan of the midnight black variant and the fact that the phone isn't a big fingerprint magnet was a big added plus. However, Mirror Black is probably the variant that'll end up with most users and I needed to know whether I could fall in love with its reflective yet sexy black design. Turns out, I did! I agree, Mirror Black is one big fingerprint magnet, but that shouldn't take away the fact that it is one of the most beautiful variants of the OP6.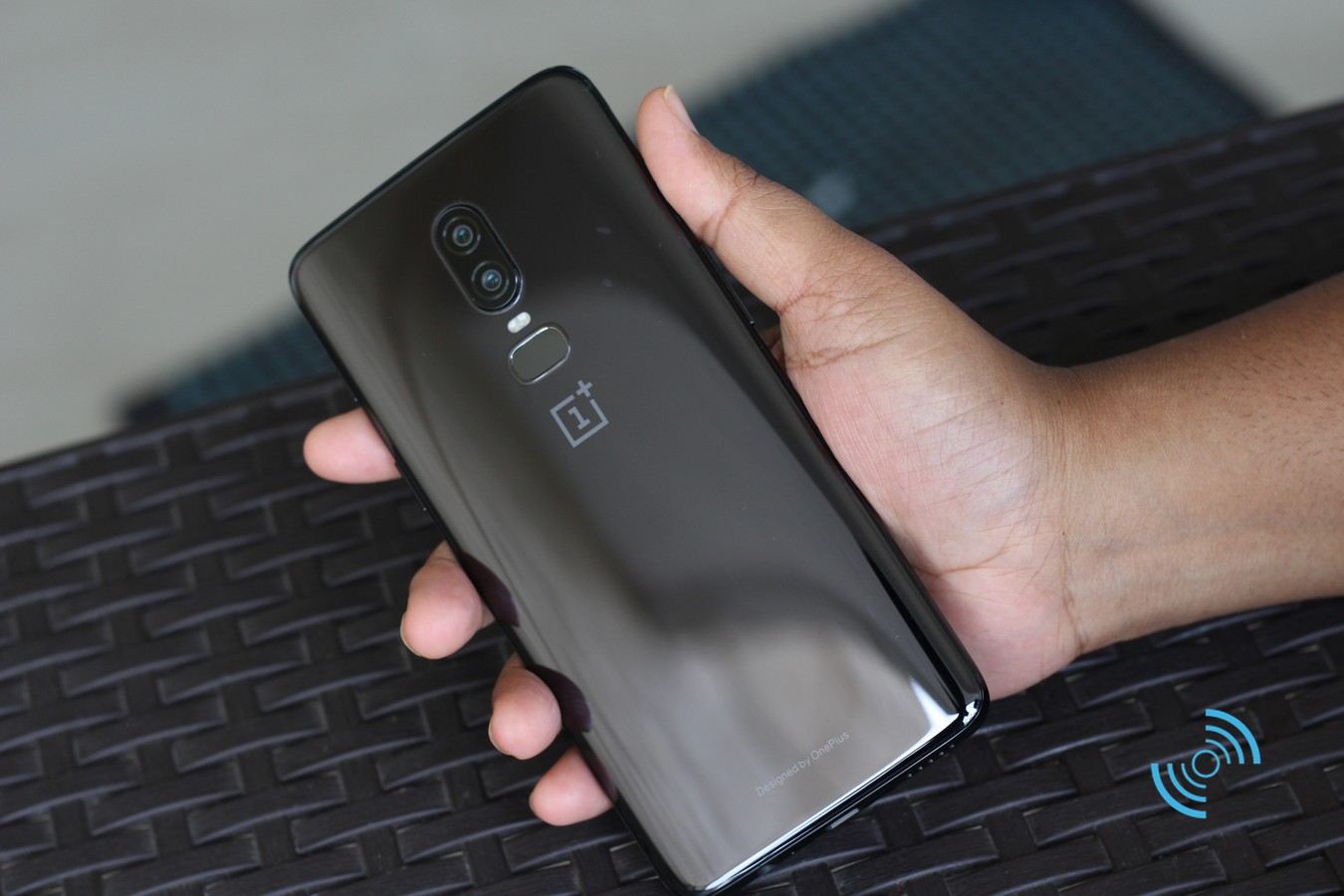 The phone has a rich premium mirror like finish at the back, that's super reflective and a huge fingerprint magnet. But hold it in your hands and it feels like a premium piece of glass. That reflective back will definitely get everyone's attention and the OnePlus 6 Mirror Black edition will never let you down in making you feel premium. Given this advantage, I didn't mind cleaning my review unit a few times a day, especially since it's pretty easy to wipe off the fingerprints. So, kudos to OnePlus in getting the design right with the OP6. I was a bit skeptical about its shift to a glass back, but I'm glad that they got it right.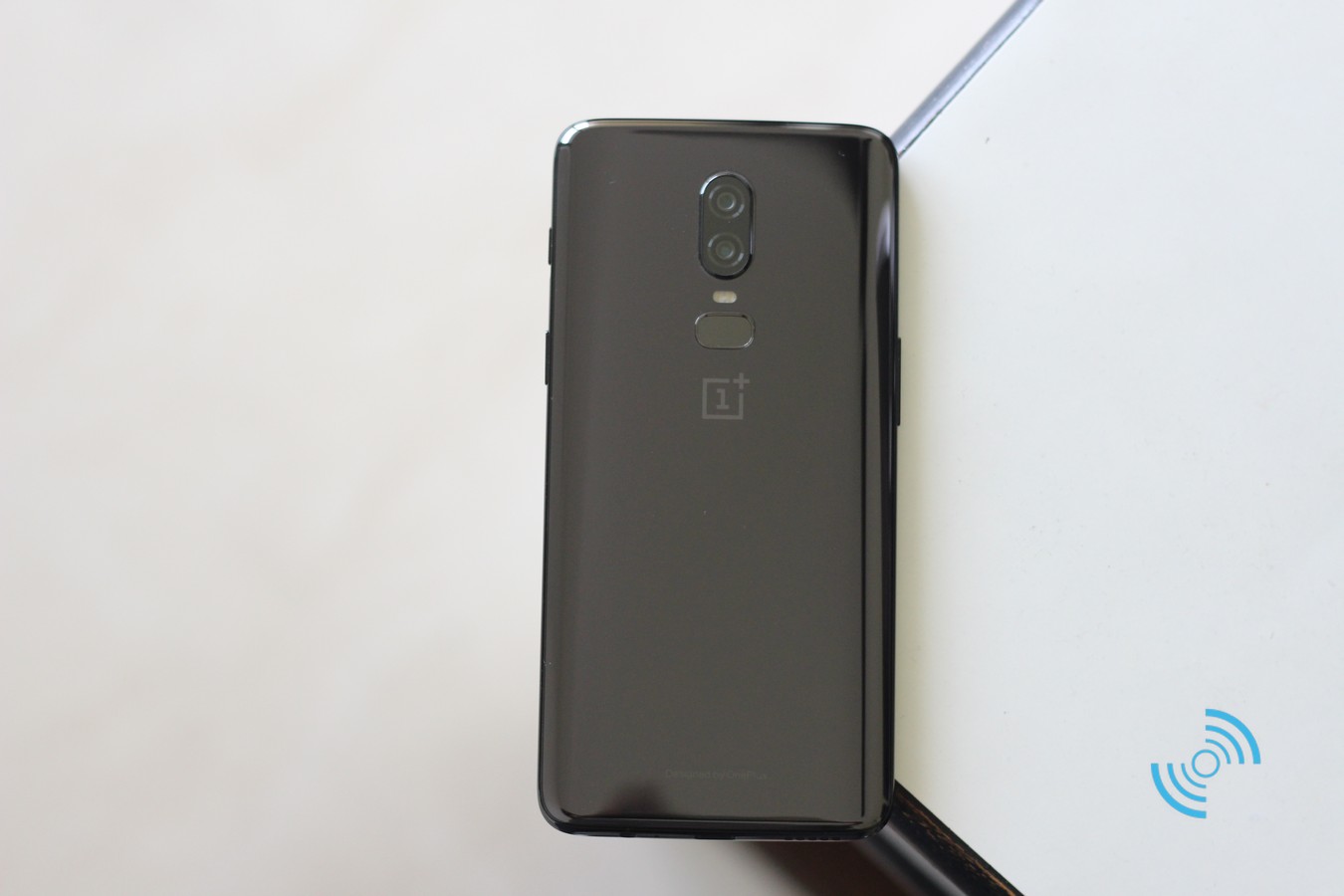 There are a few changes in the arrangement of the components as well. So, you have the dual cameras arranged vertically at the back (vs horizontally on the 5T) with a dual LED flash, fingerprint sensor, and the OnePlus logo placed one below the other, ensuring perfect symmetry. The alert slider has changed its position to the right, above the power button. On the left, you have the volume buttons and the dual SIM card tray. At the bottom you have a 3.5mm headphone jack, USB Type-C port, and a single speaker setup. There's nothing on top apart from a microphone opening.
The dual camera housing protrudes from the thin 7.8mm body. But thanks to its centre placement, the phone won't wobble when kept on the table. In fact, it stays quite firm on the surface, unlike some competitors.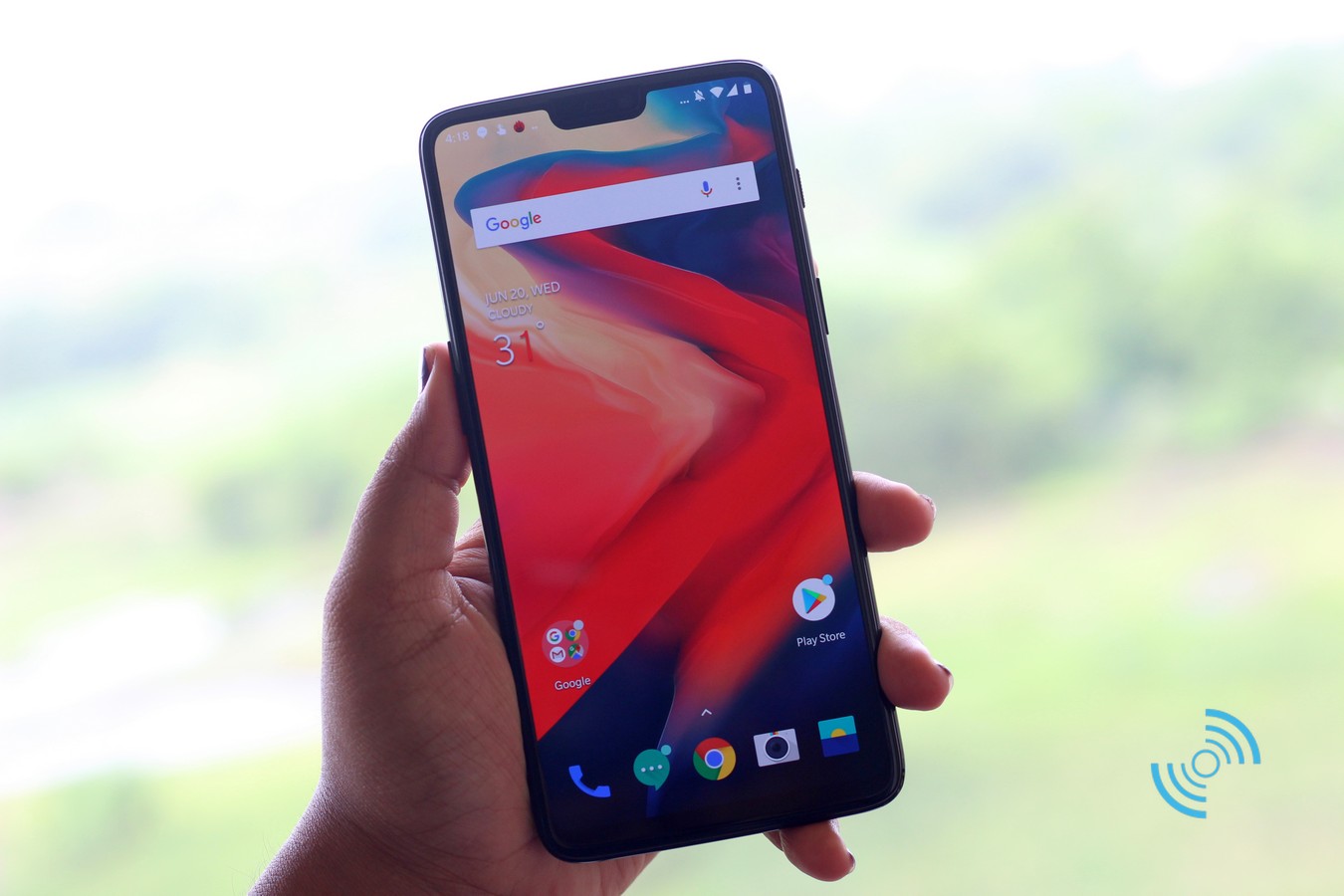 The front design is pretty much standard stuff. You have a slim bezel display with a notch on top. On first glance, it would actually be quite hard to distinguish the OP6 from other flagship phones with a notch. But that doesn't change the fact that the bezels are super slim, the display looks beautiful, and the overall experience is pretty positive. The notch is pretty thin too, so you get plenty of space on both the sides.
The buttons on either sides are sturdy and tactile. The alert slider works well and its easy to operate the phone with one hand despite its large 6.28-inch display. Since we are on the topic of one hand operation, make sure to get a case for your phone. The back is super slippery and there's a very good chance that you might drop it at least a couple of times during usage.
Want an example? I was writing this review with the OnePlus 6 besides me, placed safely on my notebook (or so I thought). On the corner of my eye, I could see something sliding towards me and you can guess what it was. Let me remind you, I was on the sofa, and there was hardly any slope, so be careful where you place the phone.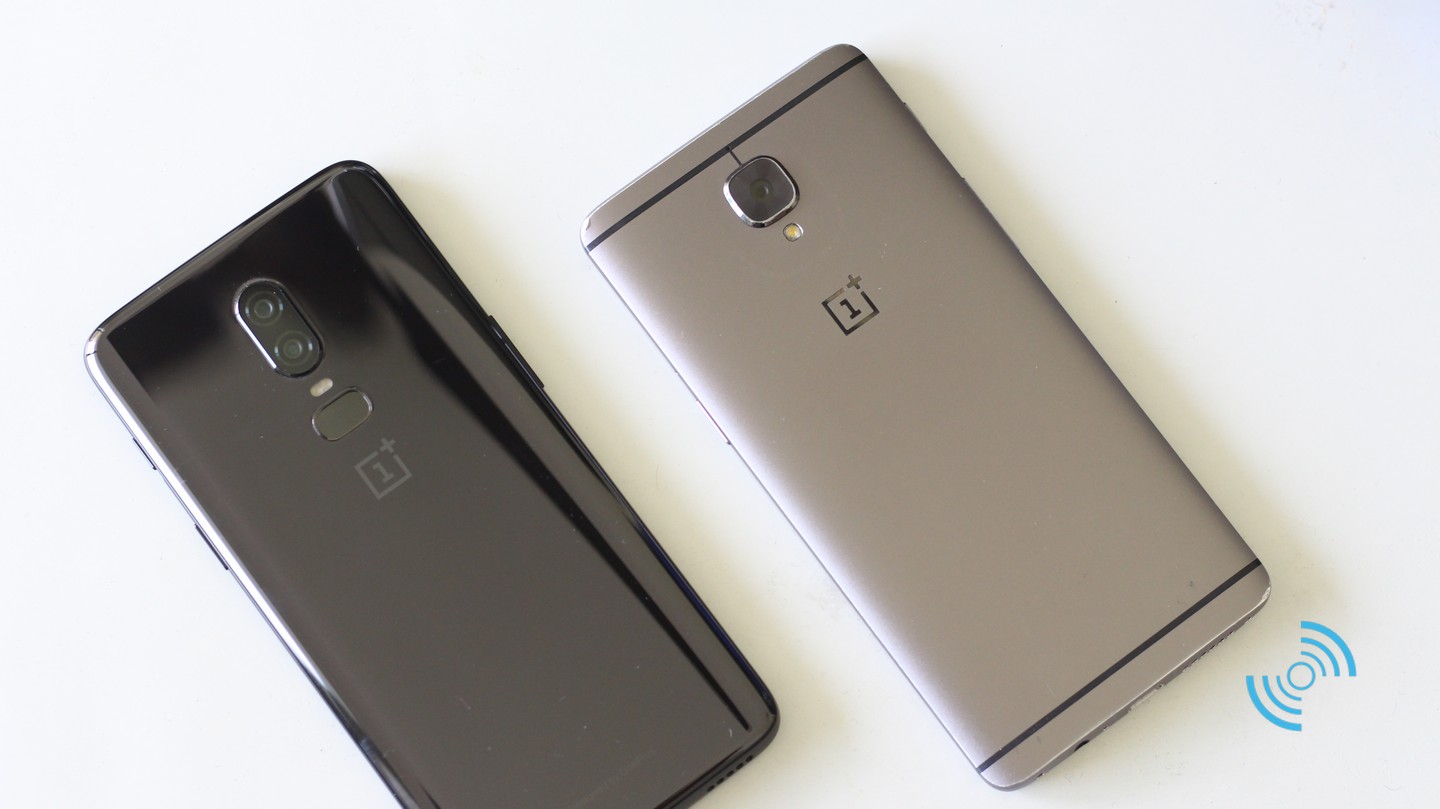 I personally trust OnePlus' build quality (my metal OP3T has sustained a lot of drops without any major damage apart from a few dents and scratches), and the company has assured that the glass back won't crack so easily, but its better to be safe than sorry when it comes to handling things that cost as much as than $500!
OnePlus 6 Review: Display
Now let's talk about the display. At $529, you can't go wrong with OnePlus 6's display! The colors are vibrant, the brightness is satisfactory, and the bezels are so thin that you have a really immersive display experience. It might not be as bright or punchy as the Galaxy S9, but that doesn't change the fact that you get one hell of a display at this price tag. You have a number of screen calibration options available like sRGB, DCI-P3, and even a custom one. But personally, the default one was good enough for me.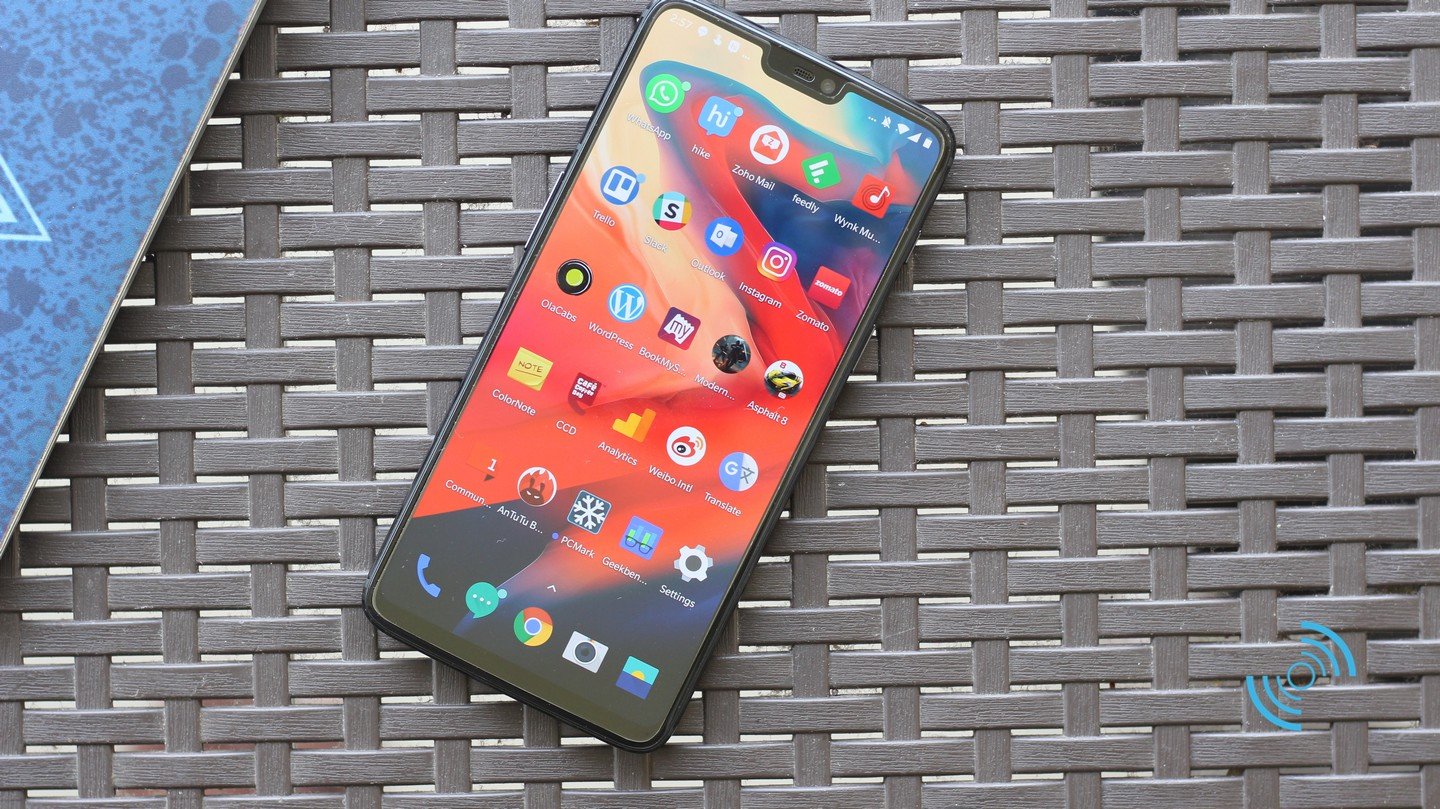 Under direct sunlight, you'd end up wishing for more brightness. OP6 doesn't have a fancy 1000nits brightness mode like the LG G7, so you'll have to live with its moderately bright display. But since you won't be spending most of your time under bright sunlight, this display should be good enough for you.
Display Specs: 
6.28-inch Optic AMOLED Panel with DCI-P3 support
2280 x 1080p 19:9 aspec ratio
Gorilla Glass 5 Protection
Now that we have established that the display is pretty good, let's address the elephant in the room — the NOTCH. If this is your first notch phone, I thought it might be good to get some things clear.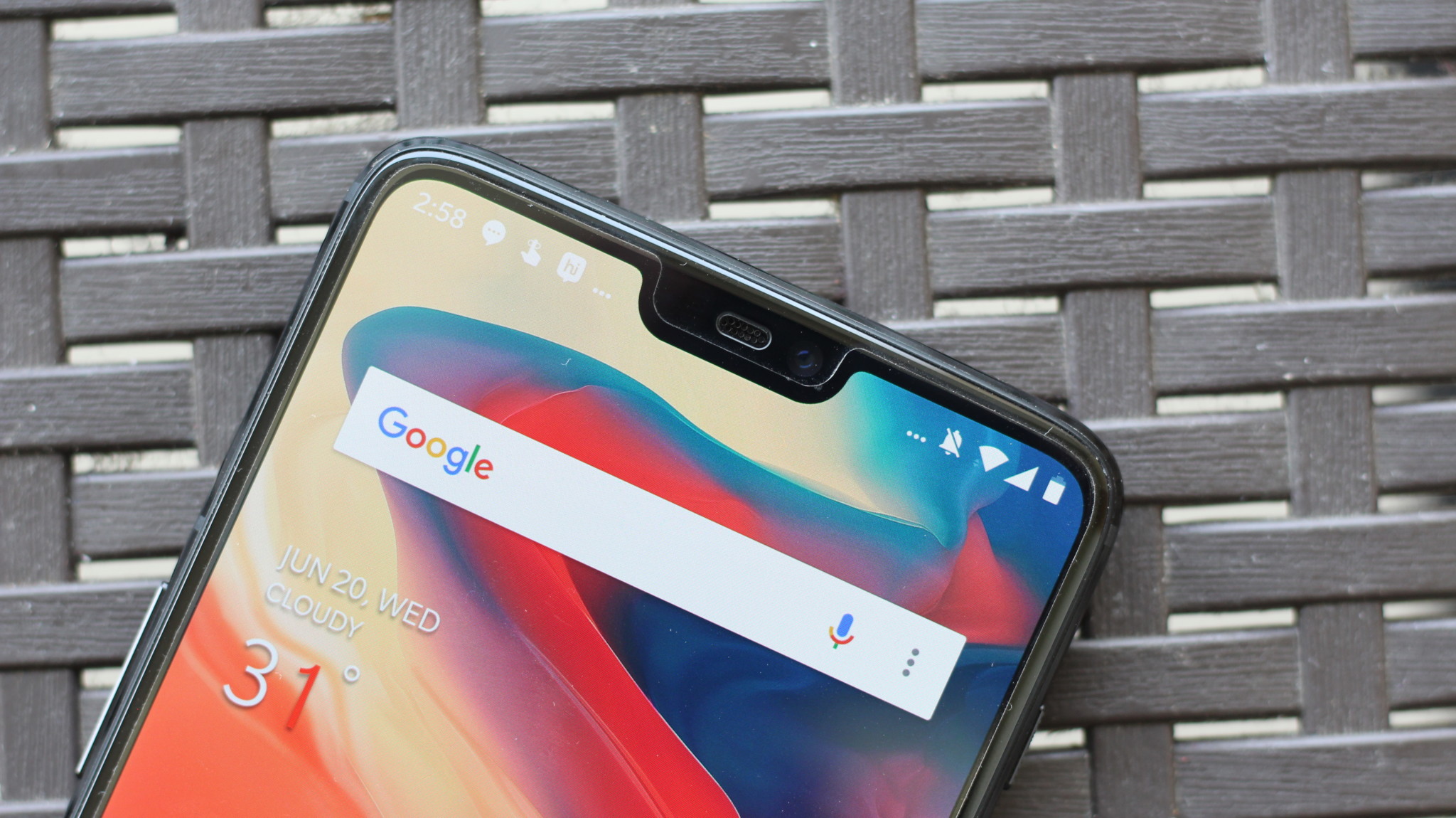 Yes, the OnePlus 6 has the notch, but it's not really as bad as many market it to be. Do you notice the notch in your daily usage? Yes! But your eyes get used to it very quickly and you'll start to ignore it soon. I have noticed that the notch is more prominent in the dark, when the display is the only thing lit up in the room. That's when it looks like the notch sticks out of the top bezel, but if you can't bear it, just fill it with black bars (there's a special setting) making the design look symmetrical. Note that the status icons are still neatly tucked besides the notch.
Most of the apps that I used were optimised for the notch design. So, either the app covers the sides of the notch or the phone adds a black bar automatically so that the app covers only the area below it. So, instagram opens up filling the sides of the notch, but once you click on a story, the app slightly shifts down because the phone adds black space besides the notch. But there are certain cases where the notch isn't optimised. I noticed this in the case of WhatsApp stories. The app in general loads perfectly well, but specifically, whatsapp stories load up in full screen and the notch ends up covering a small part of the story. It's nothing serious, but just something that I noticed.
To sum up, consider the notch as a step in between our dream for a full screen phone. I'm sure in the next couple of years, full screen phones without a notch will become the norm. OPPO and Vivo have already made it to the final stages of the full screen design, so we know we aren't too far off from a full screen future.
OnePlus 6 Hardware & Performance:
Just like every other OnePlus phone, the OnePlus 6 features the best hardware of the year. So, you get the powerful yet efficient Snapdragon 845, 6GB / 8GB RAM options, and 64GB / 128GB/ 256GB storage options.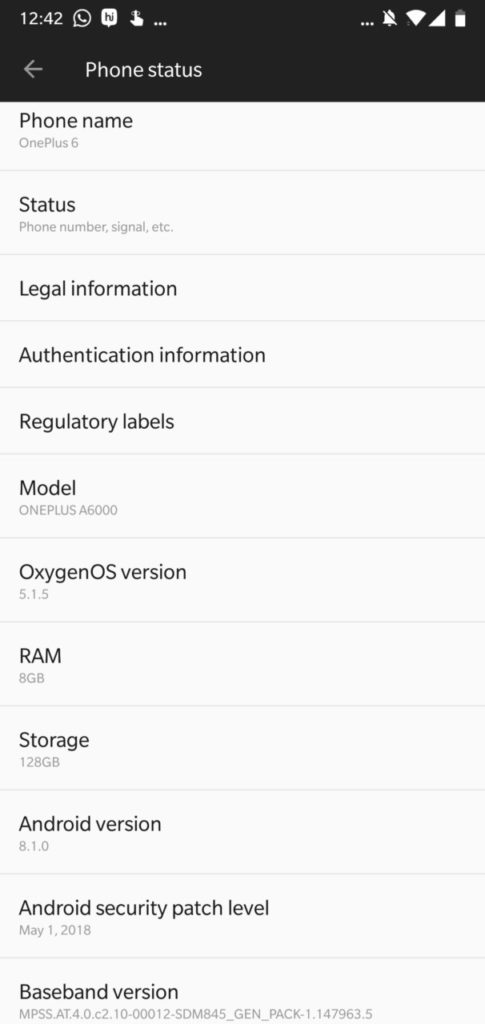 OnePlus phones are fast and it's not like they are fast for their price. OnePlus takes speed very seriously (no wonder the OP6's tagline is "the speed you need") and it is one of the fastest Android flagships in the market right now. And you immediately feel it. The difference is not minor as apps load up in a second, the UI is super smooth, and the overall experience is like you are on steroids. I have been using this phone for more than a week now and not once did I experience any kind of slowdown or lag. Everything is still quick just like the way it was at the start and that's something that we have to give credit to OnePlus' FSE (Fast Stable Efficient) team. They have constantly produced super fast Android flagships and my 1.5 year old OP3T still performs flawlessly without any major hiccups.
Gaming is fluid as expected and all major games perform flawlessly on the phone. The fact that the company has optimised over 100 games on the play store to improve load times does help in speeding up in launching your favourite gaming app. I'll provide a detailed gaming review of the phone after this review, but for now, know that you'll have loads of fun playing on the OP6.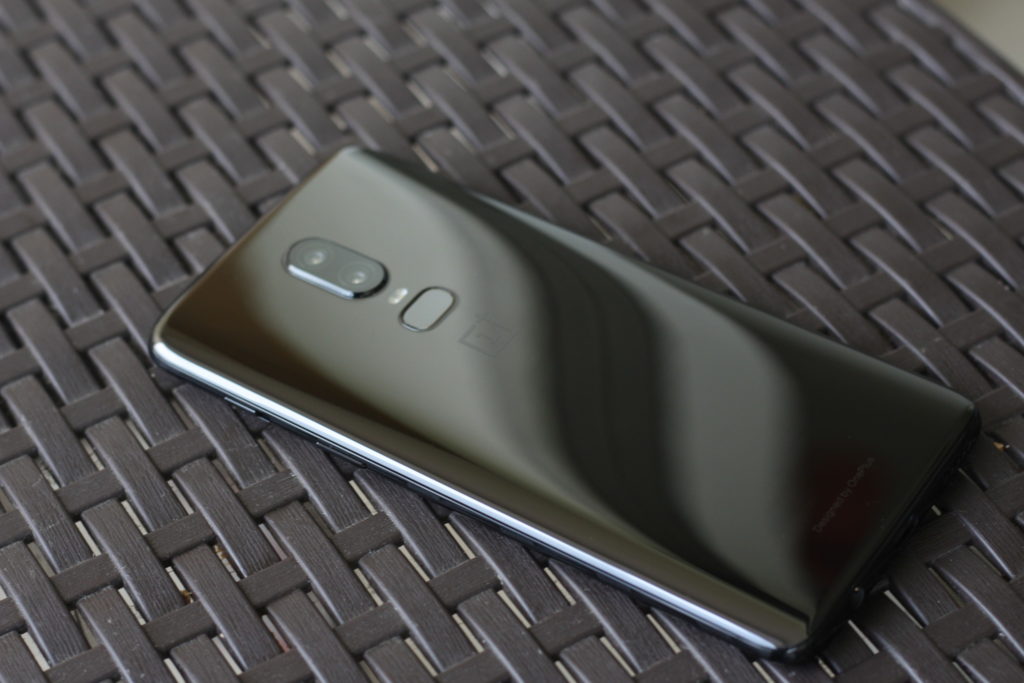 At the start of the article, I called OnePlus as an affordable flagship. This was because it misses out on some premium features found on higher-end devices. For example, there's no wireless charging or even IP rating (although it's water resistant). There are no fancy options like a transparent back, stereo speakers or even features like edge sense.
But it has everything that you would expect in a standard flagship, including a headphone jack. So it doesn't miss out on any essential feature, just the ones that could be defined as premium. In general, it's a complete flagship on paper.
 OnePlus 6 Review: Software
OnePlus' OxygenOS is among the best implementations of near stock Android on a smartphone. So, OxygenOS on the OnePlus 6 is a treat to work with. The subtle animations and features are fluid and quick and you'll be happy with the overall experience. The best thing about OxygenOS is that the company doesn't try to add a lot of features, only a handful that you most likely would use on a day to day basis.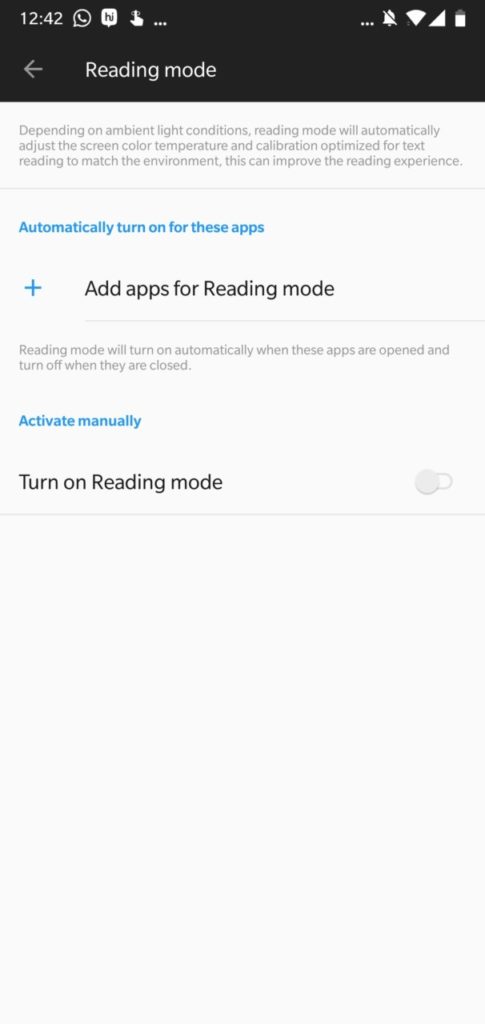 If you are set for a reading spree on the OnePlus 6, you can turn on its special reading mode (available on the quick settings panel) which will automatically adjust the screen temperature and calibration for optimum reading experience. You can either manually turn it on from the settings or you can assign specific apps which will turn on this feature automatically.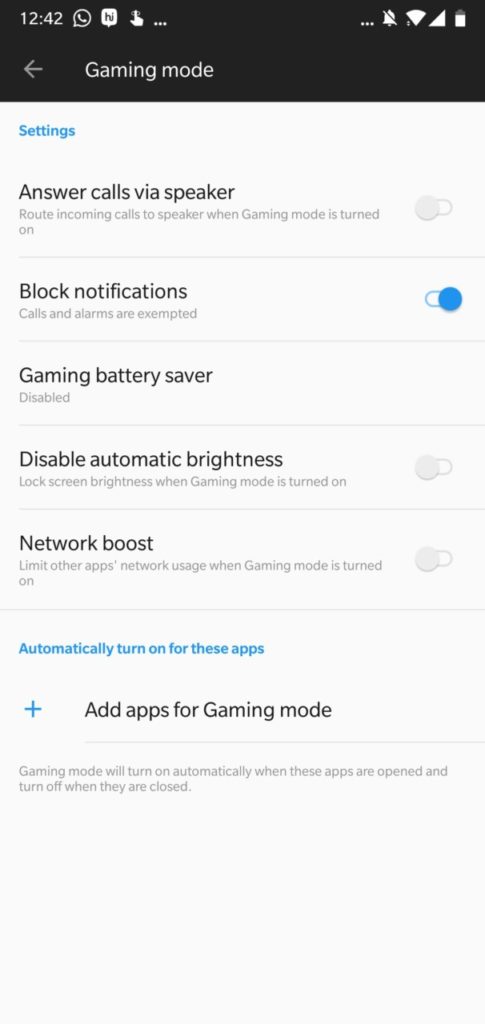 The same is applicable in the gaming mode. You can either assign apps or turn it on manually. Apart from blocking notifications, this particular mode allows you to tweak the battery consumption as well as network data priority. It's a really handy feature for avid gamers. Personally, I don't play a lot of games on my phone but I still like that you have the option to tweak these essential settings.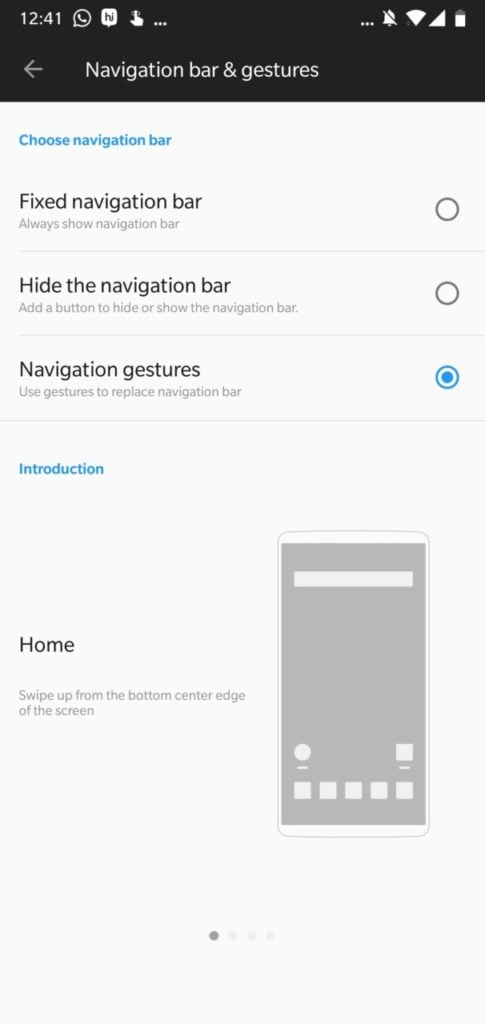 For a phone which aims to bring out the maximum screen real estate from its 6.28-inch display, I hate to see on screen buttons covering the lower half of the device. This is exactly why I immediately switched to gesture based navigation as soon as I got the phone for review. Initially, I was a bit skeptical about the gestures but turns out it's as good as you can get on an Android phone at the moment. You can swipe up from the button to go to home or swipe up from the right or left corner to go one step back. These two gestures work flawlessly and not once did they fail to work, which is definitely good news. The swipe up and hold gesture to open up the recent apps menu isn't as intuitive as touching a button (since there's a second's delay). If you are someone like me who used the recent apps menu to switch between apps at lightening speeds, this particular gesture does feel a bit slow. But its definitely not a deal breaker considering how much screen space you save without the onscreen buttons at the bottom.
Another thing that I must add in this review is OnePlus' Face Unlock. I loved the super quick fingerprint sensors on previous OnePlus flagships but the fact that the sensor was at the back of the phone left me disappointed since I often use my phone when it's lying on the table (like so many users). However, what was a pleasant surprise was the Face Unlock feature on the device. The phone immediately unlocks as you turn on the screen and I have come to realize that I haven't used its fingerprint sensor in a while. After all, there's no need to go all the way to the back when your phone is unlocked as soon as you turn on its screen. It's seamless, quick, and user friendly. Despite the fact that it's not very secure, I think it has been one of the best features on my OP6.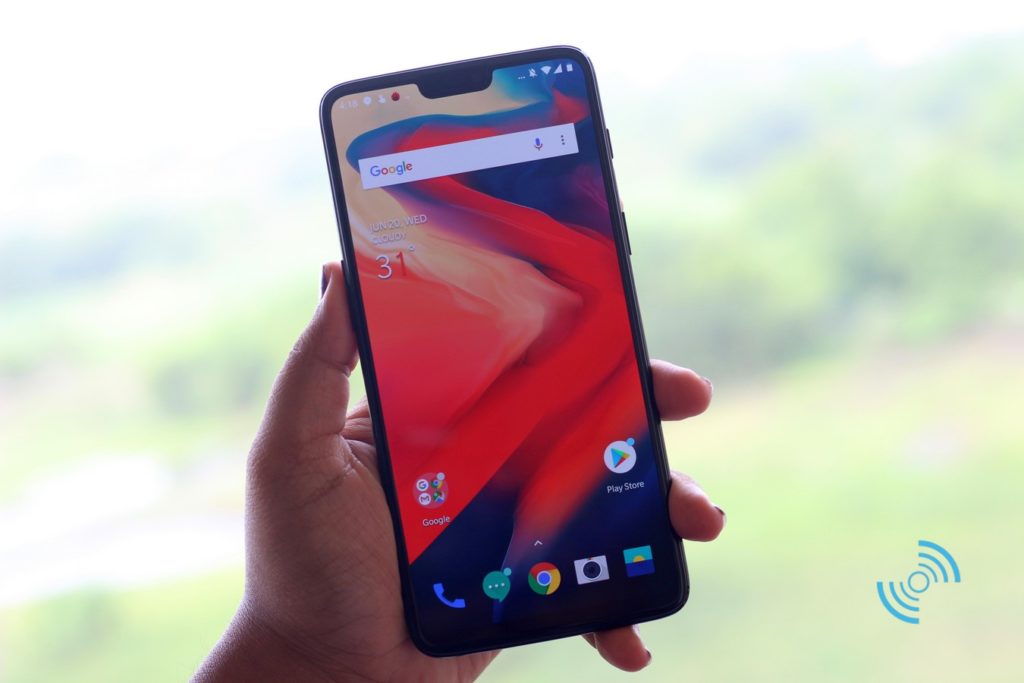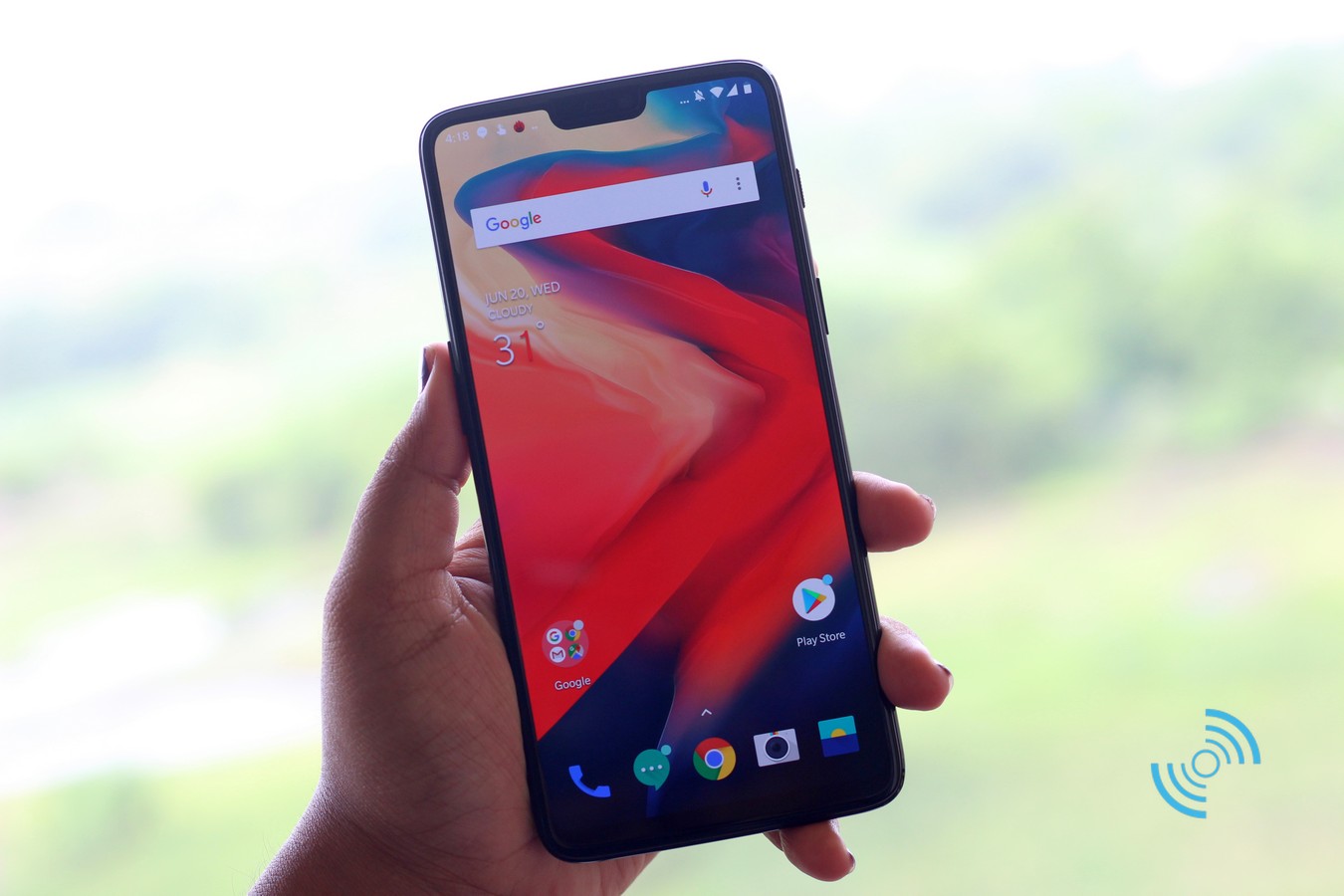 Then there are other simple yet effective software features such as recent app manager (deep clean option), ambient display, three fingerprint screenshot, long screenshot, double tap to wake, flip to mute, and music control gestures.
Overall, it's a feature rich OS for your everyday use and works flawlessly on your phone.
OnePlus 6 Review: Camera
Camera was never really the strong point of OnePlus flagships but with the OnePlus 6, things are a lot better than before. The rear camera setup looks similar, a 16MP sensor paired with a 20MP secondary sensor. However, this time, the second 20MP sensor is only present to capture depth information. So unlike the earlier setup wherein the second sensor was said to aid in low light photography, this one has just one sole purpose — bokeh.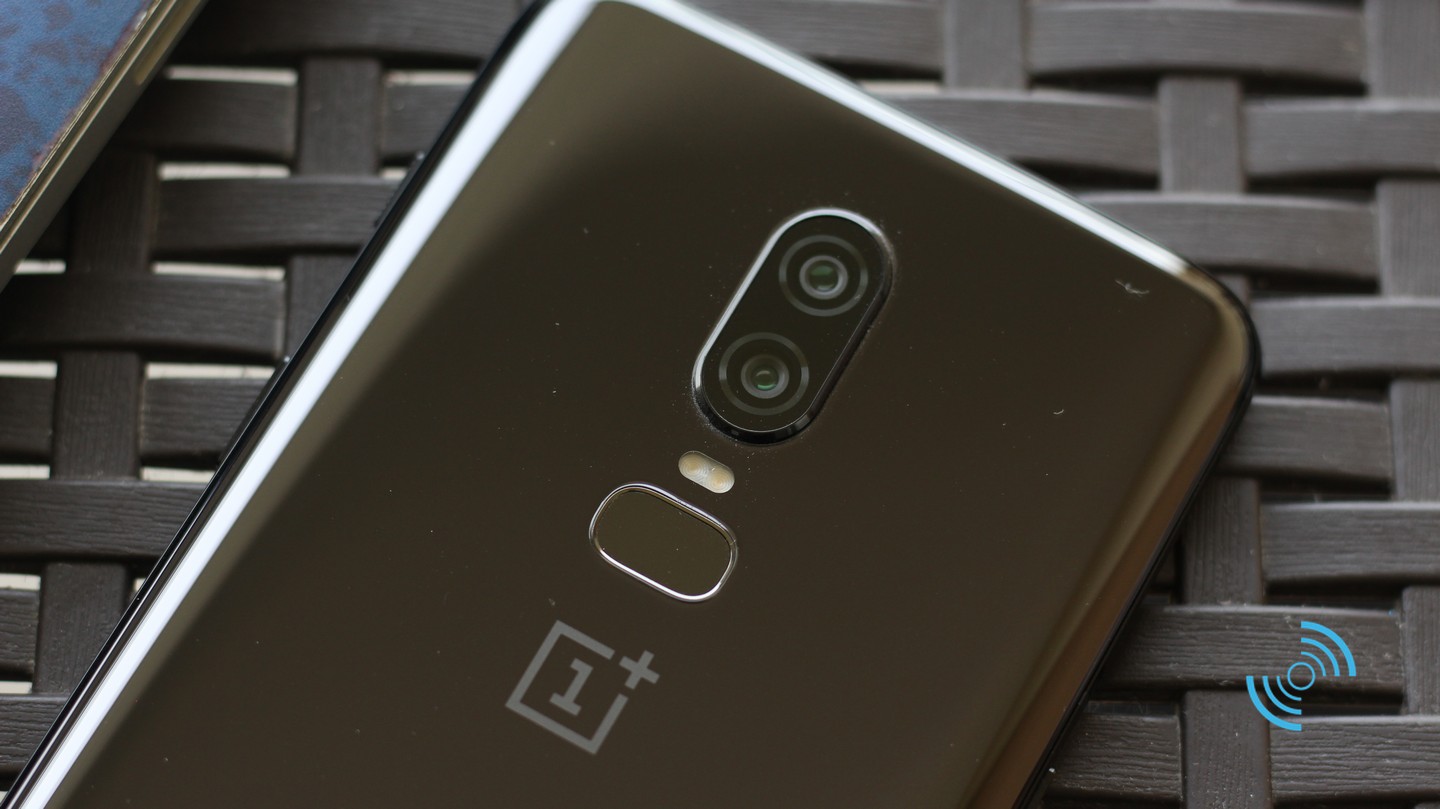 The company has instead decided to focus on its primary sensor, increasing the pixel size to 1.22um with a large f/1.7 aperture lens. That not all, OIS and EIS are back on the OP6, unlike the previous generation which skipped on this tech (5T only had EIS).
On the front, you get a 16MP sensor, which is capable of capturing software based bokehs too. So, you'd get some amazing selfies for your social media pages.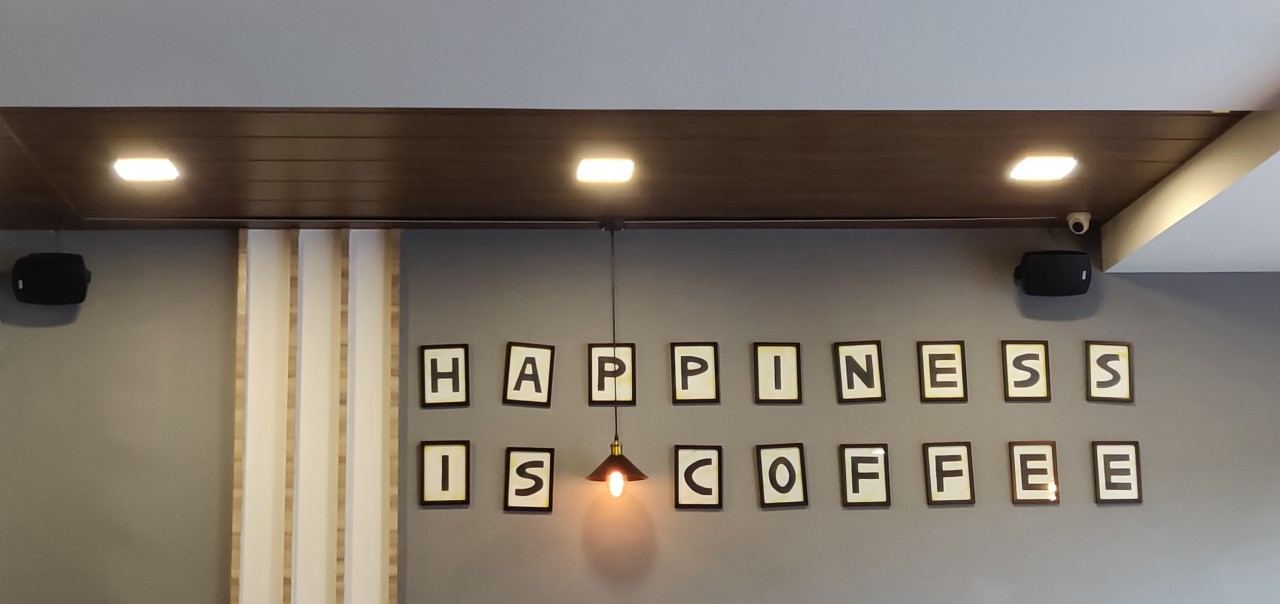 In general, the OnePlus 6 captures great daylight images. The saturation levels are good, the amount of details are adequate, and the overall pictures come out crisp and detailed. Close up shots in general come out really well. Landscape pictures are also pretty good and it's quite close to the quality of the pictures from some of the best camera phones in the market today like the Huawei P20 Pro or the Google Pixel 2 XL. But we have come to realize that after you cross a certain price range, daylight shots from most phones are going to come out good. So, OnePlus 6 doing well in good lighting conditions is no surprise.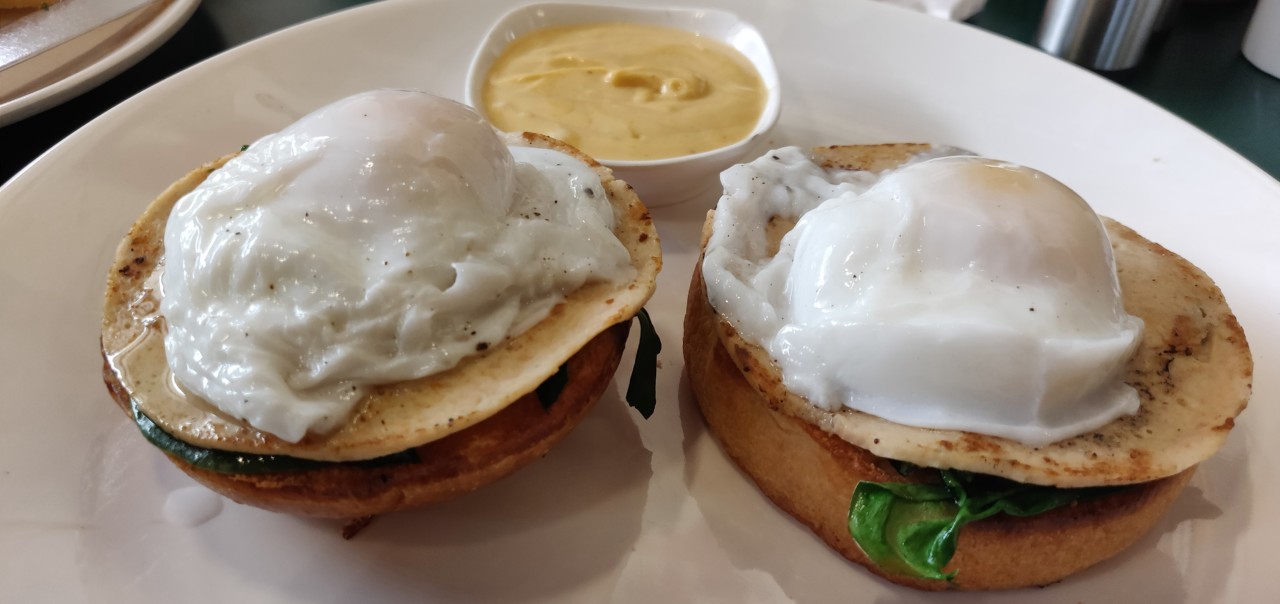 It's only when the lighting goes down do we know the real camera prowess of a smartphone. This is where the OnePlus 6 shines, thanks to its wide aperture, larger pixel size, next gen ISP and even OIS. The photos still come out pretty detailed and on most occasions you'd be happy with the resulting image. The colors are good, the noise is limited and there's enough details in the pictures for them to stand alongside the samples from the big players like the Galaxy S9+. To be honest, the low-light pictures from the OnePlus 6 may not be as great as the best camera phones of 2018, but they are not far behind. For a phone that's $300-$500 less than these so called premium flagships, OnePlus' camera does a very good job.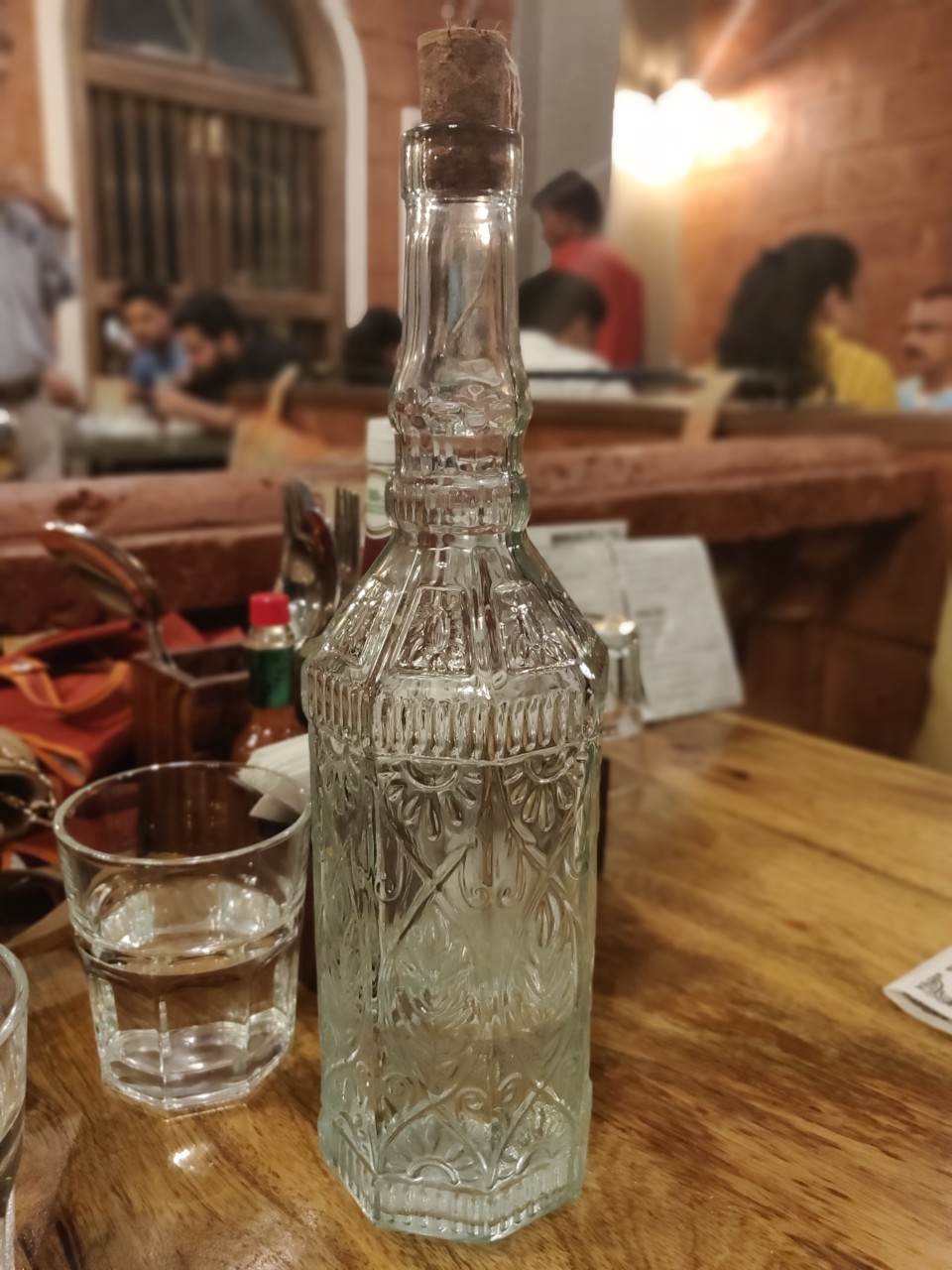 The camera UI is pretty straightforward. Quick setting menu is on the top bar, swipe left or right to switch between video and portrait modes and swipe up to get more modes like slo-mo, panorama, pro mode, time lapse, etc.
In the general video mode, you have the option to go up to 4K 60fps resolution. However, note that OIS or EIS won't be at play at this high resolution, so the resulting video won't be as smooth as a 1080p video.
For slo-mo, you have two options, 1080p at 240 fps and 720p at 480 fps. Now this might not be as fancy as 960 fps on the S9 or Xperia XZ2 but you can capture up to a minute of real time video that translates to around 6 minutes of slo-mo video. Further, the entire video need not be slowed down as the editor allows you to choose a certain part of the video which can be slowed down. So, you can start off at real time speeds and quickly jump to slo-mo in order to really emphasise the slo-mo feature. It's quick, user friendly, and works well on the phone. Note that you have to make sure that there's enough light to get good quality slo-mo videos.
As for the portrait mode, it's bit more polished than before. However there's still room for improvement and you often notice that the edge detection algorithms often miss out something in the image. That said, it's good enough for basic social media sharing on most occasions. The front camera is also getting a selfie portrait mode soon via a new update.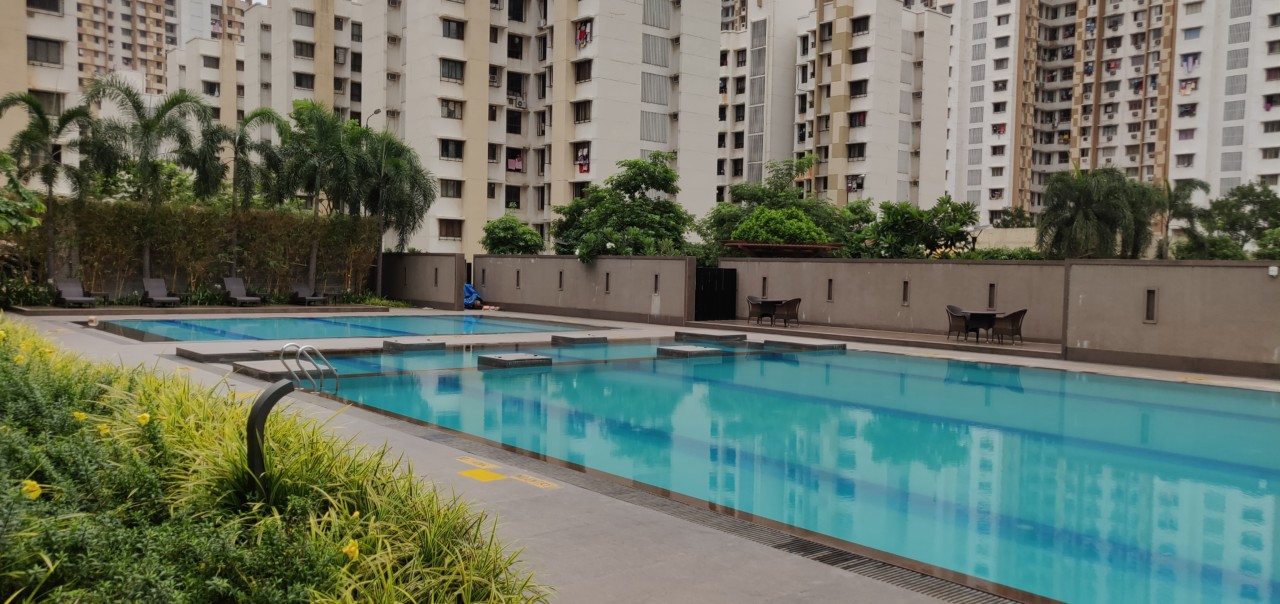 Check out the entire OnePlus 6 samples from the link here.
OnePlus 6 Review: Battery
OnePlus' flagships were never known for having extravagant battery life but they did manage to get through an entire day. On paper, the OnePlus 6 features a 3300mAh battery, which sounds pretty small but considering the optimisations added on a 2018 smartphone, including the efficient 10nm Snapdragon 845 powering the device, the battery life is adequate.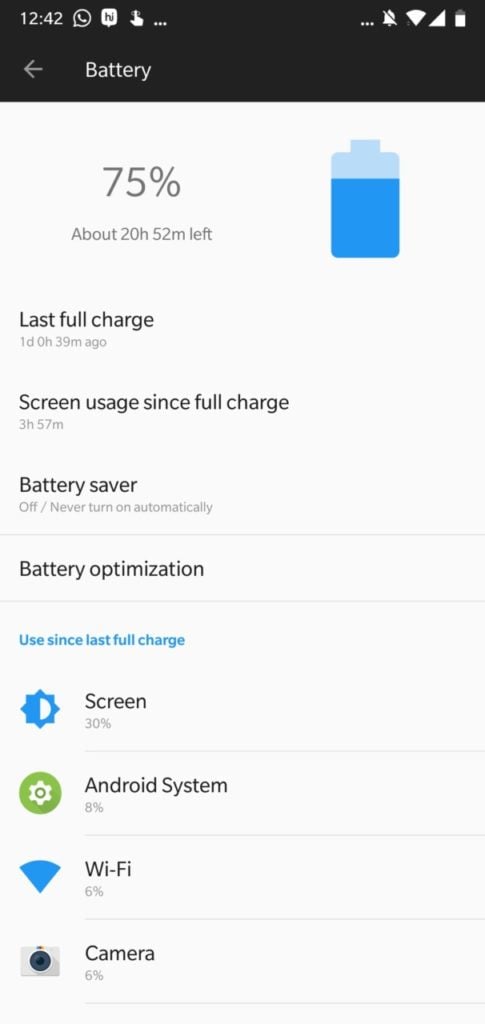 I might not be a power user in the traditional sense but my smartphone is usually working for me the entire day, which includes mails, slack, constant notifications from apps like twitter, half an hour of video playback, wordpress edits, an hour or two of bluetooth music playback either on my car stereo or my headset, instagram browsing, calls, camera usage, and browsing/ reading articles for like an hour. Basically, in the past one week, my OnePlus 6 hardly had any free time during the day, and it still managed to get through the day without any hiccups. Only once did I have to charge it in the evening but that was an exceptional case since there were a lot of benchmarking apps and camera usage on that particular day. On all other days, I got an entire day's worth of usage.
Charging the phone takes over an hour and dash charge work well if you jut want a quick 10 minute charge for a few additional hours of usage.
Keep your expectations above average from the OnePlus 6 in terms of battery life and you'd be a happy user. To conclude, it's the right blend of power and efficiency, with a bit more focus on the former department.
OnePlus 6 Review: Conclusion
On most part, OnePlus 6 has turned out to be an amazing flagship. Heck, it's one of the best smartphones that you can currently purchase for under $600.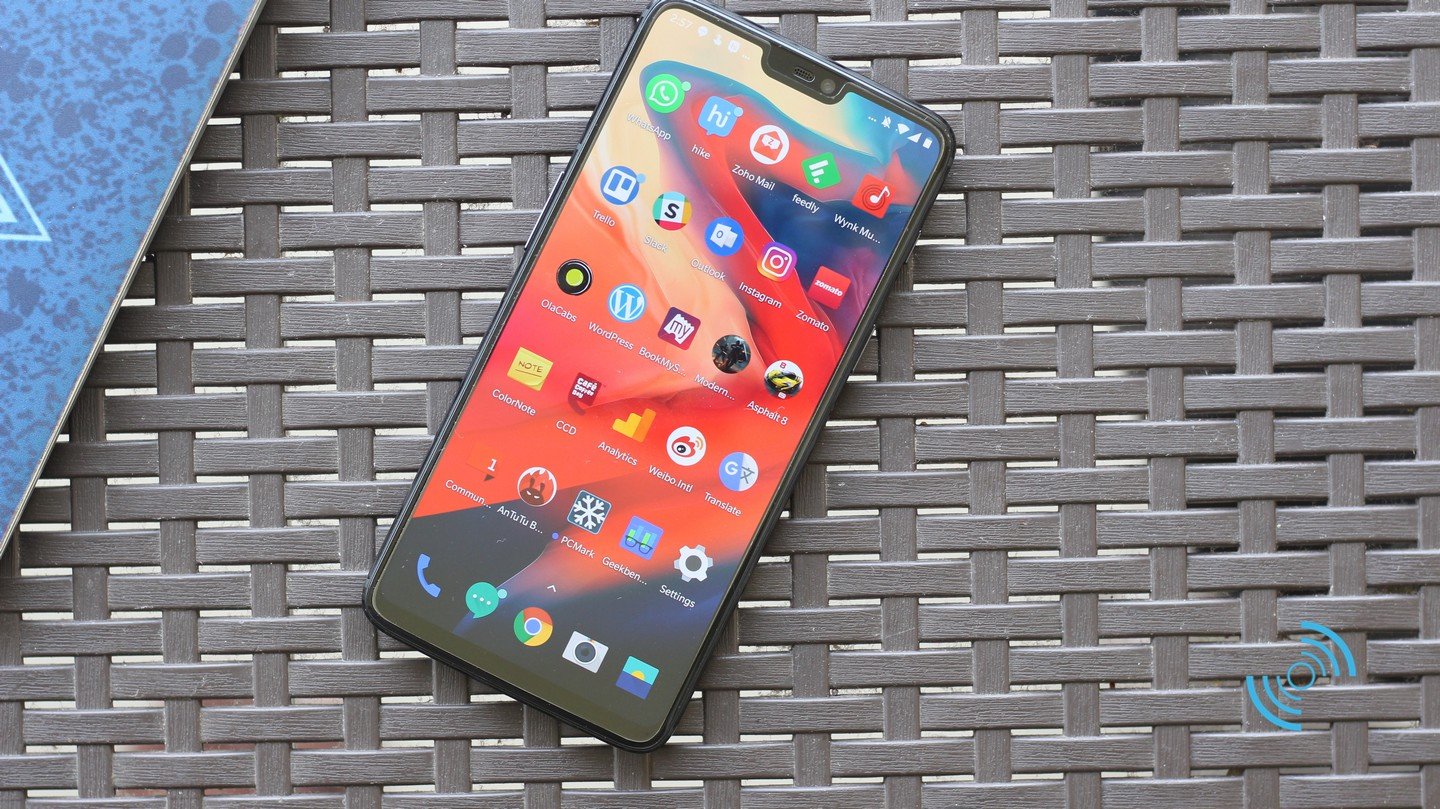 The phone does miss out on the fancy stuff but if you are looking for a phone that can keep up with almost every device in every department, without breaking the affordability factor, then OnePlus 6 is your best bet! Be it camera, display, battery life, or even sound quality, OnePlus can stand among the best flagships in the market that costs a lot more than $600! The boost in the camera quality in this new flagship is worth mentioning particularly and we have seen that it comes close to a number of premium flagships in this department.
Personally, I feel it misses out on high quality audio (speakers) and wireless charging, but in general, I'm happy with what OnePlus has done with its new flagship. For this price, you simply can't go wrong with the OnePlus 6!
Are there better phones than the OP6? Yes! But the sweet $529 pricing brings everything together making it an unbeatable deal.