The Mi MIX 2S is just three months old but Xiaomi is already working on a successor. The MIX 3 as the device is known has surfaced in leaks recently. A new leak has surfaced and it gives us yet another look at the front of the device.
For the Mi MIX 3, Xiaomi has focused on keeping the bezels to a minimum. The lower bezel which houses the front camera has been shaved off and is now the same thickness as the other bezels. This gives the Mi MIX 3 a "truly bezel-less" appearance.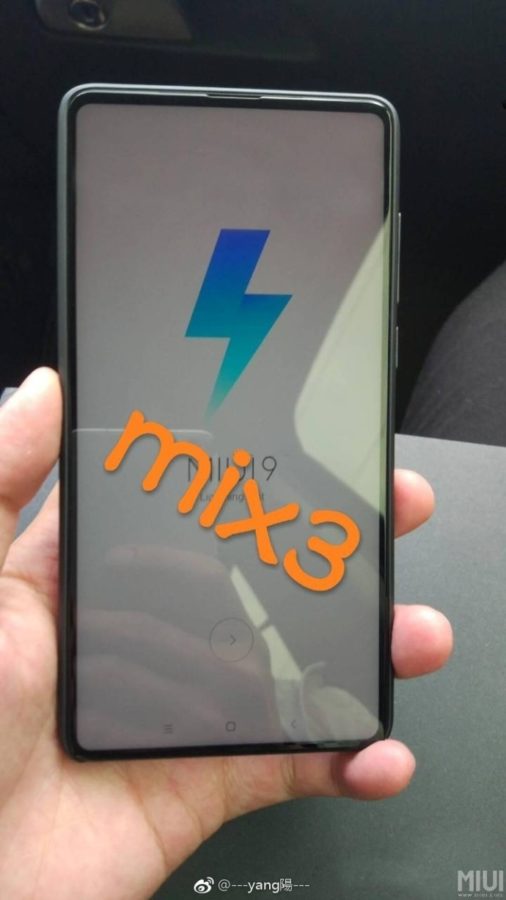 So where are the front camera, sensors, and earpiece? The earpiece is still at the top – a small slit carved into the little bezel at the top. However, the sensors and the front-facing camera are both missing. There are rumors that Xiaomi will also use a pop-up camera similar to that of the Vivo NEX. Sadly, none of the leaked photos have confirmed this.
READ MORE: Xiaomi Mi Max 3 LCD display leaks online revealing the phone's front design
The image also shows the phone is running MIUI 9. It will probably come with MIUI 10 when it launches. It should also come with a Snapdragon 845 processor and support wireless charging. We don't expect it to launch until late September, seeing as the Mi 8 and Mi 8 Explorer are still very new.