HMD Global seems to be readying the launch of two new Nokia smartphones. Two unknown devices have just been certified by the Russian EEC (Eurasian Economic Commission) and they carry the model numbers TA-1119 and TA-1087. Most of the times when devices get certified means that their launch is not so far. So, we can prepare to see new HMD Global smartphones to be announced. Unfortunately, the EEC did not disclose any info about the specs of the new devices, so we do not have any idea about which kind of smartphones we are talking about. But we expect new info to surface in the coming weeks.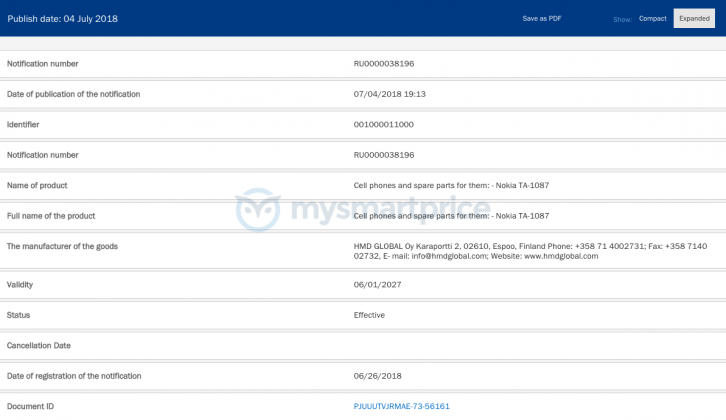 At the moment, according to the latest rumors, HMD Global is developing the Nokia 9 which is expected to be the best HMD flagship of 2018. Among the rumored specs there is the most powerful SoC by Qualcomm: the octa-core Snapdragon 845 running at a max frequency of 2.8 GHz. Further, the upcoming flagship is expected to arrive with an in-display fingerprint scanner such as the latest Vivo flagships. This means that the screen-to-body ratio will be very high, unlike most Nokia devices released in the last year. The Nokia 9 should also sport a better camera setup than the actual flagships with Carl Zeiss lens and more than one sensor on the rear side.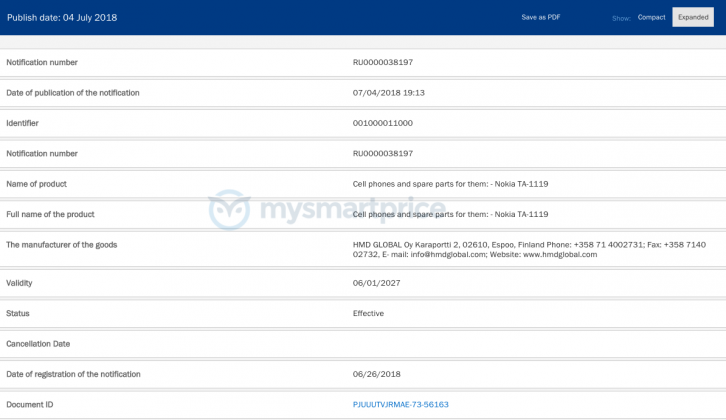 Above, you can see the listings showing TA-1119 and TA-1087 model numbers which have been filed yesterday 4th July 2018 at 19:13 PM local time. In the meantime, HMD Global has been busy launching the banana phone 8110 in Europe with a price tag of €89. The company has also announced that it is looking forward to adding the support to WhatsApp to this phone (in case you do not know, it is a feature phone, a re-visitation of the iconic 8110 launched in 1996), even though it does not have Android but it runs KaiOS, a fork of Firefox OS.
(via)