Samsung goes neck and neck with Xiaomi in India, Canalys Q2 2018 report shows
It is no longer news that Xiaomi edged Samsung out of the top spot in the Indian market in Q2 2018. For a company that was just a little over three years there, Xiaomi's feat was a very vital one. But it came as a big blow to Samsung who still maintains its stronghold as the number 1 smartphone vendor globally amidst a steady decline in sales of its flagship models. As if that wasn't just enough, Xiaomi again maintained its lead in the first quarter of 208 ahead of Sammy.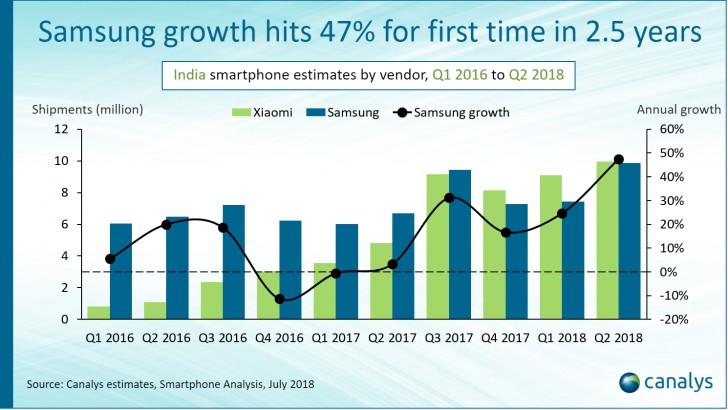 This development spurred Samsung to make several readjustments especially opening up and that may have started yielding the desired results. Canalys report indicates that Samsung and Xiaomi each shipped a record 9.9 million smartphones in India during the second quarter of this year. The total number of phones shipped in the country was just under 33 million. This means both vendors raked in more than 50%. Samsung experienced a good percentage of shipment in Q2 2018 – 30%, which is a 47% growth YoY.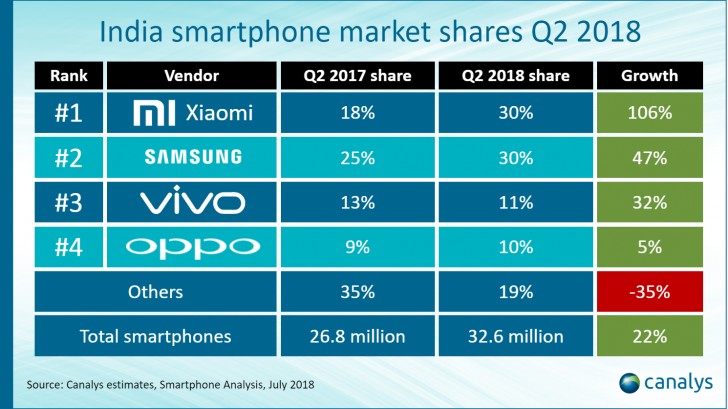 Related: Xiaomi Led The Indian Smartphone Market in Q1, With Four Chinese Firms Making The Top 5
The report also featured the best-selling phone in the quarter under review. It is no surprise that the Xiaomi Redmi 5A with 3.3 million units shipped is on top of the list, ahead of Samsung's bestseller – the Galaxy J2 Pro (2018) with 2.3 million. Samsung may have targeted the mid-range/budget segment with models such as the J series, A- series and several others.  Vivo and OPPO join the duo of Samsung and Xiaomi to complete the top 4 vendors in terms of shipments.
(source)