New S Pen features for Samsung Galaxy Note 9 revealed in new images
by Michele Ingelido ago0
The known hi-tech portal WinFuture.de in has published some official images highlighting the new features of the S Pen which will be included in the upcoming Samsung Galaxy Note 9. The phablet will be officially unveiled tomorrow, but we already know from now that its S Pen will be way more interesting than the previous model. The new pen will include Bluetooth connectivity, unlike the previous pens.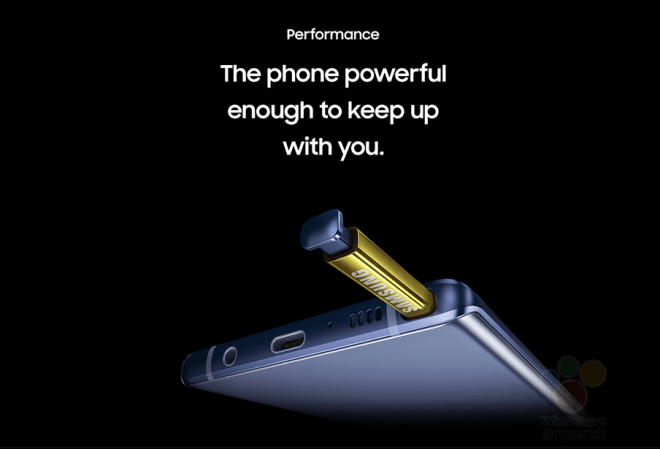 This will allow the user to remotely control the Samsung Galaxy Note 9 without having the pen stick to the phablet. Thanks to a dedicated button, it will be possible to shoot a photo remotely, control presentations or even third-party apps. It will also be possible to customize the S Pen key to do anything you want. According to the leak, the pen will have a finer tip and it will support 4096 pressure levels, that is the highest amount of pressure levels ever implemented on a mobile device. So, it will be possible to draw or handwriting with an extreme accuracy, similarly to paper.
RELATED: Samsung Galaxy Note 9 official promotional video accidentally leaked
Besides the details about the S Pen, the images confirm that the Note 9 will have an "Intelligent Camera" making it able to recognize scenes and adjust the colors, white balance and contrast. It will be even able to detect blink and bursts. Further, just like the new Samsung Galaxy Tab S4, the Galaxy Note 9 can be connected to an external monitor to enable DeX without a dock, just by using a cable. Obviously, the DeX dock remains more comfortable as it allows to connect external peripherals such as mouse and keyboards, it can charge the device and can even be used as a touchpad. At last, the images confirm the variable aperture of the camera just like the S9 line-up.
(via)