We initially compared the new Meizu 16 with the OnePlus 6 and, now, it is time to compare it with the most important Chinese flagship released in the last quarter: Xiaomi Mi 8. Just like the previous one, this comparison is a must read if you want a complete idea of the latest Chinese flagships available to purchase with a limited amount of money. So, there is nothing left but to see which is the best affordable flagship smartphone in this Meizu 16 vs Xiaomi Mi 8 comparison.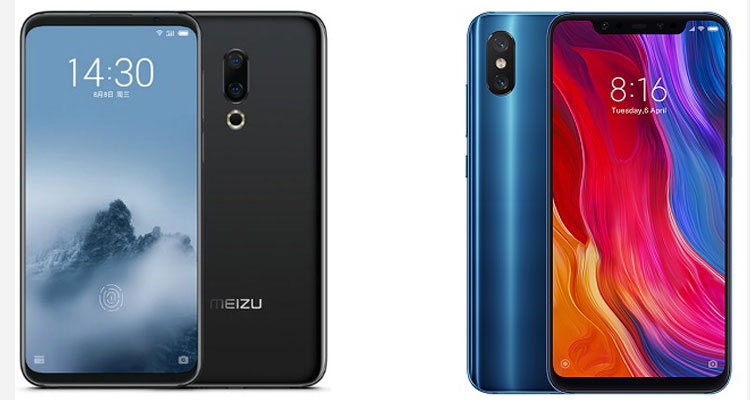 Meizu 16 vs Xiaomi Mi 8
Meizu 16
Xiaomi Mi 8
DIMENSIONS AND WEIGHT
150.5 × 73.2 × 7.3 mm,

152 grams

154.9 x 74.8 x 7.6 mm,

175 grams

DISPLAY
6 inches, 1080 x 2160p (Full HD+), 402 ppi, 18:9 ratio, Super AMOLED
6.21 inches, 1080 x 2248p (Full HD+), 402 ppi, 19:9 ratio, Super AMOLED
PROCESSOR
Qualcomm Snapdragon 845, octa-core 2.8 GHz
Qualcomm Snapdragon 845, octa-core 2.8 GHz
MEMORY
6 GB RAM, 64 GB – 8 GB RAM, 64 GB – 8 GB RAM, 128 GB
6 GB RAM, 64 GB – 6 GB RAM, 128 GB – 6 GB RAM, 256 GB
SOFTWARE
Android 8 Oreo, Flyme 7
Android 8.1 Oreo, MIUI 9.5
CONNECTIVITY
Wi-Fi 802.11 b/g/n/ac, Bluetooth 4.2, GPS
Wi-Fi 802.11 a/b/g/n/ac, Bluetooth 5.0, GPS
CAMERA
Dual 12 MP + 20 MP f/1.8
20 MP f/2.0 front camera
Dual 12 + 12 MP f/1.8 + f/2.4
20 MP f/2.0 front camera
BATTERY
3010 mAh
Fast charging 24W mCharge 4.0
3400 mAh
ADDITIONAL FEATURES
Dual SIM slot
Dual SIM slot
Meizu 16 vs Xiaomi Mi 8: Design
There is no doubt that both the companies put a lot of efforts into the design of their latest flagships. Meizu 16 comes with symmetric design, it does not have a notch even though its screen-to-body ratio is one of the highest (almost the same as the Vivo Nex!). It has a ceramic-like glass back composed of 7 layers of glass, as well as an in-display fingerprint reader making its aesthetics even cleaner and more symmetric. Xiaomi Mi 8 has a good design as well with its reflective back, but it is nothing new and shares many things in common with other flagships such as Honor devices and iPhone X. So we are going to pick Meizu 16 for its originality.
Display
While Meizu 16 has better aesthetics, Xiaomi Mi 8 seems to have a better display, at least on the paper. Indeed, it features the HDR10 technology and DCI-P3 coverage which should make its colors richer than the ones of its rival. Anyways, both are Full HD+ panels with the Super AMOLED technology, so even if you choose Meizu 16, you will still get an amazing screen with vivid colors and deep blacks.
Meizu 16 vs Xiaomi Mi 8: Specs & Software
With Meizu 16, finally, Meizu switched to a flagship SoC by Qualcomm. This device is much better than every other device released by Meizu because it features the powerful Snapdragon 845. And one of its configurations has even 8 GB of RAM, the biggest quantity of volatile memory ever implemented on a mobile phone. Xiaomi Mi 8 has Snapdragon 845 as well, but just 6 GB of RAM. So Meizu 16 wins the comparison when it comes to hardware. Further, Meizu 16 features liquid cooling technology as well, which gives it an edge over Mi 8 in gaming.
In terms of software, we prefer Xiaomi Mi 8 due to its MIUI with more features and a stronger software support.
Meizu 16 vs Xiaomi Mi 8: Camera
Both handsets have stunning cameras with bright apertures, high resolutions, and important additional components. Xiaomi Mi 8 has been included in the top 10 best camera phones by DxOMark, but given the specs of Meizu 16 on the paper, we believe its camera performance will not be so different! However, until we try its camera or have enough camera samples to judge its quality, we can not pick a winner. Selfie cameras are equivalent and both stunning with their 20 MP resolutions. And both boast AI-driven algorithm to get selfies more beautiful. But note that the Xiaomi Mi 8 is the only which features 3D facial recognition for authentication. So it is safer and easier to unlock the phone by using this device. On the other hand, Meizu 16 features an in-display fingerprint reader which is still an innovative and comfortable method of authentication.l
Battery
From this point of view, Xiaomi Mi 8 should be superior as it features 400 mAh more of capacity. With just 3010 mAh, even though we still haven't tested it, we believe that Meizu 16 will not go beyond a day of battery life with a moderately-stressed use.
Meizu 16 vs Xiaomi Mi 8: Price
For now, Meizu 16 has been launched in China only, where it has a starting price of about $395 which is very cheap. Xiaomi Mi 8 instead is available all around the world, and you can get it at different prices depending on the market. In China, it has been launched with a starting price of $421. It is very hard to pick a winner among these devices.
In my opinion, it is almost a draw, but I would choose the Mi 8 for its bigger battery and better support. However, if you can afford the Plus version of the Meizu 16, it is way better than the Mi 8 with its bigger display and bigger battery as well.
So which one would you pick?
Meizu 16 vs Xiaomi Mi 8: PROs and CONS
Meizu 16
PROs
Powerful hardware
Good cameras
Attractive design
In-display fingerprint reader
CONS
Xiaomi Mi 8
PROs
Potentially better display
Bigger battery
3D face recognition
Wider availability
CONS