Mysterious Lenovo device with Snapdragon 850 records promising benchmark scores
by Anvinraj Valiyathara ago0
Most of the 2018 Android flagship phones feature the Snapdragon 845 mobile platform. It will be succeeded by the 7nm Snapdragon 855 SoC that is rumored to be debut by the end of this year. Qualcomm has another chipset called Snapdragon 850 that offers slightly better performance than SD845 since it has been designed for Always-Connected PCs. The U.S. based chip maker had unveiled it the Computex 2018 tech event in June. A mysterious Lenovo device with Snapdragon 850 has been spotted on Geekbench benchmarking site. It reveals that Snapdragon 850 powered laptops and 2-in-1 devices will deliver better performance than devices powered by Snapdragon 835.
The Lenovo 81JL device that is powered by Snapdragon 850 is running on Windows 10. In single-core test, the Lenovo device has scored 2263 points and in multi-core test, it has recorded a score of 6947 points. In comparison, the ASUS NovaGo TP370QL that is driven by Snapdragon 835 had respectively scored 1802 and 6475 points on Geekbench. This shows the Snapdragon 850 offers improved single-core performance and its multi-core performance is not very different from Snapdragon 835.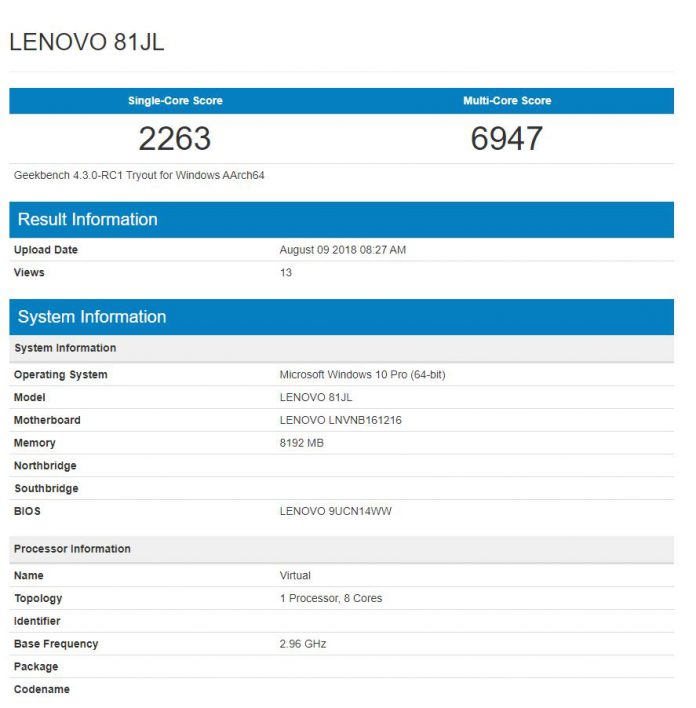 To say again, the Snapdragon 850 offers around 25 percent improvement in single-core performance and, but the multi-core performance has increased by 7.3 percent against the SD835 chipset. However, it is advisable to take the benchmark scores of the new Lenovo device with a pinch of salt as it could be a prototype device. The final benchmarking scores of the actual device could be different.

According to Qualcomm, the Snapdragon 850 SoC can deliver 30 percent better performance than SD835. Since the above benchmarks suggests that the SD850 will offer improved single-core performance, it means that users will notice better performance on such devices as most of the apps normally make use of single-core processor. In fact, the Snapdragon 850 is similar to the Snapdragon 845 SoC that powers flagship phones running on Android OS. The main difference between them is that the former produces higher clocking speeds of 2.95 GHz instead of 2.7 GHz.
Read More: Is Lenovo's ZUK brand about staging a comeback?
The Lenovo 81JL seems to be one of the forthcoming Snapdragon 850 powered Always-Connected PCs. Other manufacturers such as ASUS, HP and Samsung are also working on SD850 devices. Rumors have it that the first devices fueled by Snapdragon 850 may hit the market by the end of this year.