Samsung announces the world's first 5G modem with up to 6Gbps speeds
by Michele Ingelido ago0
Samsung had showcased 5g tech at CES 2018, but it still was not ready. Now the time has finally come: the Korean giant has beaten Qualcomm by officially announcing the world first 5G modem. This small chip built on a 10 nm production process brings the connectivity on mobile devices at a new level, with complete support to 5G networks and compliance to the 3GPP (3rd Generation Partnership Project) Release 15 standards and complete frequencies. The modem has been called Samsung Exynos 5100 and it supports all the 5G frequencies, but it is also compatible with all the previous technologies such as 2G GSM/CDMA, 3G WCDMA, TD-SCDMA, HSPA and 4G LTE.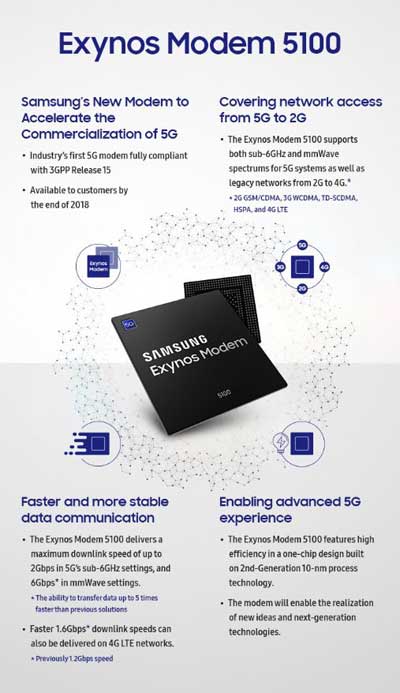 Thanks to 5G networks, the new modem can reach a downlink speed of up to 2 Gbps for frequencies under 6 GHz, and a downlink speed of up to 6 Gbps for the mmWave spectrum. These blazing speeds make this modem up to 5x times faster than 4G ones. Further, the 4G connectivity with the new Samsung Exynos 5100 has been improved as well, and now it can reach a download speed of up to 6 Gbps. At the moment, it is definitely the most impressive modem for mobile devices ever launched.
RELATED: Samsung patents self-repairing oleophobic coating for phones
The modem will be officially released in the market starting from the end of this year, so we should see the first devices sporting it in the first months of 2019. Besides smartphones, there will be many other devices with this modem inside, such as IoT devices, holograms, self-driving cars and more. Unfortunately, according to DJ Koh (CEO of Samsung Electronics), Samsung Galaxy S10 will not boast the Exynos 5100 modem under the hood as it will not be a 5G smartphone. But if some rumors are to be believed, it may debut on the mysterious foldable device which might be launched alongside the S10 series or a few months later.
(via)