Multiple leaked shots have revealed the appearance of the Google Pixel 3 XL smartphone. A fresh photo of the smartphone has surfaced today. The image shows a person using the alleged Pixel 3 XL traveling on a streetcar in Toronto.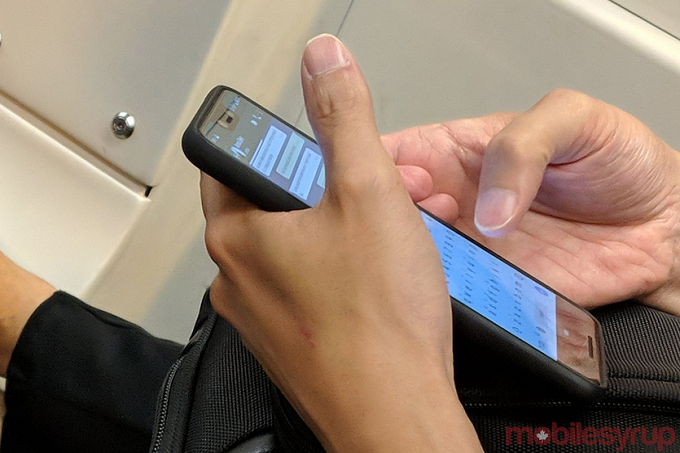 The image of the phone contains several features that hint that it could be the real Pixel 3 XL smartphone. The handset is placed inside a thicker case in a bid to prevent others from identifying it.
The smartphone features a notched display and two front-facing speakers. The pill-shaped home button suggests that the handset is running on Android 9 Pie OS. The Pixel 3 XL is also expected to arrive with these features. Also, the handset appears to be very similar to the Pixel 3 XL that had appeared in a recent hands-on photos and following unboxing video.
Rumors have it that the Pixel 3 XL will be arriving with a 6.7-inch OLED screen. The newly spotted handset also seems to feature a large-sized screen. Now that the alleged Pixel 3 XL has been spotted in real skin, it appears that Google could be testing the handset to see it performs as a daily driver.
Rumors have it that the Pixel 3 XL will be featuring Snapdragon 845 SoC. The chipset will be accompanied by 4 GB of RAM. Along with Pixel 3, the Pixel 3 XL will be the first smartphones to come pre-installed with Android 9 Pie.
The massive display of the Pixel 3 XL is expected to carry support for Quad HD resolution of 2960 x 1440 pixels. It is rumored to arrive with a single rear camera of 12-megapixel. The notch of the phone is likely to feature 8-megapixel selfie shooter. It is expected to come with an internal storage of 64 GB. Also, the Pixel 3 XL will be receiving power from 3,430mAh battery. As of this writing, there is no information on the pricing of the phone.
Do you think that Google Pixel 3 XL will be a promising smartphone? Share us your views by adding your comments below.
(source)