Rumoured Nokia 9 (TA-1094) packing five rear cameras spotted online
A new Nokia smartphone suspected to be the Nokia 9 has been spotted online. The picture which was first posted on Chinese blog IThomes' forum and was later published by the blog shows the device which is said to be the Nokia 9 with a five rear camera setup. This is quite an interesting one as the highest we have seen so far on a smartphone is the triple camera setup of the Huawei P20 Pro which was released earlier this year.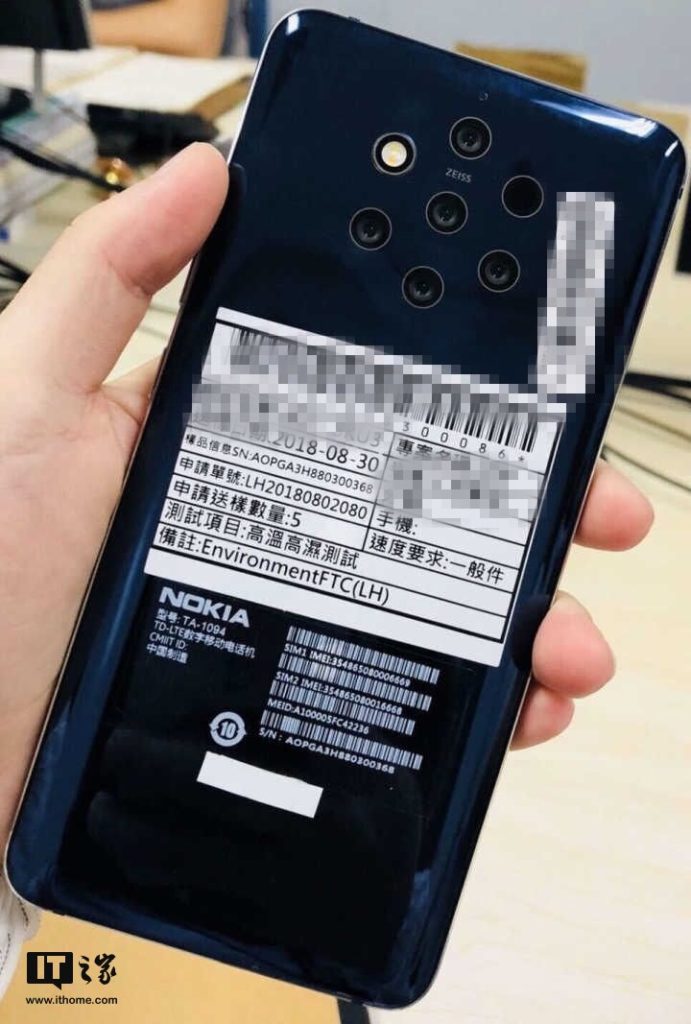 This isn't the first time Nokia has been rumoured to be working on a Penta-lens camera-packing smartphone but this is the first time we are seeing a real-life prototype and not a concept render. While the tipster calls it the Nokia 9, IThomes believes it could be called Nokia 10. The phone comes with the model number TA-1094 and so could be called Nokia 9. However, we recall that several renders of the Nokia 10 concept made the rounds earlier this year. A tipster who claimed to have got knowledge of all the Snapdragon 845 smartphones equally released a list which contains the Nokia 10 as one of the models that would be launched packing Qualcomm's 2018 flagship Snapdragon 845 System-0n-Chips. The Nokia 10's schematics had also been the subject of a recent leak, pointing at a revolver-like camera setup but in this picture, the lenses are fixed.
Read Also: While We Wait For Nokia 9, a Nokia 10 Drawing Leaks With Penta-Lens Camera
The camera has the ZEISS badge which means it is manufactured by ZEISS. A recent ZEISS patent of the Penta camera setup perhaps gives an insight of how the setup will work. The patented technology utilizes an array of additional lenses having different focal lengths and mounted on a rotating lens base which sits between the camera sensor and a normal fixed lens. In this case, there is no rotating base and so it is possible software will do the work of changing from one sensor to another. The roles of the five lenses could be related to telephoto, black and white, color, blur, and multi-lens pixel synthesis but we are not so sure about that. There is no word on when Nokia will unveil its 2018 flagship but we expect that to happen soon.
(source)