OnePlus 6T, Mate 20 Pro and Pixel 3 DxOMark scores have appeared before their official announcement
by Anvinraj Valiyathara ago0
DxOMark, a popular camera benchmarking platform is known for ranking smartphone according to their camera benchmark scores. A leaked photo of Dx0Mark scores of several unannounced smartphones such as OnePlus 6T, Huawei Mate 20 Pro, and Google Pixel 3 have surfaced on Weibo.
As it can be seen on the left side of the below image, the unreleased Mate 20 Pro is leading the pack with 116 score. The next unannounced on the list is the Google Pixel 3 with a score of 107. The Mate 20 is also mentioned below with the same score.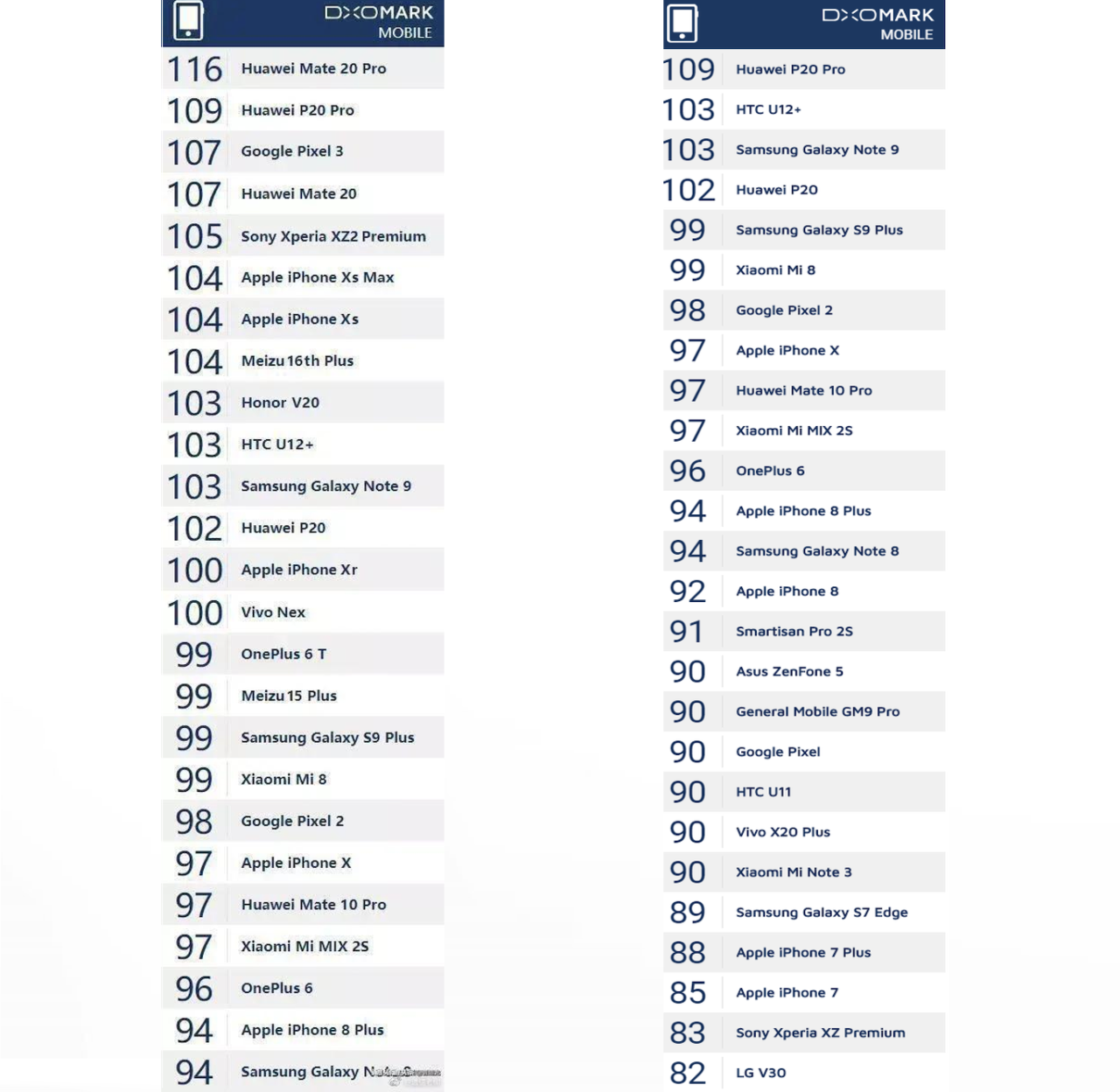 The Sony Xperia XZ2 Premium, Apple iPhone Xs Max, iPhone Xs, Meizu 16th Plus and the unannounced Honor V20 follows the Mate 20 in the list. The iPhone Xr and OnePlus 6T are also present on the list with respective scores of 100 and 99. The benchmarking reports of these phones are yet to appear on the website of Dx0Mark. There is a high possibility that the above leak nothing but fake.
A DxOMark score is a combination of photography and video recording scores. The the current ranking of smartphones according to their DxOMark scores is shown on the right side in the above image. The Huawei P20 Pro with its triple camera setup as at the numero uno position with 109 score. The HTC U12+ and Samsung Galaxy Note 9 are on second and third positions with respective scores of 103. As it can be seen, the newly released smartphones such as the new iPhones, Xperia XZ2 Premium, Meizu 16th Plus have not appeared on the list yet.
Since the leaked photo showing the DxOMark scores of unannounced and newly released phones appears fake, it remains to be seen how highly awaited phones like OnePlus 6T and Mate 20 Pro will rank on the list.