Huawei Mate 20 X vs Razer Phone 2 vs Asus ROG Phone: gaming phones comparison
by Michele Ingelido ago0
Gaming smartphones became a solid reality. After Razer, Xiaomi and Asus, even Huawei released a device dedicated to gamers, and according to rumors even Samsung will do it. In the meantime, let's compare the newly-announced Huawei Mate 20 X with the other most powerful and expensive gaming phones out there: Razer Phone 2 and Asus ROG Phone. Three devices with amazing performance and high-quality displays for the most demanding activities.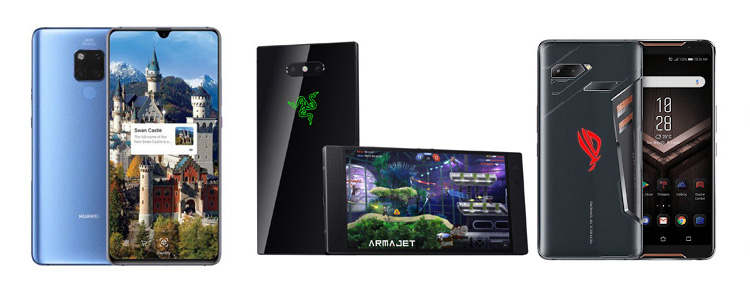 Huawei Mate 20 X vs Razer Phone 2 vs Asus ROG Phone
Huawei Mate 20 X
Razer Phone 2
Asus ROG Phone
DIMENSIONS AND WEIGHT
174.6 x 85.4 x 8.2 mm, 232 grams
158.5 x 79 x 8.5 mm
 158.8 x 76.2 x 8.7 mm, 200 grams
DISPLAY
7.2 inches, 1080 x 2244p (Full HD+), 346 ppi, AMOLED
5.72 inches, 1440 x 2560p (Quad HD), 513 ppi, IGZO IPS LCD
 6.0 inches, 1080 x 2160 pixels, 403 ppi, 18:9 ratio, AMOLED
PROCESSOR
Huawei HiSilicon Kirin 980, octa-core 2.6 GHz
Qualcomm Snapdragon 845, octa-core 2.8 GHz
Qualcomm Snapdragon 845, octa-core 2.8 GHz
MEMORY
 6 GB RAM, 128 GB – NM Card
8 GB RAM, 64 GB – micro SD dedicated slot
 8 GB RAM, 128 GB – 8 GB RAM, 512 GB
SOFTWARE
Android 9 Pie, EMUI
Android 8.1 Oreo
 Android 8.1 Oreo
CONNECTIVITY
Wi-Fi 802.11 a/b/g/n/ac, Bluetooth 5.0, GPS
Wi-Fi 802.11 a/b/g/n/ac, Bluetooth 5.0, GPS
 Wi-Fi 802.11 a/b/g/n/ac/ad, Bluetooth 5.0, GPS
CAMERA
Triple 40 + 20 + 8 MP f/1.8 and f/2.2 and f/2.4
8 MP f/2.4 front camera
Dual 12 + 12 MP f/1.8 and f/2.6
8 MP f/2.0 front camera
Dual 12 + 8 MP f/1.8
8 MP f/2.0 front camera
BATTERY
5000 mAh, Fast Charging 22.5W
4000 mAh, Fast Charging with Quick Charge 4+
 4000 mAh, Fast Charging with Quick Charge 4.0
ADDITIONAL FEATURES
IP53 certification, stylus
IP67 certification, RGB illuminated logo
 Pressure sensitive zones, water resistance
Design
These are three devices with very different aesthetics, two of which have atypical gaming-centric designs. The one which is mostly similar to a typical smartphone is Huawei Mate 20 X, but it is also the biggest one and it is more like a tablet. Asus ROG Phone instead has a very aggressive design. I would pick the one in the middle: Razer Phone 2, not only for its more elegant looks but also because it is water resistant.
Display
When it comes to the view quality, the best display is the one of Razer Phone 2. It has a 5.72-inch 16:9 panel with Sharp's IGZO technology. The panel has a refresh rate of 120 Hz, the highest ever seen on a phone, as well as a high Quad HD resolution. And it also features a very high brightness. On the other hand, Asus ROG Phone features the HDR technology and DCI-P3 coverage which provides better colors, but it has a lower detail as well as a lower refresh rate. Huawei Mate 20 X has the less impressive quality but it has a bigger display (7.2 inches) and it supports the M Pen with 4096 pressure levels.
Specs & Software
The most powerful hardware side actually in the market belongs to Asus ROG Phone, which boasts the best processor in the market (Qualcomm Snapdragon 845) overclocked at a frequency of 2.96 GHz). It also comes with whopping 8 GB of RAM and up to 512 GB of internal storage. However, note that we still did not test the performance of the new Kirin 980 as Huawei Mate 20 X is still not in the market: it may result even better than Asus ROG Phone.
Camera
Huawei Mate 20 X has the best camera side as it features the same triple camera setup as the Huawei P20 Pro. It includes a main sensor with a huge 40 MP resolution, a secondary 20 MP ultrawide sensor and an 8 MP telephoto lens with 5x optical zoom. It has no rivals in the gaming smartphones sector.
Battery
Huawei Mate 20 X wins even the battery challenge because it features a bigger 5000 mAh unit, that it was possible to integrate due to its bigger dimensions. You will need a bit more to charge it, but you can get more gaming hours on a single charge. Note that Asus ROG Phone has an additional USB-C port to connect important accessories to enhance the gaming experience, such as a joypad, an external cooler and more.
Price
Huawei Mate 20 X will be soon available with a price tag of €900/$1037, Asus ROG Phone starts from €900 as well, while Razer Phone 2 starts from €850/$980. If you are specifically looking for a gaming device, then Asus ROG Phone is the choice that has most sense, but if you also need a smartphone for other advanced activities such as productivity or photography, Huawei Mate 20 X is the best choice.
Huawei Mate 20 X vs Razer Phone 2 vs Asus ROG Phone: PROs and CONS
Huawei Mate 20 X
PROs
Big display
More affordable price
Big battery
Amazing cameras
CONS
Razer Phone 2
PROs
Best display
Great hardware and cooling system
DAC dongle and stereo speakers
Big battery, fast charging, and wireless charging
Water resistant
CONS
Asus ROG Phone
PROs
Great hardware + cooling system
Stereo speakers
Outstanding display
Big battery and fast charging
CONS